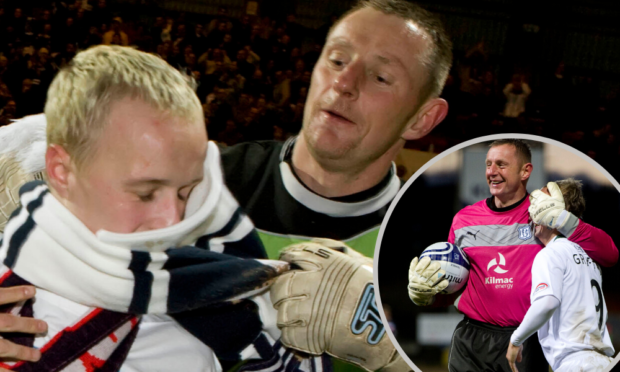 Being pinned to the wall of a shower by Rab Douglas is a memory that understandably hasn't faded for Celtic and Scotland star Leigh Griffiths, even after the best part of a decade.
But the retired goalkeeper has revealed that his former Dundee team-mate only told half a story when he was recalling the Dens Park dressing room incident in a recent Open Goal podcast interview.
Douglas, now a coach at Arbroath, confirmed that Griffiths got the details right when he spoke of him grabbing the then young centre-forward by the throat after the Dark Blues had been beaten 4-0 by Motherwell in a 2011 Scottish Cup tie.
The (big) bit "the loveable rogue" failed to mention, though, was the real reason he lost his temper.
In Griffiths' version of events, it was his "stupid" red card for a lunge at Steven Hammill that enraged The Courier columnist.
"The big man comes in and with one hand lifts me about six feet up in the air," said the Edinburgh-born attacker, now a seven-time title winner.
"He's like, 'You cost us!'. I couldn't breathe, I was turning purple. Big Jeebs (Gary Harkins) and a couple of the other boys were trying to get him off me!"
It wasn't the ordering off that infuriated Douglas, however. The damage had been done before a ball was even kicked.
"He's omitted the fact that he was late for the team meeting, which affected my preparations for the game," said the 48-year-old.
"That's why I grabbed him. It delayed our warm-up.
"It was a Sunday afternoon game. I remember that the Sky money really helped the club at the time. Barry (Smith) was the manager.
"The meeting would have been at a quarter to two for a three o'clock kick-off. I can't remember the exact time that Sparky pitched up but he was well late, that's for sure.
"He was that late we had to delay our warm-up, which affected my preparation for a game. That's what gave me the hump.
"He knows he was wrong. He's a wee rogue and a loveable wee rogue.
"He was great for Dundee but it affected the whole team that day, not just him. I still had it in my head after the game.
"We can laugh about it now but I only had my flip-flops on. Matty Lockwood, who was renowned for taking his time in the shower, just left me to it.
"Matty was an assistant manager to Barry as well me.
"Jeebsy and Gary Irvine were hanging off my arm trying to stop me.
"I'm not sure that he went purple but he certainly went through a few shades of blue!"
Griffiths was adored by the Dundee fans – he still is – and has gone on to have a successful career for club and country, winning medal after medal for Celtic and scoring the famous free-kick double for Scotland against England.
And Douglas believes he learned a valuable lesson that winter's afternoon at Dens.
"I'd be surprised if he has been late for another team meeting in his career after that," he said.
Leigh Griffiths on rejecting Parma before joining Dundee, disappointment at Jocky Scott's sacking and disillusion with Gordon Chisholm and Billy Dodds management team
"Be there early is the moral of the story! I bet it still sticks in his mind.
"Boys either need a cuddle or a grab – sometimes both – and at that point Sparky's option was the grab.
"We've all made mistakes but he let himself and his team-mates down that day.
"I've been his biggest fan. I think the penny has dropped. It's a short career and you need to be professional.
"As a player you have to give yourself the best opportunity in a game by preparing right. I wouldn't be surprised if Sparky was like that with a young boy at Celtic if he saw things done wrong.
"We keep in touch and I certainly don't hold it against him. I think it was after about a month I decided to start talking to him again!"
There was another Dens incident that Douglas remembers from that period but the team-mate he confronted on that occasion falls into a different category to Griffiths.
"I was a big team player," he said. "I didn't lose my rag often.
"The only other one I fell out with was Mickael Antoine-Curier. He fell asleep in a team meeting and was then going to go for Ludo (Ludovic Roy). I made sure he didn't get the chance.
"I didn't have any time for him but Sparky, as I say, was a loveable wee rogue. There was a difference."
Jimmy Johnstone's widow and best friend recall Dundee's fairytale signing of Celtic legend and why it didn't work out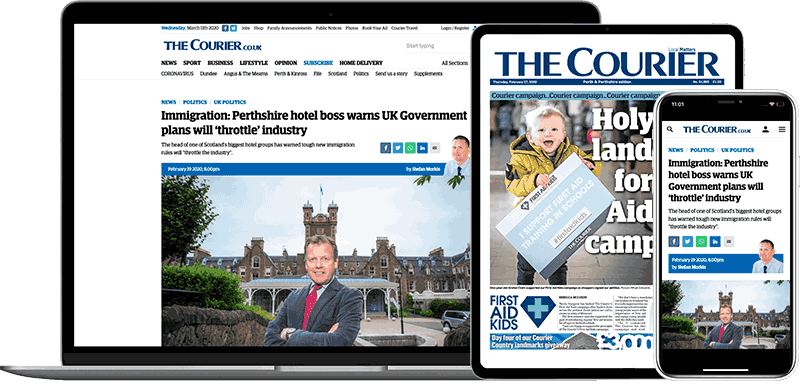 Help support quality local journalism … become a digital subscriber to The Courier
For as little as £5.99 a month you can access all of our content, including Premium articles.
Subscribe