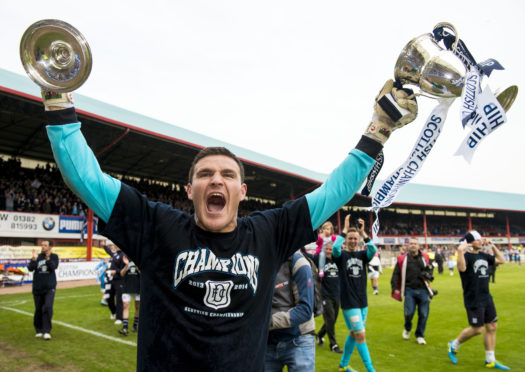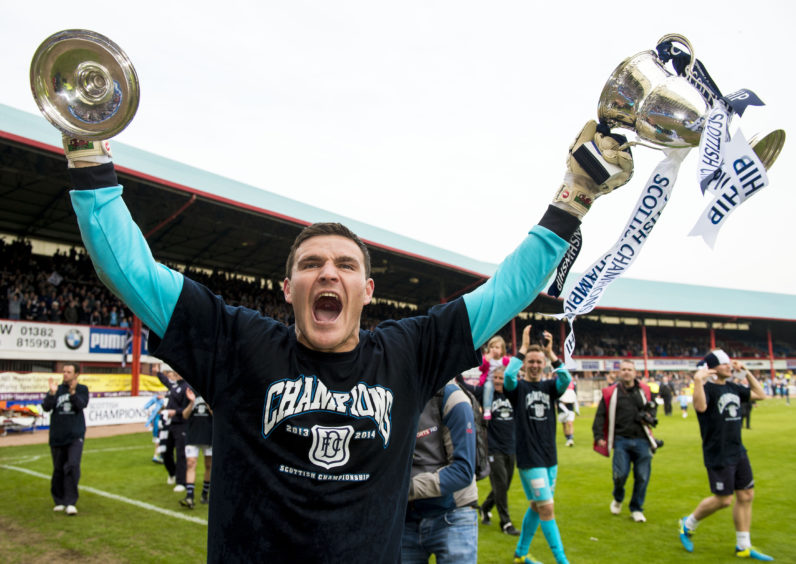 Free agent Kyle Letheren says he'll never close the door on a return to Dundee as he looks for a new club following his release from Salford City.
The 2014 Dark Blues Player of the Year helped the club back to the Premiership in their last stint in the second tier.
A former teammate of manager, James McPake, Letheren, however, admits the Dens boss will have his own plans for next season.
Asked if he would return to Dundee, the Welshman told the Courier: "Never say never. I know Jazza (James McPake) will have his own ideas on what he wants but I'm open to anything.
"I had a great rapport with the Dundee fans."
With the coronavirus shutdown still gripping football, Letheren knows he faces a stressful summer with no income on the horizon.
The 32-year-old left Salford at the end of his contract last week and says it's a worrying time for anybody out of work.
"Nobody knows what is going on," he added.
"It is a scary time for people in my situation when there is no return date set and no prospect of income.
"All I can do is keep the head down and work hard to make sure I'm ready once we are through all this.
"Without a return date, clubs can't put a contract down in front of you when they don't have any income themselves. I let my agent deal with all that anyway and see what comes when there is a return date.
"The future will sort itself out."
Certainly a likeable player, Letheren also enjoyed a good relationship with everybody at Salford City, the club owned by Manchester United's 'Class of 92'.
And he has no axe to grind with the club backed by Gary Neville, David Beckham, Ryan Giggs, Paul Scholes, Nicky Butt and Phil Neville.
"Like everywhere right now, it's tough," the 32-year-old said.
"I played 25 games last season and did well but the club had 11 out of contract players and released 10 of them – that says everything about the situation clubs are in right now.
"The owners have been winners all their lives and they won't accept mediocre, which it was last season to be mid-table.
"They want to get to the Championship as quickly as possible and want a fresh start to do that.
"We were only four points off the play-offs,, so we still had a chance but I have nothing but good things to say about the club and everyone there.
"We always got paid on time, the club looks after its players, there was no furloughing of players and they were great, real football people.
"It was short but sweet, now I look for the next step."