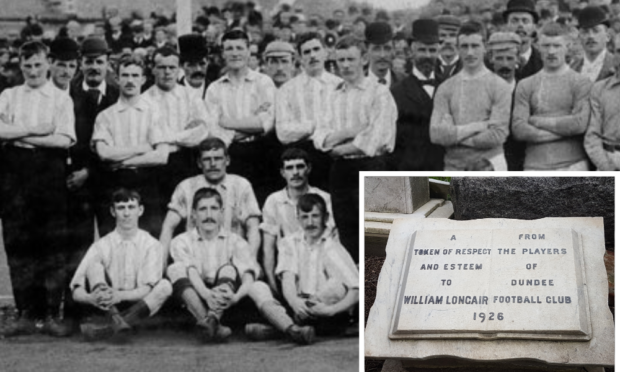 Uncovering and preserving what makes Dundee Football Club such a special part of people's lives is no simple task.
It is one the new Dundee FC Historical Trust have set themselves, however.
And it all started with a fruitless search in Eastern Cemetery by two Dees aiming to locate the final resting place of William 'Plum' Longair, one of the club's all-time greats.
Longair's association with the club lasted from the very beginning, the amalgamation of East End and Our Boys in 1893, to his death in 1926 at the age of 56.
He was captain in the first-ever Dundee match, one of three to become the club's first internationals in 1894, and finished his playing days at Dens Park after spells down south before becoming trainer.
Two lifelong supporters decided to locate Longair's gravesite. They had the location in the cemetery and the burial plot number but 'Plum' was nowhere to be found.
One of those searching, Jim Mitchell of the Robert Douglas Dark Blues, tells the story: "We thought we were looking in the right place but for the life of us could not locate the grave stone.
"My friend Graeme Brymer said it was like being out at the berries as we walked up one row and down the other and then the next one.
"Eventually we gave up but on the way out bumped into a supervisor and asked for help.
"Everything is numbered but they aren't all necessarily in order and he pointed us to the right spot, which happened to be a big yew tree.
"Graeme popped his head into the tree and said 'I think I read Longair' – I told him to stop pulling my leg and get his head out of the branches.
"There it was, though, completely overgrown by the tree and hidden away."
In order to get the tree cut back and the grave stone cleaned would require a written request and some cash.
To Graeme and Jim's surprise, however, the next time they passed the site, the tree was gone and there was Longair's book memorial cleaned and gleaming in the summer sun.
Mitchell added: "That sparked the idea between us that we should start up a group to research, celebrate and share the history of Dundee FC.
"To preserve the past and protect the future is the phrase I've been using and that's exactly what we plan to do.
"We've been lucky over the lockdown that we've had a bit of time to set the Trust up, we are already a registered charity and have put as much in place as we can.
"We've also been in contact with the club and, though we operate independently, we have been given full backing and support from Dundee FC and we've had great help from (managing director) John Nelms and, in particular, (director) Bob Hynd.
"The Trust has had massive help as well from Tom Wright of the Hibernian Historical Trust, his advice has been invaluable to us."
With 127 years of history, five major trophies and stars like Longair, Billy Steel, Alan Gilzean, Claudio Caniggia and others there is plenty of Dundee history to cover.
The long-term aim for the Trust is to create a museum but, in the meantime, the nine trustees – one of whom is ex-player Ally Donaldson – are working to produce a website to showcase all the memorabilia and stories that come their way.
"When it is safe to do so, we hope to have a pop-up museum in the meantime so we can get out to talk to people and share what our plans are and let people see some of the great memorabilia that we have already," added Mitchell.
"We've had really positive feedback from Dundee fans and people following other clubs too. We've had people asking if we can find information on people in their family tree who might have played for the club in the 1920s and things like that.
"We are also hoping to create a kind of oral history of the club with players and fans of all ages speaking on camera about their memories.
"We'll be putting on lectures about the history of the club and have already been working with Dundee FC Community Trust to provide information for various initiatives they are doing.
"The Trust intends to be very proactive and to be involved in community schemes and to help out good causes as much as we can.
"We will be trying to raise funds to continue what we are doing but we've been helped out by a donation from the Dundee FC Supporters' Society and one from the council as well.
"There are only so many things we can do right now because of the way the world is but we are very excited about the future and think it will be great to have a place people can visit – online or ideally a museum – where Dundee FC's history is all laid out."
The Trust have been hard at work over the past few months researching and collecting and they aim to have their website up and running in late October or early November.
In the meantime, if anyone wishes to add to the collection or to loan any artefacts or help out in any way they can contact dfcht2019@yahoo.com or via Dundee Historical Trust on Twitter or Instagram.
'My grandfather was captured by the Germans but escaped two or three times': Dundee newboy Alex Jakubiak doesn't have to look far for inspiration