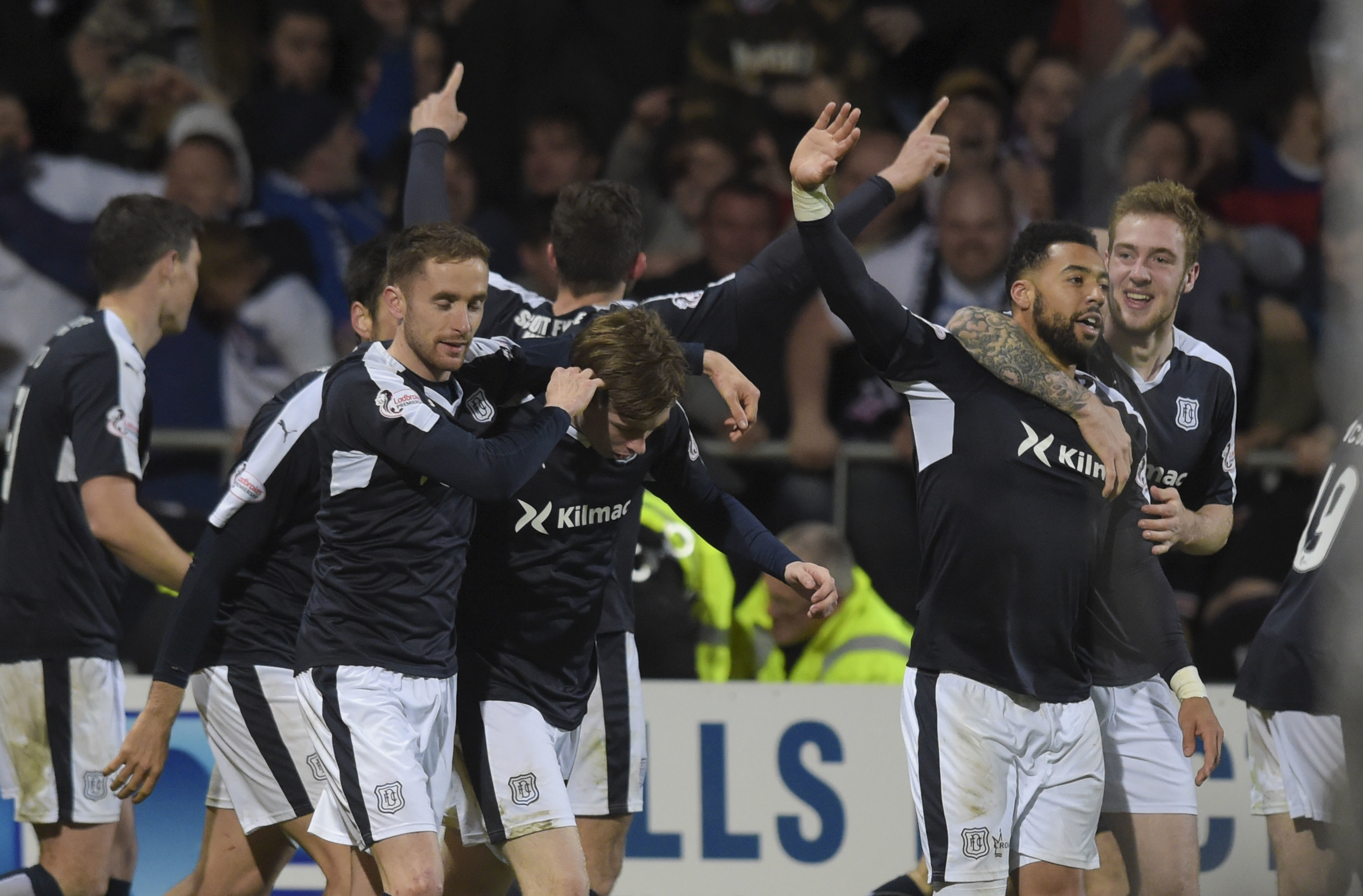 So what did Albert Kidd do with his career after breaking Hearts?
No? Me neither. I guess we'll need to read the book.
There were Hibs and Celtic supporters' clubs named after him and invites to dinners aplenty. An obscure corner of Scottish football history was claimed.
But as a footballer, the post 1986 years won't be remembered. In truth, Kidd isn't revered as a Dundee great. It's a strange kind of fame when you're known for crushing dreams rather than creating them.
Craig Wighton has earned a place in Dundee folklore. And it's already a more important place than Kidd's.
As a two-goal substitute 30 years ago, Kidd didn't stop Dundee United winning the league. He stopped Hearts. Infact, there were probably plenty of Dundee fans at Dens in 1986 who actually wouldn't have minded their team losing.
To be the man who sealed United's relegation, though. That's the stuff club legends are made of.
The challenge for Wighton now is being revered for even more.
And he has the talent to do just that.
It has been a curious story so far.
Even before Wighton broke into the first team at just-turned 16, Dundee fans who were sick of all the best young players coming through at Tannadice, knew about him.
Aberdeen wanted him. United wanted him. And there was talk of the big clubs down south also taking an interest.
But, for all the glimpses of promise that were seen, when he was given the odd chance, this wasn't a Ryan Gauld, Jonny Russell or Stuart Armstrong who looked at home with the senior pros straight from the off.
There may have been a grand plan all along, but at times it appeared Paul Hartley was regularly changing his mind about how best to nurture Wighton. Would he stay or go out on loan? Mixed messages were coming out of Dens.
Eventually the loan route was the one chosen. First it was a short spell at League One Brechin City. And it was a profitable one. When fit, Wighton scored. The then Glebe Park boss Ray McKinnon was very impressed.
It was back to Dens, some game-time, but no confirmation yet that this could be a star of the future.
More questions were being asked when over 20 games at Raith Rovers in the first part of this season, back under the guidance of McKinnon, produced just one goal.
It wasn't a shock that he was recalled. It clearly hadn't worked out for him at Kirkcaldy. But a run of first team opportunities at Dundee? Not many would have predicted that.
To the outside world, Wighton's career had stalled and possibly even gone backwards. Comparisons are inevitable in football. If Stevie May could go to Alloa then Hamilton and make a name for himself, why couldn't Wighton?
But, despite the underwhelming stats during his stint at Starks Park, Hartley sensed the boy had become a man. Ahead of Dundee's league clash with Celtic at Parkhead, he said as much. There was no attempt to keep Wighton out of the spotlight any more. According to his manager, he was ready.
Hartley's judgment was spot on. There was a run from Wighton towards the end of the first half, when back-pedalling and bamboozled Celtic defenders were at the Scotland youth international's mercy, that you could see here was a real player. He didn't score, but the poise and control that you want from a top level forward was there.
The hype look justified.
His long-term future will be through the middle, but starting out on the flank and drifting in is suiting him at this stage of his development. Again, that is to Hartley's credit.
There have been plenty more minutes for Wighton since Celtic Park, and he scored his second Dundee goal in a rout of Ross County.
Even before he buried his 18-yard injury-time derby winner on Monday night, the occasion had been another significant milestone.
He wasn't the best player on the pitch. He ran down a few cul-de-sacs and squandered some promising attacking positions. There was even a skewed shot that was nearer the corner flag than the goal.
But, when game-changing substitutions were made, Wighton was left on the pitch.
There won't be any talk of loans this summer. If Dundee are smart there will be a new extended deal. And, with Greg Stewart and Kane Hemmings both the subject of transfer speculation, Wighton can expect his profile at Dens to grow. It will probably grow even if they stay.
Wighton is a local hero in the eyes of Dundee fans. If he never kicked another ball for the club that wouldn't change.
Unlike with Albert Kidd, though, we can expect a whole lot more.