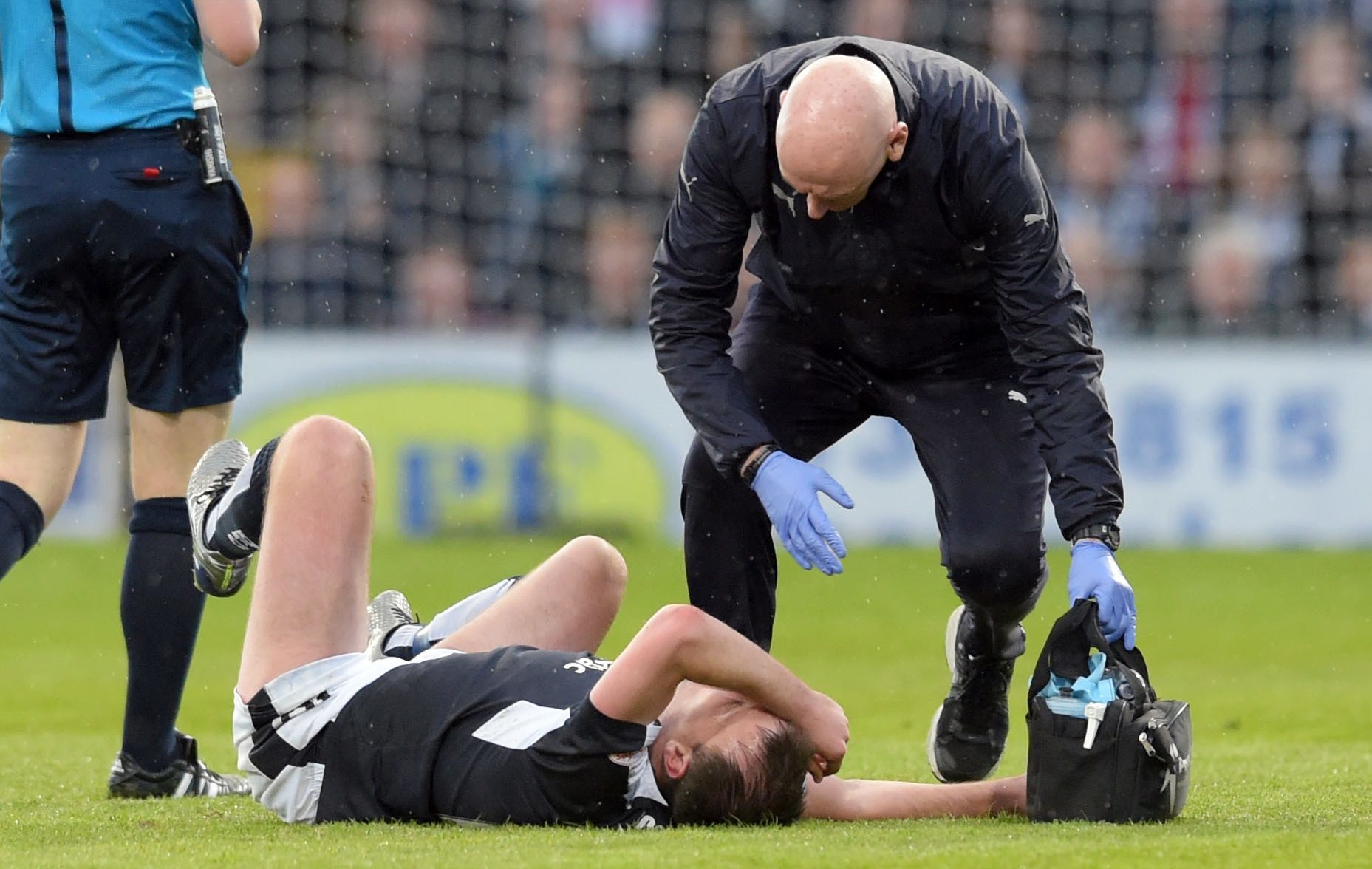 The season is over for Dundee duo Paul McGowan and Gary Harkins after both suffered injuries in the derby.
Of the two, McGowan will be out the longer with a worst-case scenario for his recovery from a shoulder injury being after the start of pre-season training on June 22.
Harkins suffered a bad ankle injury against Dundee United but played through the pain barrier for over an hour as the Dens men relegated the Tangerines thanks to a 2-1 win.
McGowan lasted only 17 minutes of Monday's dramatic clash and was replaced in the middle of the park by Julen Etxabeguren.
Manager Paul Hartley confirmed: "Paul is out until the end of the season.
"He will have a scan on the shoulder tomorrow and we don't know if it's dislocated.
"The scan will obviously tell us a little but more as to whether he's going to need an operation.
"If he does need surgery then he will possibly be out for eight to 10 weeks, to round about the end of June.
"We're due back on June the 22nd for pre-season training so he would be back around about that time.
"That is the worst-case scenario.
"He has had a shoulder injury before when he was at St Mirren but it was the other one this time.
"Mind you, even if Paul were out for 10 weeks he would still be the same as regards fitness just because of how he is and the way that he trains. He's just a machine."
As for playmaker Harkins, Hartley added: "He has a bad ankle injury and he's been away for a scan.
"So he will miss the next three games so that's the campaign over for both of them."
While United's relegation has seen a dramatic cutting of the playing squad at Tannadice, Hartley is going about his business as usual as he aims to strengthen for next season in the Premiership.
Having his own job to do, though, doesn't mean he hasn't got sympathy for now former Tangerines' boss Mixu Paatelainen and the United players who have been told they can leave Tannadice.
He said: "I think it's always a difficult part of the season when players are out of contract.
"Some players want to stay and some want to go.
"It's all about timing.
"We still need the players here as we've not got big numbers and we'll speak to them next week.
"I think it was difficult for the manager (Paatelainen).
"I don't want to see anyone losing their job.
"What do contracts mean nowadays? They don't mean a great deal for me.
"As a manager, it's just about trying to win as many games as possible. That is the key.
"If you win football matches, you've got a good chance of staying in the job but if you don't there's a good chance that you might not.
"There are pressures so, yes, I have sympathy for Mixu or for any manager losing their job.
"It's not nice."
Speaking of pressure, Dundee play host to a Hamilton Accies team tomorrow that is still under threat of finishing in the relegation play-off spot.
They are only four points better off than second-bottom Killie and will be going all-out to get what would be a vital victory for them tomorrow.
With that in mind, Hartley is hoping his players can get back up for this one after the Monday mayhem against United.
He said: "You have to consider the magnitude of the game the other night, as well as the emotion and what was at stake.
"But I think the players know that we want to try and finish the (post-split) season undefeated and try and get that seventh spot.
"Inverness and ourselves are pretty close just now and we know every game is vital from now until the end of the season.
"Hamilton will also be desperate for the points so we need to try and pick a team which can win the game.
"Every game which we play in is important.
"I think that's good and it's the important thing from our point of view.
"It's not just going to drift out until the end of the season."