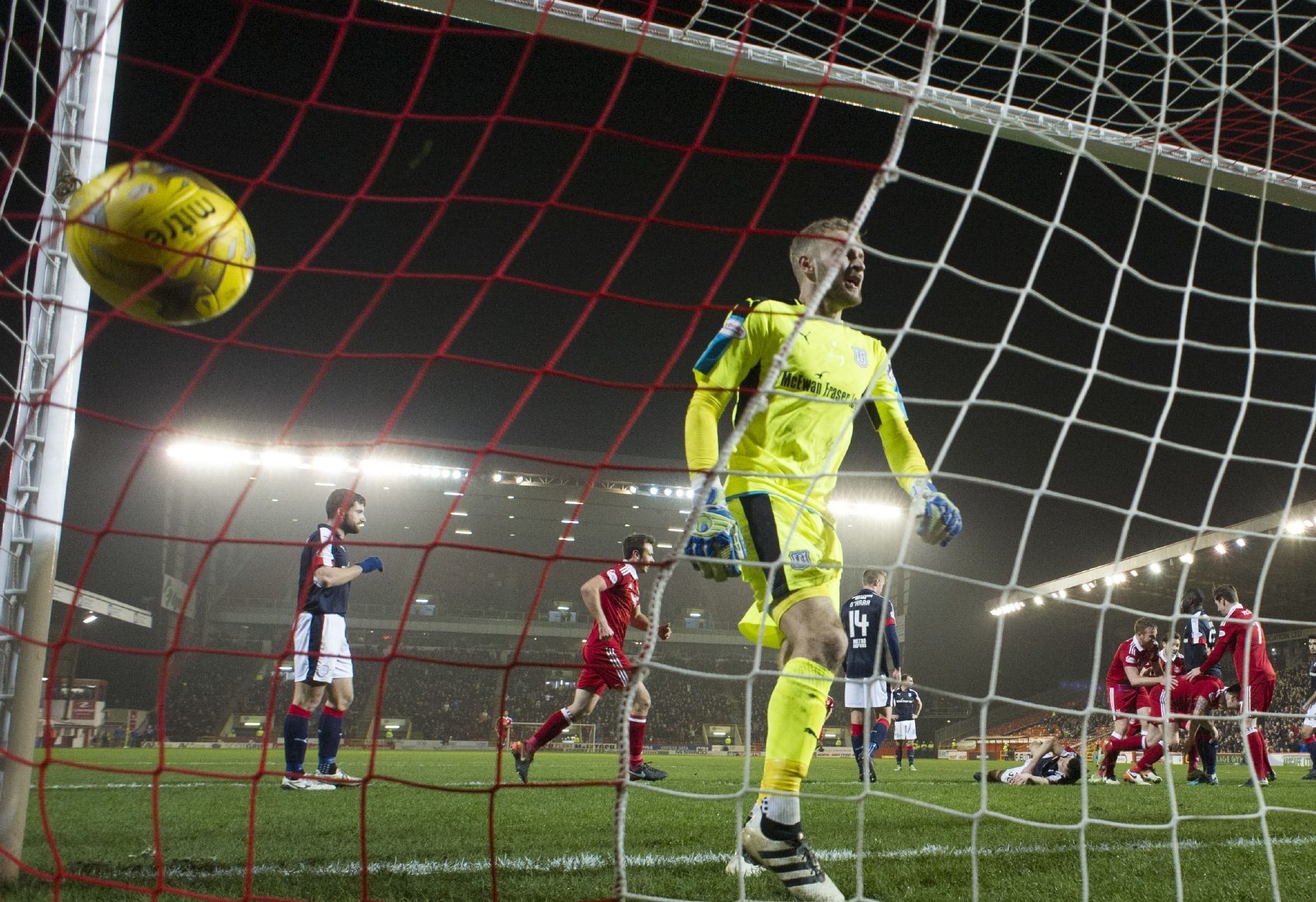 In this week's Talking Football, Courier Sports writers Neil Robertson, Eric Nicolson and Ian Roache discuss Dundee's defeat at Pittodrie, consider St Johnstone's chances of pipping Hearts and reflect upon the draw between Dunfermline and Dundee United.
Dundee boss Paul Hartley wanted a reaction to the Scottish Cup defeat at Pittodrie. What did you make of the one he got?
NR: The manager seemed to get an initial reaction but his players could not sustain their good start to the game and Aberdeen ran out comfortable winners. Dark Blues keeper Scott Bain pulled off a string of vital saves and if it wasn't for him, the scoreline could have been embarrassing. However, considering the run Aberdeen are on at the moment, it was always unlikely that Dundee would take anything from a trip to Pittodrie.
EN: Ten minutes of looking OK doesn't qualify as a reaction, unfortunately. Mind you, as underwhelming a performance as it was at Pittodrie, it would still probably have been enough to beat St Mirren the week before.
IR: I was up at Pittodrie and it all looked so good for around 10 minutes then Dundee's game plan began to fall apart. The Dons started getting balls into the box and when that happens it is usually only a matter of time before a man in red gets his head on a cross. The defending was poor and boss Paul Hartley and Bain were both right to be critical.
This probably isn't a very easy one. But which area of the pitch is the biggest cause for concern at the moment?
NR: Front, middle or back…take your pick. The manager must be tearing his hair out that a side which beat St Johnstone 3-0 before the winter break can now be playing so badly and he really has his work cut out to turn things around.
EN: Defence. Dundee are being exposed far too easily and frequently behind their wing-backs and Darren O'Dea is becoming a better centre-back with every game he misses. His return on Saturday will be crucial.
IR: I agree with Eric.
That's two weeks in a row a Dundee player hasn't held back with his post-match thoughts. It was Paul McGowan after St Mirren and Scott Bain after Aberdeen. Good or bad thing?
NR: Dundee have already had what we thought was a season-changing clear-the-air meeting earlier in the campaign after a dismal defeat and display against Partick. While the recent expressions of frustration by both players were heart-felt, the Dundee fans would no doubt prefer actions to speak louder than words.
EN: It's par for the course for a struggling team (Dundee United last season being a case in point). Neil's right, though. It starts to mean very little.
IR: It is a good thing if it the criticism is acted upon. Bain was particularly forthright when saying some were merely accepting below-par performances from teammates so there must be more talking done on the park at Inverness.
St Johnstone have drawn level with Hearts. What chance do you give Saints of finishing ahead of Ian Cathro's men at the end of the season?
NR: I am not a gambling man but I would be willing to wager Eric's wages on Saints finishing above Hearts. I am distinctly underwhelmed by Cathro's Jambos and quite how he is going to integrate nine new signings into his side, only he will know. In contrast, I can only see Tommy Wright's settled side getting stronger as the season draws to a conclusion.
EN: I've been thinking Saints will overtake Hearts for a few weeks now. I can't ever remember a team that was doing well being rebuilt like is happening at Tynecastle just now. It's the sort of surgery you would expect to see with a side that is at the bottom of the league and has nothing to lose. Saints' continuity is far more preferable.
IR: Saints are a club renowned for their stability and this transfer window has seen precious little upheaval at McDiarmid. You obviously can't say the same for Hearts under Cathro and their dealings brought back memories of the Vladimir Romanov days. The Perth men can pip them.
I suspect you would give Saints a better chance of beating Partick Thistle this evening than Hearts getting the better of Rangers?
NR: The Jambos beat Mark Warburton's side the last time they met in what was Robbie Neilson's last game in charge before he took over at MK Dons however I just cannot see a similar outcome tonight. Saints have won at Firhill already this season but they will be wary against a Partick side who are unbeaten in their last five matches.
EN: Rangers will win but a draw would be perfectly acceptable for Saints.
IR: I actually think Thistle are decent and am surprised that they aren't higher up the league than they are. It will be a close match at Firhill and could be a draw but I strongly fancy Rangers to beat Hearts.
Good point or bad point for Dundee United/Dunfermline at East End Park?
NR: The result was a bad one from a United perspective with Hibs now eight points ahead of them in the title race. Boss Ray McKinnon is probably still ruing the goalscoring opportunities his players passed up in the game. From a Pars perspective, it extended their unbeaten run to 11 games and kept their play-off hopes alive.
EN: I don't think it was particularly good for either of them. Time is running out for the Pars to close the gap to the play-off teams and United need to draw a line under that winless run.
IR: A draw against an on-form Dunfermline team at East End Park wasn't a bad result but it wasn't a good one either. United need wins, not just to keep Hibs within sight but also to stay ahead of Morton. The Pars have been unlucky against the Tangerines in some games this season but a point wasn't too bad an outcome for them.
Have we now officially reached the stage when we can say United are playing for second?
NR: No-one at the club has run up the white flag just yet but their title hopes are fading fast. United would need Hibs to suffer a massive slump just to catch them up and I cannot see that happening. The Tangerines have not won for five matches with Morton now just three points behind them in the Championship table.
EN: Never say never and all that but the fat lady is gargling backstage. And, make no mistake, it is vital United keep Morton and Falkirk at bay. Having two extra matches to play in the play-offs could be fatal.
IR: I am still not willing to say it's over yet but for the second season in a row they are needing to close a considerable gap with games are running out and the team above needing to suffer a collapse.
United have got Raith on Saturday. Are Rovers the team you'd pick to play in the Championship just now?
NR: I honestly thought Raith had turned the corner after they ran Hearts close in the Scottish Cup and I was shocked to see them go down 3-1 at home to part-time Dumbarton in the league on Saturday. Fatigue may have played a part but for manager Gary Locke's sake, his players have to produce a big response at Tannadice. However, McKinnon's men showed enough against the Pars to believe that home advantage will be key.
EN: My worry for United/hope for Raith is that recent history tells you Rovers do better against the teams they are not expected to beat. They've drawn against Hibs, Hearts and United in the not-too-distant past. Having said that, I still expect United to win.
IR: United will certainly be hoping Raith are the team to play just now!
It's a big Angus derby on Saturday. Do Arbroath have to beat Forfar to retain an interest in automatic promotion?
NR: The Red Lichties have beaten their Angus neighbours twice already this season and they will have to make that a hat-trick of wins, otherwise we can start calling Forfar the champions elect.
EN: I think they will win. It's unlikely to stop Forfar taking the title, though.
IR: Forfar's results in the derbies have been baffling so maybe this is the time they will get it right.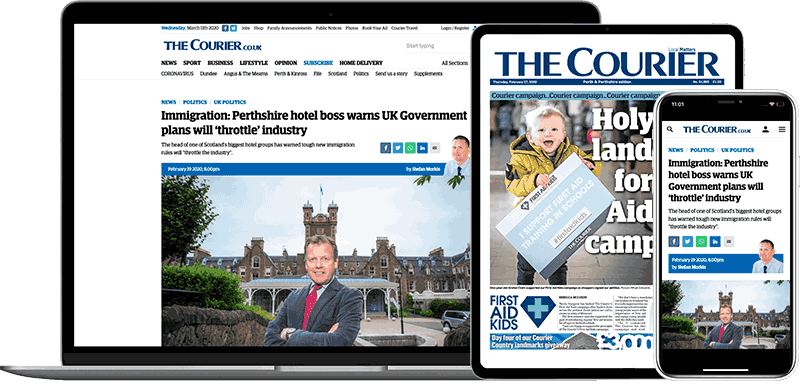 Help support quality local journalism … become a digital subscriber to The Courier
For as little as £5.99 a month you can access all of our content, including Premium articles.
Subscribe