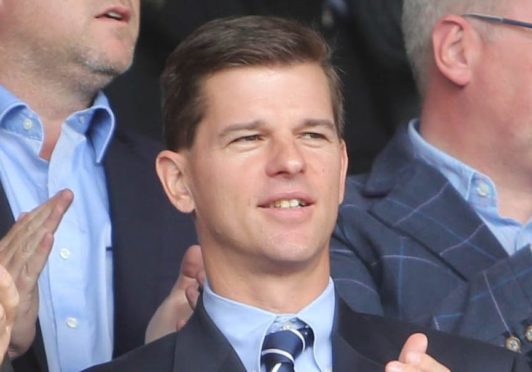 Dundee Football Club are pushing on with plans for a new stadium, as the cost of renting and maintaining Dens Park bites deeper and deeper.
The Dark Blues have posted an operating loss of over £500,000 for the last financial year, with £200,000 of that being needed for the upkeep of their ground.
Dundee budgeted to make the top six in the Premiership last season, but failure to do so has also impacted on their profitability (by another £200,000).
Managing Director John Nelms has revealed that he and owner Tim Keyes are stepping up their plans to relocate to a site near Camperdown Park, with a land-use application soon to be submitted.
He has also told supporters that they haven't given up the idea of playing a game in America.
On the £530,000 financial loss for the year ending May 31, 2016, Nelms said: "We released the accounts today. They're not great but they're nothing to worry about.
"Football Partners Scotland funds any losses – we've said that from the get-go.
"The biggest issue we have is the stadium itself. We have put over £200,000 into the ground. That's not enhancing the ground. That's just keeping it going.
"These issues are going to get worse and worse as time goes on.
"The other issue is we always budget for top six and we spent money as a top six club. Unfortunately we ended up in eighth position last year.
"We understand those risks and we're happy with those risks.
"On a positive note – even though it might not sound positive when you say we've lost £530,000 – we can say for the first time in a long time staff (mostly admin staff) have received raises and we're quite proud of that. It's well-deserved and long-overdue."
On the prospect of a new stadium, Nelms said: "We're aware we're trying to give a 21st century entertainment product in a 19th century building.
"It's not new news that Tim and I have bought 29 acres near the ice rink at Camperdown Park.
"We will be putting in a land-use application shortly that we hope really enhances Dundee Football Club – not only its day to day inner-workings but the type of event we can put on for Dundee Football Club. We think that's the future of Dundee Football Club.
"We're quite excited about it. It's early doors. I'm not going to talk about it until we get to certain levels. We've got a lot of hoops to jump through and a lot of politics to get through. But I can tell you we've been working on this for the last year – even before we purchased the property.
"The city council has been fantastic. We all see it being a good thing for the city.
"We have been trying to future-proof as much as possible any facility we put on that site and make it exciting and work 24 hours a day, seven days a week and be a jewel for the City of Discovery and Dundee.
"I will give updates when appropriate.
"Moving forward, we think we're going to have exciting times ahead where we're potentially playing games overseas; we're playing games potentially in a new facility; training in potentially a new facility. That's where we're headed."
On the American match, which Dundee had hoped to set up this season, Nelms said: "It's something we're still working on but there are some political issues.
"There are no parameters or timelines to political issues. We've made a little headway recently.
"We'll continue to work on these things
"I think they'll be very beneficial and very exciting for Dundee Football Club."
The turnover for the year was maintained at approximately £4 million.
Giving more details on the operating loss, a club statement read: "The timing of televised games and poor weather also impacted receipts from our high profile games. This came on top of a significant decrease in the number of category A matches at Dens compared to the previous season.
"Club wages show an increase of £175k over last year. Part of the increase being the result of pay rises to administration and support staff within the club, the first such rises for a number of years.
"The cost of maintaining Dens Park continues to increase with every passing year. The maintenance bill rose by £50k to £200k in the financial year. This expenditure is likely to continue at this level and increase as the stadium ages."
The statement added: "Prior to the club exiting administration, the lease over Dens Park was renegotiated. As a result of this renegotiation, escalations to the annual rent were agreed, starting from May 2016.
"Also, due to changes in accounting rules, introduced in the current year,  the rent payable in total over the life of the lease is required to be spread evenly over each of its 25 year term. This means the effect of future predetermined rent increases for remaining term of the lease will be reflected for the period of the lease, which has expired up to May 31 2016. The effect of these accounting changes will require an additional £500k having to be provided in the 2017 accounts.
"Finally, the directors would like to thank all the stakeholders at the club, including supporters and staff, whose contributions are vital for the long term success of the club."