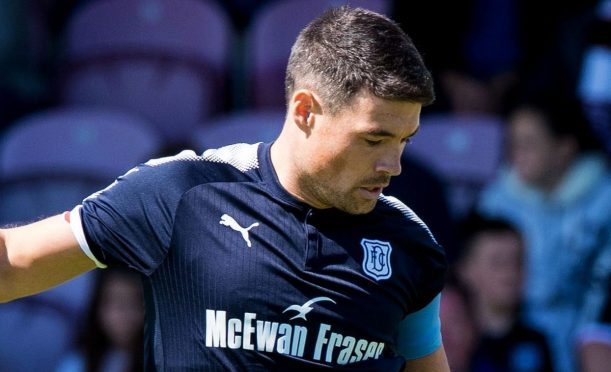 Dundee skipper Darren O'Dea insists friendship will be forgotten when he lines up against good pal Scott McDonald at Dens tomorrow.
The Australian striker signed for Dundee United earlier this week and although the 33-year-old is unlikely to start the Betfred Cup derby, he is almost certain to play a part from the bench for the Tangerines.
When he does, no quarter will be asked or given from O'Dea despite the fact the pair have been firm friends ever since their days as youngsters at Celtic.
The big Irishman said: "I've spoken to Scott a couple of times. He said he isn't quite match-fit but I'm sure he'll play some part.
"We were best pals at Celtic and our wives and kids are best pals so he's a very close friend of mine – or was!
"Seriously, he's a good lad and a very good signing for them but I'll wait until after the weekend to wish him luck.
"I had a few battles with him in training. He's a great character and great for the dressing-room. He's a winner.
"I had plenty of fights playing with and against him. He's a good signing for them and we'll need to be aware of him.
"Scott is the biggest moaner you'll ever come across and we've had a few battles.
"I didn't hesitate to put him up in the air when I played with him and I certainly haven't since I've played against him.
"We're best pals but there's no doubting when we represent two different teams – whether it was Motherwell or Dundee United – it makes no difference.
"He didn't ask me for advice. I just spoke to him once he had signed. I haven't told him anything about the fixture and won't be ringing up to give him tips or pointers."
Tomorrow will be the first time the Dundee sides have met since a certain "Doon Derby" at Dens.
United were consigned to the drop that night but O'Dea insists the Dundee players were simply focused on winning, not the wider implications for their opponents.
He added: "The last derby was one of the best atmospheres I've played in and one of the most enjoyable wins I've had as a player.
"It was fantastic to win, it was such a big occasion and to see the way the fans reacted to everything.
"But it was more the win we enjoyed and the consequence of it was nothing to do with us.
"It's another game and another Cup game but we all know there's an added incentive."
As the Premiership side playing at home, Dundee will undoubtedly start as firm favourites.
That is something O'Dea is convinced the players can cope with and instead he believes the will to win and keeping cool will be key.
He said: "Since I've been at the club, we've always been what I would consider favourites in the derby but it doesn't matter in these games.
"It's about who wants it more. Sometimes the technical side can go out the window but we obviously want to impose ourselves on the game and control it.
"But I always associate these matches with your desire and temperament as much as anything and we'll be ready in all aspects.
"This is massive. We went out of the cup in the group stage last season and it was made clear to us that they are very important this season.
"It wouldn't matter if United were in our group or not. It would be massive but if you add them into the occasion it's huge.
"The fans will see the rivalry but as players we need to see it as a game we have to win to top the group and progress."