In this week's Talking Football, Courier sports writers Ian Roache, Eric Nicolson and Neil Robertson assess the chances of a cup shock at Dens Park and reflect on the contrasting Championship form of Dundee United and Dunfermline.
A-Jay Leitch-Smith now has as many goals for Dundee as hyphens in his name. Is he the striker the Dark Blues have been searching for?
IR: Some fans may be more familiar with the Three Barrels than double barrels but they could be raising a toast to this guy if he keeps the goals flowing.
EN: It's a bit early to start making predictions of a 20-goal or even a 10-goal season for him but the technique Leitch-Smith showcased for the second goal against Saints suggests he could be a find. The importance of getting a goal early for a new striker, particularly one who is also new to Scottish football, can't be downplayed.
NR: It was certainly a dream Dens debut for the on-loan Shrewsbury Town man. He suffered a medial ligament injury last season and seems determined to make up for lost time in Scotland. Like Eric, I will reserve judgment until he has a few more games under his belt but he was definitely impressive on Saturday.
Do you think Neil McCann's side can build on their first win of the league campaign or is it still too early to be too optimistic?
IR: The next Premiership match is a trip down to Kilmarnock and if they win that one then they will definitely be up and running. I am still a wee bit cautious considering they are only two points off the bottom spot occupied by Killie but hopefully the players will have had their confidence well and truly boosted.
EN: High highs and low lows characterised Paul Hartley's team and McCann's side have yet to convince us that his will be any different (albeit he hasn't really had enough games to do that yet). Following up the Saints win with another at Rugby Park would suggest things could be different this time round.
NR: It was vital Dundee got the monkey off their back sooner rather than later but we will know more about McCann's new-look side after the Kilmarnock game. Lee McCulloch's men will no doubt approach it like the proverbial cup final – Dundee have to do the same.
Of course, Celtic are on their way to Dens Park for a Betfred Cup quarter-final. Can you see Dundee doing a PSG?
IR: Well, if Dundee do lose tomorrow night then at least we can all go on about how terrible it is that one team boasts much greater financial resources than the other. I watched that PSG game and the French aristocrats were magnifique, leaving Scotland's champions chasing shadows. Money certainly talked that night but I'm not sure Neymar could push A-Jay out of the Dundee starting line-up…
EN: I don't think Celtic are playing as well as they did last year and Brendan Rodgers may rest a few given there's an Old Firm game at the weekend. Dundee certainly aren't without hope. A narrow away win is my prediction.
NR: One thing is certain – despite the fearsome nature of the opposition, Dundee will definitely have a right good go. McCann has been banging that drum ever since he took the reins at Dens on a permanent basis that he wants his team to be brave. The big worry is that if they are too gung-ho, Celtic could punish them.
As for St Johnstone, was that defeat on Saturday their most disappointing display of the season so far?
IR: With brazen hindsight, I have to say that it wasn't a surprise to me that Saints lost at Dens. The Dark Blues have a fine record against them there. Also, I saw the Perth men lose 3-0 at home to Partick Thistle in the cup earlier this season so I'm not sure the Dundee result was their worst.
EN: Ian's right – Thistle was worse. I didn't cover the game but the consenus seems to be Dundee edged it, though the referee got the Dark Blues' penalty and Saints' disallowed goal wrong. It's probably no coincidence that Murray Davidson's absence for the second half against Hibs and at Dens coincided with Saints being below their best.
NR: When Dundee went 2-0 up, I honestly saw no way back for Saints as they had been so poor in the match and had barely created a chance worthy of the name. Unlike Eric, I thought the referee was right to disallow Anderson's "goal" although the Dundee penalty award was harsh. Those moments of controversy possibly disguised just how lacklustre the St Johnstone performance was.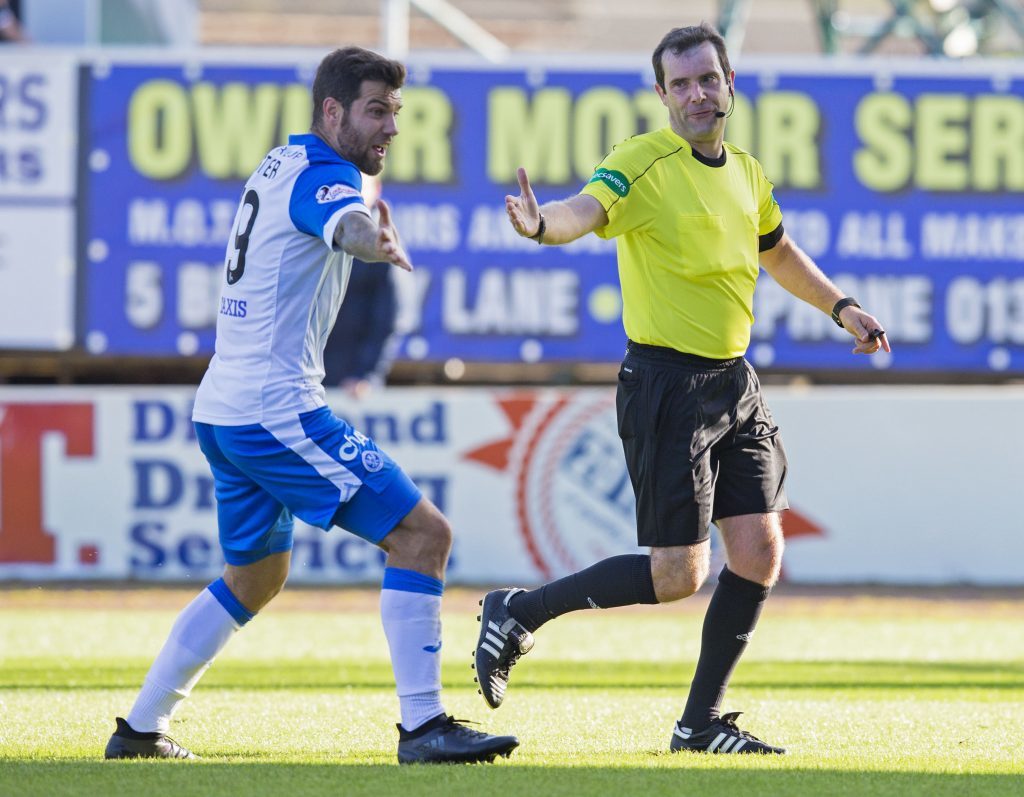 They may have produced an improved performance at Falkirk but five goals in six league matches from Dundee United is simply not good enough, is it?
IR: I would go further than "not good enough" and say that it's an embarrassing total. It is a sobering statistic that only Killie (bottom of the Premiership), Dumbarton (fourth bottom of the Championship), Forfar (bottom of League One) and Cowdenbeath (bottom of League Two) have scored fewer league goals than the Tangerines in Scotland. It's a problem that needs to be fixed asap.
EN: There have to be weeks (and quite a few of them) when you blow the opposition away if you're going to win a title. Getting into an arm-wrestle game after game grinds you down. The Championship is a competitive league but the sooner United can get a three or four-nil on the board, the more faith I will have in them.
NR: If United are to live up to their favourites' tag and win the title this year, then it is far from good enough. The Tangerines have a new-look team this season and have taken a while to get everyone fully up to speed but the time for excuses is fast running out.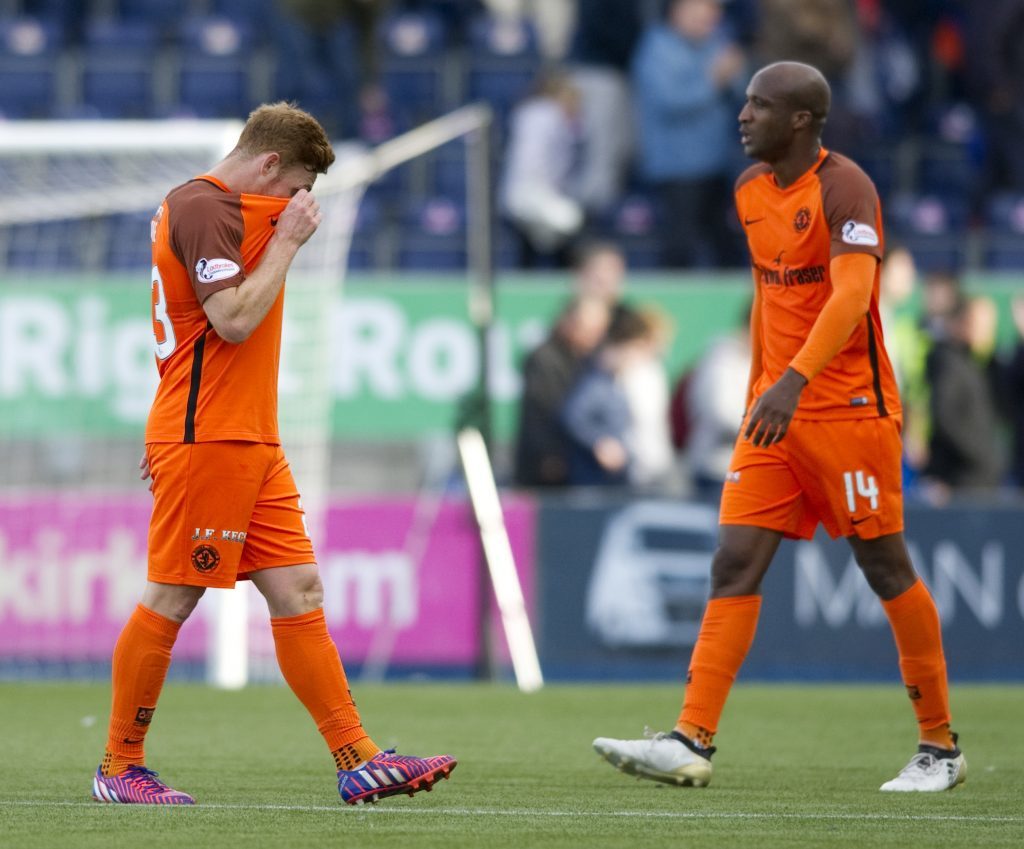 How would you sum up the Tangerines' current situation?
IR: On the one hand, an away draw at Falkirk can hardly be described as a bad result. On the other, the Bairns were there for the taking after making a winless start to their campaign. Also, United's defensive and midfield play was good for long spells but they fell down in the forward third. They can't seem to produce a complete performance. You could argue they are getting there but, as discussed above, goals need scored sooner rather than later.
EN: The most worrying thing for me is that they have already lost the 'big club' aura that Hibs had last year and Rangers and Hearts the seasons before. If they had got off to a flier the likes of St Mirren and Dunfermline would have subconsciously felt they were playing for second place. As it is, they now look upon United as equals.
NR: I think Saturday's game against Morton is hugely important. Jim Duffy's men will arrive at Tannadice in buoyant mood after back-to-back wins over Dunfermline and Queen of the South. The United natives are restless and Ray McKinnon's men have to produce a big performance and result.
By contrast, the Pars are decidedly above-par at the moment. Can you see them staying at the top of the Championship?
IR: Dunfermline look to be the real deal this season and their goals-for column puts other teams' totals to shame. I particularly like their ability to bounce back after a setback. They had a heavy defeat at Ibrox then won big against Inverness. They threw away a two-goal lead to lose at Morton then hit three without reply against St Mirren. That's impressive stuff.
EN: I was at East End on Saturday and, make no mistake, their players believe they can do it. As with St Mirren, they'll lose a few games by going for it but their attacking mindset is the right one for this league. There are so many goal threats in Allan Johnston's side. And Ryan Williamson is a star in the making at right-back.
NR: I saw a classy St Mirren side comfortably beat United last month so I could not fail to be impressed by Dunfermline's win over the Buddies. The Pars will definitely be up there but I see it being close all season at the top of the Championship.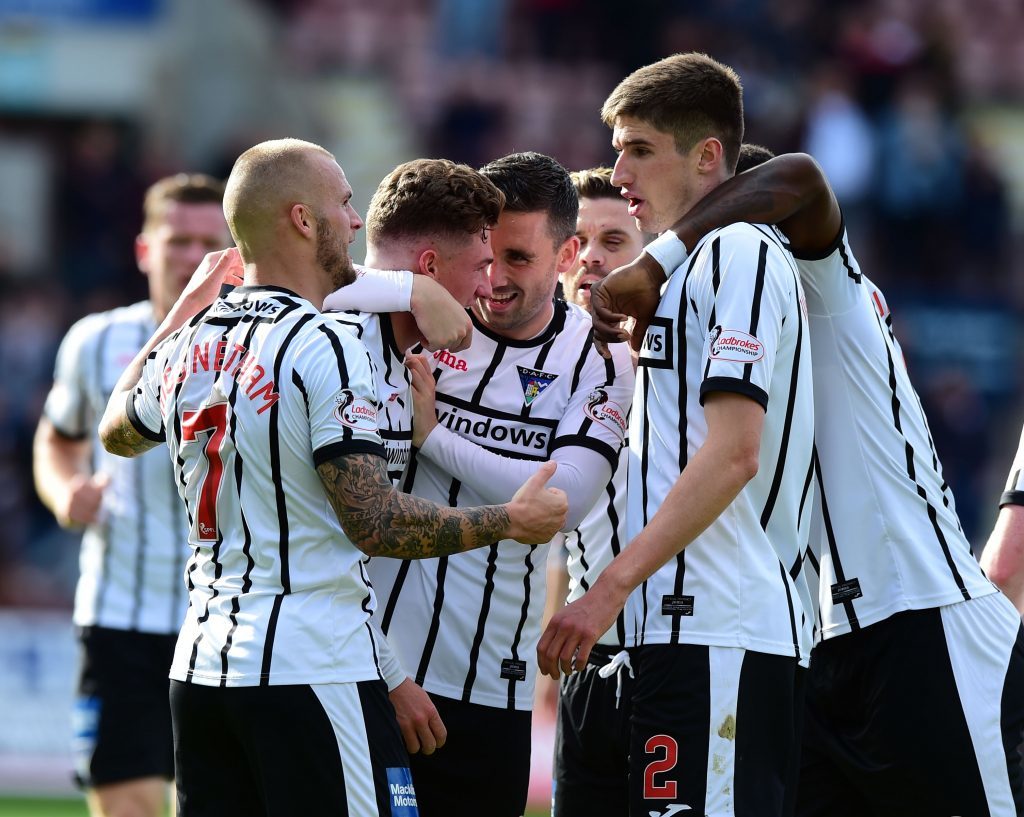 Lewis Vaughan: discuss.
IR: I hear he is closing in on the all-time club record set by Joe Cowan in the 1931-32 season of scoring in 13 consecutive matches. Vaughan is currently on 11 and you wonder if even the Airdrie and Albion Rovers players will be cheering him on in the next couple of matches (only kidding). If he keeps this up, then all eyes will be on the Irn-Bru Cup tie away to St Mirren on October 7.
EN: The last time we were writing stories about a player in this part of the world closing in on a club record like this it was David Clarkson at Dundee. When his remarkable run came to an end his career went steadily downhill. I can't see that being the case with Vaughan.
NR: I am absolutely delighted for him. He was put in an impossible situation last season when he was loaned out to Rovers' then Championship rivals Dumbarton and it is great to see him put that nightmare well and truly behind him.