Club football is back and the two Dundee clubs will be hoping the break hasn't stopped their momentum. Eric Nicolson and Neil Robertson assess the weekend fixtures and the Scotland manager's job.
It's not often we start with international football but it would be remiss not to this week. Gordon Strachan . . . what happens next?
NR: What should happen next is that Strachan is thanked for his efforts as national boss and then quietly heads off into the sunset. He has been in charge of two failed qualifying campaigns and I just do not see it being third time lucky. The Slovenia after-match interview sounded very much like a man on his way out and as for the "genetics" excuse, can I point to the fact that Xavi, Iniesta and Messi are all around 5ft 7ins tall . . .
EN: It will need to be his decision because I suspect the SFA will be more than happy to give him another couple of years. They'd be wrong to, though. The longer I reflect on Sunday and the campaign as a whole, the firmer my conviction gets that if Strachan had got his team selections right when it really mattered we would be in the play-offs (and we'd have been at the Euros in France).
And if he does go, who would you replace him with and does the new man have a decent base to build from?
NR: No doubt there will be calls for all the usual suspects such as David Moyes but I would look closer to home (St Johnstone fans stop reading now) and give Tommy Wright the chance to emulate what Michael O'Neill has done with Northern Ireland. There is definitely a base to build on and hopefully the new man will not be so reticent when it comes to giving home-grown talent playing in this country their chance to shine.
EN: If Northern Ireland don't make it to Russia via the play-offs, I'd certainly want Stewart Regan to have a conversation with O'Neill, who might believe he has done all he can with his home nation. And Neil's correct, Tommy Wright should be given serious consideration as, don't forget, he was O'Neill's number two for a while. I also think the calibre of foreign applicants will be stronger than many fear.
Anyway, there are plenty of fans who count down the days through an international break, so back to the club stuff. St Johnstone and Hibs have got something at Parkhead. Is Celtic's unbeaten run looking shaky and are Dundee the ones to end it?
NR: Neil McCann's men will definitely play with "no fear" as the manager is fond of saying and they have picked up seven out of a possible nine points in their last three league games including wins over St Johnstone and Hearts. However, Celtic ran out comfortable 4-0 winners in the Betfred Cup at Dens just three weeks ago and I would be surprised if Dundee can upset the odds this weekend.
EN: McCann's new defensive formation will certainly get a proper test but if it becomes a back five rather than a back three, defeat is inevitable. I do actually think Celtic will lose soon, though, because they're not playing as well as last year.
Whatever the result, Neil McCann will want his team to land more blows on Celtic than they did Rangers a few weeks ago.
NR: That will be easier said than done. The jury is still out on Dundee's front men this season and the side's best chances will probably come from set-pieces with defenders Jack Hendry, Darren O'Dea and the Hearts two-goal hero Kerr Waddell all big danger men.
EN: Getting up the pitch will be one of Dundee's biggest issues. Hendry stepping into midfield will be one key factor and the ball sticking with whoever is up front will be another. Neil makes an excellent point about set-pieces, however. All of a sudden Dundee look like one of the biggest backlines in the league and will load the box given half a chance.
Would you say same again to the team which beat Hearts and same formation?
NR: Yes, I would. There was a big, solid look to the Dark Blues' starting line-up against the Jambos. As ever, though, the mental battle will be as tough as the physical one at Parkhead. Time after time, you hear players saying just how draining it is having to defend for long periods against Brendan Rodgers' side and if you switch off for a split second they can punish you.
EN: I'd be tempted to take Moussa out and opt for a bit more mobility up front. I think Cammy Kerr should return as well.
Tommy Wright wasn't a happy man after St Johnstone's defeat to Aberdeen. And since then he's highlighted the "cheap goals" Saints have conceded. Will that change against Rangers on Friday night?
NR: To say Wright was unhappy at Pittodrie is one of the understatements of the year. The manager was absolutely livid and it was possibly as well for his players that they had a couple of days off after the Dons debacle to give him a chance to calm down. One thing I am certain of is that Wright and his back-room team will have been working tirelessly during the international break to address the defensive failings and woe betide the players if they have not taken the lessons on board for the Rangers game.
EN: I seem to remember a spell like this last year when the Saints defence came into focus. They came through it then and will do so again. Richard Foster being suspended doesn't help but I expect Anderson and Shaughnessy to command their box.
Pedro Caixinha got a big win against Hamilton before the break but is it still a case of one game away from a crisis for the Rangers boss?
NR: It certainly is. The expectation levels are off the scale for any Rangers boss and I for one have yet to be convinced that Caixinha is the right man for the job.
EN: A win here would be a big one for Caixinha. Rolling over Hamilton is one thing but doing the same to Saints would be a much bigger statement. I do actually think they are better now than under Warburton or at the end of last season.
Talking of a crisis, can we say the Dundee United one – if it ever was – has passed?
NR: He won't do it but it must be tempting for United boss Ray McKinnon to say, "I told you so". The manager had never wavered insisting he knew it would take his new-look side time to click and they have certainly done that now following the important back-to-back wins over Morton and Dunfermline. There is another big test this weekend though at the home of a Livingston side who are unbeaten in their last five league games.
EN: It wasn't a crisis in terms of points and league position but it was for a lot of supporters who hadn't seen their team put on a performance to merit the tag title favourites. They got it at East End Park but the doubters will be doubting again if they don't see the same again on Saturday.
It was a young United side that saw off Linfield at the weekend. Are there any future home-grown stars at Tannadice?
NR: Logan Chalmers grabbed the headlines with his well-taken late, late winner but I was also impressed by Graham Taylor and Scott Allardice during the match. However, it is difficult to accurately assess them until I have seen them play against Scottish full-time opposition.
EN: I've only seen Allardice out of the ones Neil has name-checked but he looks to be a bit away from becoming a first team regular. We shall see. United fans will want to see Scott Fraser living up to the hype when he returns from injury.
Forfar have appointed a new manager while Talking Football has been away. Is Jim Weir a wise appointment?
NR: Only time will tell. It would be fair to say that Weir's appointment divided Forfar fans but he knows the lower leagues inside out and did a decent job at Elgin City. He certainly has his work cut out now at Station Park to try to restore confidence in a group of players who have only tasted victory once so far this season.
EN: I think the Forfar board have got it right. Elgin were at the foot of the SPFL when Weir took over but their set-up now is of an established top half of League Two side. And at Brechin before that he took them on an unforgettable Scottish Cup run and was about a minute away from taking them into the Championship. I'm expecting mid-table safety this season and then a promotion challenge the year after.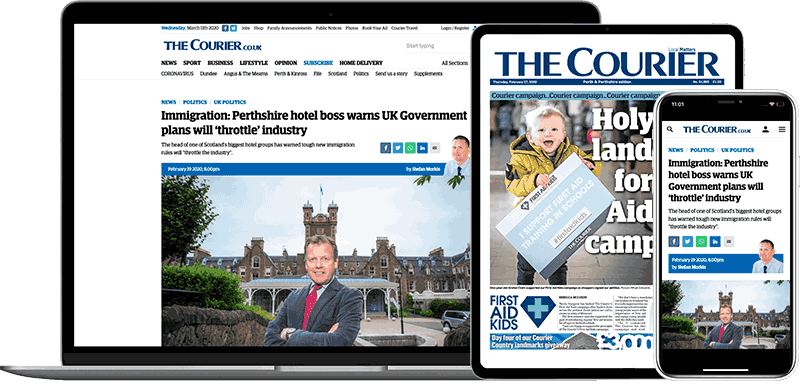 Help support quality local journalism … become a digital subscriber to The Courier
For as little as £5.99 a month you can access all of our content, including Premium articles.
Subscribe