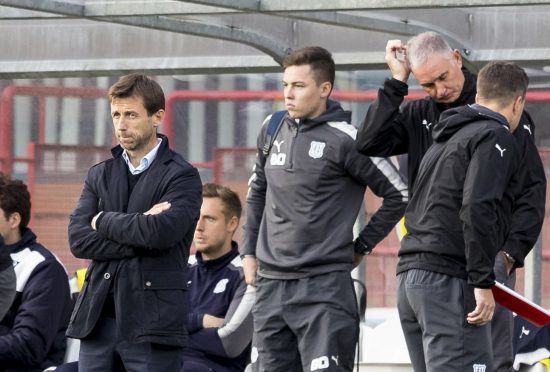 Dundee Football Club has had better weeks.
Three games in seven days that looked winnable on paper, and looked winnable as they were being played out, have produced three soul-destroying defeats.
What presented itself as an opportunity to establish top six Premiership credentials has resulted in the next task being trying to rise off the foot of the table.
And if the shock is just to be a short and sharp one, the Dark Blues will have to become more resilient in adversity.
Because at the moment, as Paul McGowan admitted, losing a goal is having far too big an impact on their performance.
"It's very disappointing," said Saturday's captain.
"I thought we were the better team in the first half, without really cutting them open, and then we lost a poor goal.
"It seems to knock the stuffing out of when we go a goal behind. It affects us.
"In the second half we were nowhere near good enough. We stopped doing what we're good at.
"We started launching it in the box and it just turned into a bad day. The second and third goals were bad ones as well.
"It's a sore one and it's hard to take. We need to bounce back."
It's little wonder that McGowan and his team-mates were a bit shell-shocked to find themselves in 12th place in the table given the speed with which the outlook has changed.
"We had been getting a wee bit of praise for the way we had been playing," said the former St Mirren man.
"I go back to the Partick game where we were cruising and should have been out of sight. It was only a week ago and now we're sitting here with three defeats.
"If we'd won that and gone into the Motherwell game with confidence we could have had three wins rather than three defeats.
"The gaffer's upset and you can understand it.
"It's alright getting praise but you need to show guts when you go a goal down. It's time we started learning from our mistakes.
"We need to find consistency which is hard in this league.
"I don't think Hamilton out-muscled us or anything like that. It's just bad goals we conceded.
"When you're playing good football and not getting results you start scratching your head."
This was a real slow-burner of a game and a shot just wide from McGowan sparked it into life just before the half-hour mark.
Dundee were the side starting to build momentum when a Dougie Imrie cross – a very good one, it has to be said – evaded all of the three centre-backs and was expertly headed home by Ioannis Skondras at the back post.
After the break David Templeton doubled Accies' lead, taking advantage of poor marking from a pretty basic free-kick into the box but an A-Jay Leitch-Smith penalty and then Massimo Donati's red card gave Dundee a lifeline. Actually, it didn't. The double blow galvanised Hamilton and Antonio Rojano ended the contest from close range late on.
Manager Neil McCann doesn't have to dig too deeply to see a common thread in where things have started to go wrong.
"We were in control of the match again and got done by a sucker-punch," he said.
"It's been indicative of our season that we've lost soft goals.
"The first was such a poor goal. For the second we've got done by a move off the training ground. Templeton gets a run because they've used a block.
"Then we get ourselves back in the game and they go down to 10 men. But the defending for the third goal as a team was so poor and that kills the match for us.
"Because we haven't been scoring freely, if you hand a team a goal start you're giving yourself a really difficult job."
He added: "We've got a young group and this is when they become men.
"I'm not going to roll over. We'll put in serious work to try and become harder to beat. This is when you use your man management skills to gather the boys and make sure we become stronger characters.
"Our game has been really attractive to watch without getting results but we need to do the ugly side of the game as well.
"I'm aware of the league table. I'm not ignorant to it. I don't like being bottom of the table and I'm trying to change things here so we're not.
"All the other teams who have come above us have had difficult periods. We're going through one just now. The only way out of it is working hard on the training ground and being brave."
McCann revealed that Kevin Holt missed the match through illness. He should be back for the trip to face Hibernian on Saturday, as should Darren O'Dea.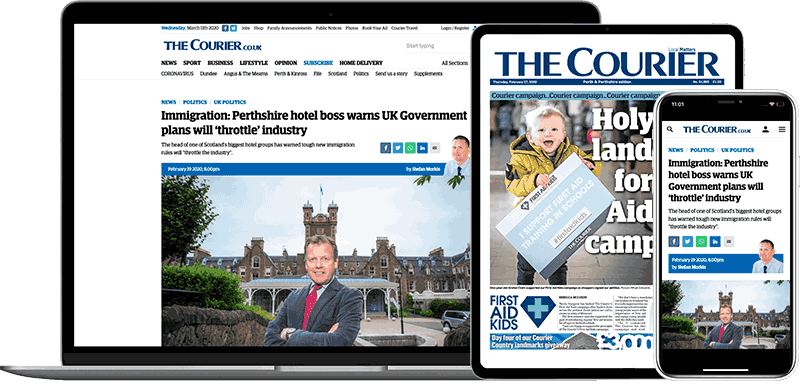 Help support quality local journalism … become a digital subscriber to The Courier
For as little as £5.99 a month you can access all of our content, including Premium articles.
Subscribe