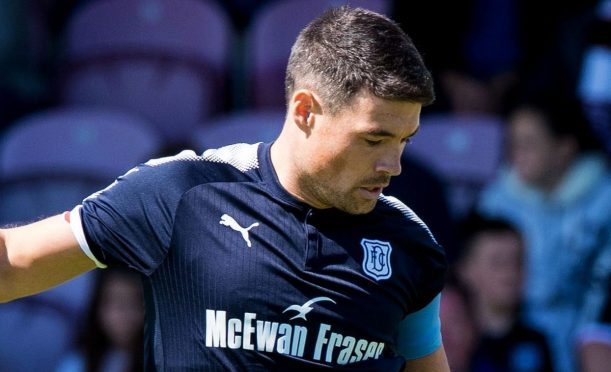 Dundee captain Darren O'Dea would love success to come via silky soccer but feels it may be time to win ugly.
The Dark Blues may have earned plenty of plaudits for their football this season but the reality is that they have lost their last five Premiership matches and sit bottom of the table.
O'Dea would be delighted if Dundee can play opponents Kilmarnock off the part at Dens this afternoon but he also won't mind if it is a scrappy display that secures three points.
The Irishman said: "I have a feeling that is what is going to happen.
"We are going to have a game where we are not playing particularly well but we are going to win.
"That is going to be the irony of it all.
"We will strive to keep playing well all the same and if you keep performing then results should come with that.
"It is imperative now, though, that we match these good performances with results.
"If that means winning ugly, then so be it."
Manager Neil McCann has introduced double training sessions as they bid to get out of their slump and that is something that O'Dea does not have a problem with.
The former Celtic man said: "In my own career, I have only ever been nervous before games if I have not prepared right.
"We can't say that here.
"There's no team that's training more than we are.
"We're doing double sessions which is kind of 'old school' if you like but that is because we're so intent on putting it right.
"It is because the manager is desperate to get it right and that feeds into the players.
"So we are going into games and we have nothing to worry about really because we have done everything we possibly can to prepare.
"We have not picked up anywhere near the amount of wins and points we wanted to pick up.
"But it hasn't been for the lack of preparation.
"It's never down to the want of trying or lack of courage or bravery from the lads.
"We believe in what we're doing.
"Nine times out of ten you don't get punished for a little lapse in concentration but we seem to be getting punished for everything now.
"You can't moan about it and you can't just say that your luck will change.
"The only way you can look at it is to keep working and if you're doing the right things, as we are, then you can believe that things will turn.
"That's certainly the message from us."
The pressure on the Dark Blues to get something out of this match intensifies when you look at their next set of matches.
After facing Killie they host Rangers at Dens next Friday night, travel to Dingwall to play Ross County on December 2, host Aberdeen on the 8th – another Friday fixture – then head to the new-look Tynecastle on Tuesday, December 12 to face Hearts.
Look at that through a half-empty glass and you can see how important it is to get maximum points today.
However, Kilmarnock's recent away form has been very impressive under new boss Steve Clarke and that will earn them plenty of respect from the home players.
O'Dea may not be expecting Killie to look radically different to the side they drew against at Rugby Park on September 23 when Lee McCulloch was in charge but he declared: "They deserve respect when you look at those results.
"The new manager has come in with a wealth of experience and has obviously got a reaction from them.
"Listen, this league sees you play against the same teams three or four times a year.
"You know roughly what you are up against when you play Killie and, likewise, they will know about us.
"It's maybe down to the day and who performs, who is clinical and who gets the decisions in their favour."