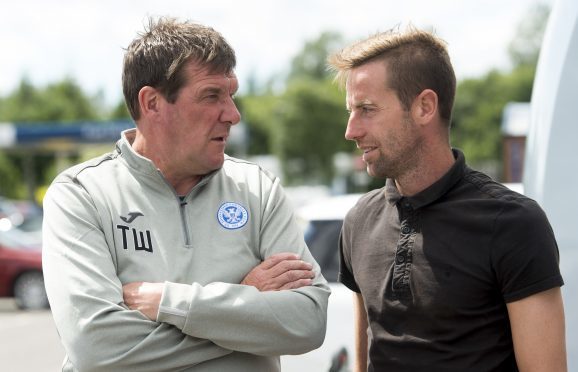 It would be a "no brainer" for Northern Ireland to come calling for Tommy Wright as Michael O'Neill's replacement, St Johnstone striker Steven MacLean has admitted.
The Saints players have been happy to see their manager's work go under the radar in the last four years but MacLean knows that the link with the Northern Ireland job "feels a bit different".
O'Neill is expected to quit as national coach at Windsor Park and Wright is the hot favourite to succeed him.
It is a domino effect that hasn't escaped MacLean's attention.
"We're not stupid," he said.
"If Michael O'Neill goes, Northern Ireland would be silly to not look at the manager.
"It's been reported that he is the favourite, and he definitely deserves a big job.
"That's not saying we want him to go but, like I say, he deserves it. And he would probably be good at it.
"It does feel a bit different this time.
"If you look back at the Dundee United one, we were in a better situation than them.
"This one seems to tick all the boxes. It would be difficult for him to turn down.
"He played for Northern Ireland, he was an assistant to Michael and he's done his own job well with us.
"You know that he'd be good at it because he'd motivate them and he's very good at working out how opposition teams will play and getting tactics right.
"It's a no brainer from their point of view. It sounds like I'm trying to get him the job!"
He added: "Obviously, we want him to stay.
"As a club you would probably have a duty to let him go and speak but we'll see what happens. Michael O'Neill has probably got the choice of a few jobs.
"It's a case of watch this space.
"I don't know how far it is down the line. It will come down to what Michael O'Neill wants to do first and foremost.
"He's been the manager for four years and was the assistant before that.
"It's been great to have that continuity and it would be strange if he did leave.
"I don't know what would happen as far as replacing him is concerned. We're talking hypotheticals.
"That's football. Things move on."
Saints face Hibs at Easter Road this afternoon, having had a bit of an "old school" work-out during the international break to try and get their season back on track.
"Last week we had a bit of old school training, which I think we needed," revealed MacLean.
"It was back to basics.
"We got a bit of a bleaching. There was quite a lot of running. There's nothing wrong with that. You know what, it was probably what was required.
"Training's been good over these last 10 days or so. We've worked on what we expect from Hibs and we'll be ready for them. Everybody is feeling good going into this game.
"We're refreshed and ready to go."
MacLean has experienced plenty of team and individual goal droughts like the one he and Saints are enduring just now and he has also experienced how quickly they can be ended.
"It plays on my mind when I don't get chances," said the veteran forward. "It's always a bigger worry than not scoring.
"If you go back to the Ross County game we had a few chances and should have scored, the Partick game we were alright and you can take the Celtic game out of the equation.
"As a striker, I've probably not had enough chances, which has worried me at times.
"I'm not going to sit here and lie and say 'I've not been concerned' but I'm sure we'll start creating chances again and if we do that we'll score goals.
"We've got players coming back from injury.
"At the start of the season we had pretty much everybody available, we were creating chances and winning games.
"You go through runs like this. You see the mettle of a team during spells like this. We need to show character and dig in – it can only be us who gets us out of this run.
"We'll stick together and come out the other end."
He added: "I've gone longer runs than this without a goal.
"It's true that when a team's not scoring goals, the strikers get the blame. That's what we're there for.
"As a team we have to be better in the final third. It's a collective thing."
Brian Easton is out but Michael O'Halloran, Chris Millar, Stefan Scougall and Murray Davidson may all be available.