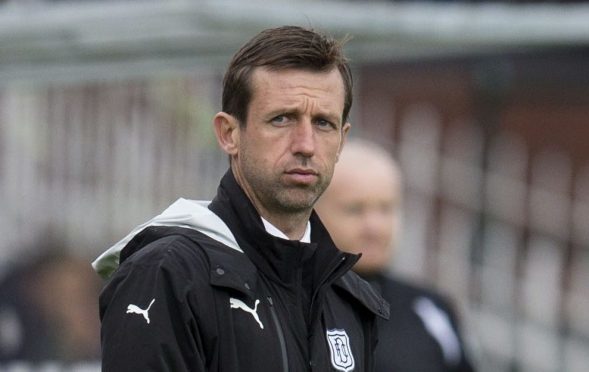 Dundee boss Neil McCann believes his side laid down a big marker last weekend which showed just how much progress they have made in recent weeks.
When the Dark Blues first met Partick Thistle back in October, they were on the wrong end of a mugging in Maryhill.
McCann's men took an early lead through A-Jay Leitch-Smith and despite the same player missing a penalty in the first half, his side were well in control of the game.
However, the Jags pulled off a smash-and-grab with two late goals to secure their first win of the season.
Fast forward to last weekend to the rematch at Dens and Dundee once again took an early lead but this time, the Dark Blues never relinquished their grip on the game and ran out worthy 3-0 winners.
Now, the manager is looking forward to seeing how his squad react this Saturday when they travel to face another team who beat them earlier in the season, Motherwell.
McCann said: "Last Saturday against Partick is a marker to show people how far we have come.
"We played so well at Thistle the last time and it was up there with one of our best performances yet we came away with nothing as we conceded two silly goals.
"Last week once we got in front we never looked like giving away any goals. I think that is a marker and a good indicator to show we are making improvements.
"It provides us with another opportunity against Motherwell to show a different side to our game. I felt here earlier in the season against them the first half wasn't good enough from us and we lost a sloppy goal, as well as having a perfectly good one ruled out.
"This gives us an opportunity to see where we are on the back of a good performance against Partick.
"I will be very interested to see what kind of reaction I get from my team on Saturday."
McCann has happy memories from his last visit to Motherwell in what was his first game in charge of Dundee last season as interim boss.
The Dark Blues ended a run of seven defeats in a row with a 3-2 win at Fir Park back in April however, the manager is fully focused on the here and now.
He added: "It was my first game in charge and I have some good memories of the day but it is a totally different situation now.
"It bears no relevance to this game. We are after the same result but having watched Motherwell and played them already, I know what they have to offer.
"They have changed their formation a little bit recently and we know what they might do, but we have to think of our own game plan.
"It is a tight league and there is so little between lots of teams. One win can catapult you up the way and one defeat has a different impact.
"We hit a level of performance (against Partick) that was much better than the Hearts game last Tuesday. I'm glad we recovered it because it sets us up nicely for a tough game against Motherwell."