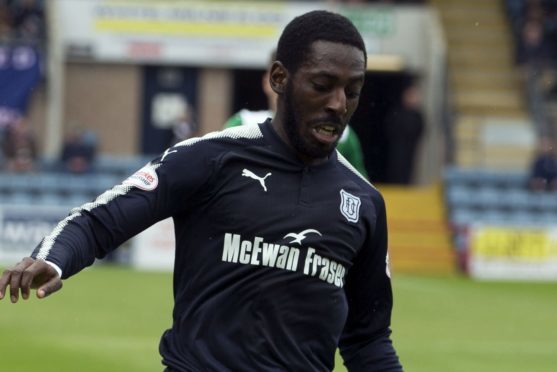 Dundee have become all too accustomed to the feeling of being short changed this season.
Time after time Neil McCann and his players have been left to curse dominance not being translated into goals scored and points won.
But even by their standards, Saturday's smash and grab by Motherwell was hard to take.
Asked if it felt like robbery that the Steelmen left town with all three points after coming up with the grand total of one shot, and precious little ambition, in over 90 minutes of football, Deacon answered: "One hundred per cent.
"It feels like someone's come into my house and taken everything.
"I can't believe we got nothing from the game. That wasn't what we deserved for the way we played.
"Everyone dug in and played well. We knew this was a really big game for us.
"The gaffer came in after the game and didn't know what to say because to a man we gave everything. It's devastating."
He added: "I got a lot of the ball. The gaffer could see that I was beating my man quite often so he told the boys to keep getting the ball to me. I got a lot of supply and it let me do what I like to – get at defenders one v one.
"It's just unfortunate that we couldn't get the ball in the back of the net.
"We've played Motherwell four times. They haven't really given us any trouble and we've only got a point. We battered them every game. They just sit in and defend for their lives. That's what they've done again.
"Even in the first half they didn't create anything apart from their goal.
"I've been told we had 10 shots to their one. It was basically total domination. As I said, it's devastating that we didn't take anything from the game.
"I don't know how they've picked up the three points."
Anti-football has become one of those well-used phrases for afternoons like Saturday.
"You can say that but it gets them points," Deacon added. "If that's the way their manager wants them to play, that's the way they play. Other teams have to deal with it.
"They did nothing – had one shot and got the goal from it. I don't think they strung five passes together in the whole game."
The Motherwell goal came from a familiar source, with Craig Tanner scoring his fourth goal against Dundee this season in as many games.
McCann thought there was a suspicion of offside and that there was a foul on Genseric Kusunga before the tap-in. There also looked to be hesitation from his centre-backs and keeper as well, however.
The goal came on 33 minutes and seconds earlier Sofien Moussa had come close with a shot. Then in the second half attack v defence session, Kusunga, Josh Meekings, Simon Murray and Deacon all had near-misses. And at the death, Dundee were denied a penalty when a cross struck Cedric Kipre's arm.
McCann was none too happy at this either.
"It was a stone-waller," he insisted. "It's clearly struck him on the arm.
"Now, if he's saying that his assistant referee said it hit him on the arm, why's it not a penalty? How do you swallow that one? For me, it's very poor officiating.
"It makes me so angry because that would have given us an opportunity to get the equaliser and maybe even another one because we showed against Partick the week before we don't need a lot of time to get a goal.
"I feel we've been robbed of an opportunity to get a result."
Deacon said: "I got a partial view. It could have been given. His hands were up and these days if your hands are up in the box referees tend to give a penalty.
"Obviously the referee didn't want to give us one today. It's unfortunate because we dominated the second half and deserved something from the game. That could have been our ticket to get back into it."
Things are about to get tough for Dundee, who dropped below St Johnstone and are now just four points above the play-off position.
And their daunting fixture list hasn't escaped the players' attention.
"Of course we're aware of that but we believe in our team," said Deacon. "We've got big characters in our dressing room and we're confident that we can take points before the split."
McCann has always stressed the importance of looking up rather than down but top six football is highly unlikely now.
He admitted: "I'm a realist, not a fantasist so of course it's going to be difficult.
"Motherwell and Kilmarnock have stretched the gap on us. But you don't just roll over. We'll go to Celtic Park and try to get a result. They'll be hurting after going out of Europe but we should have taken something from Celtic Park last time and we'll look to do it again."