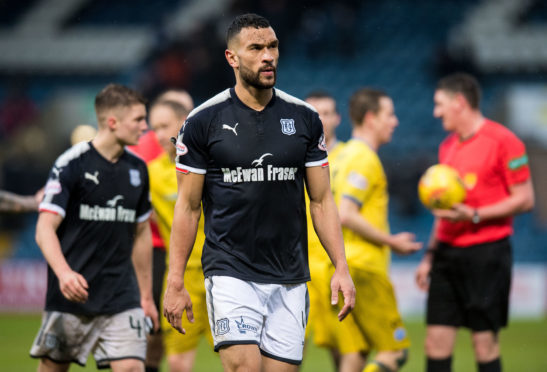 Elliott Parish has insisted that playing at Dens Park isn't an ordeal for the Dundee players – even if their home record would suggest otherwise.
Saturday's humiliating defeat to St Johnstone was their fifth loss on their own turf in a row. And in that time they have scored once and conceded 12.
They are grim statistics – and the derby defeat was undoubtedly a grim performance – but the Dark Blues' keeper maintains that he isn't finding it harder at home than away.
"Not personally," he said. "It doesn't matter where I play. It's a game of football, isn't it? Same lines, same rules, same goals. Not for me, no.
"It's a terrible run of form at home. As players, we've got to take the flak. As everyone has seen today, that's nowhere near where we need to be. That is solely on us.
"It was a terrible day. It was down to the players. We didn't deliver on any front today. It's solely on the players – that was terrible.
"As a collective, we're annoyed at each other, because we're all in this together. It's just frustration because after putting on a performance like that it's tough to swallow.
"Every game matters but this is a derby as well so it means a lot to the fans.
"That for me is the worst performance of the season from our team. It hurts a lot."
Parish, who couldn't hide his frustrations at times when options to pick a man out weren't opening up for him, found it hard to use a phrase that no footballer wants attributed to their team.
"It's tough to come off a pitch and say they've outworked us," he said. "Maybe they have.
"That hurts a lot to say that a team outworked you. You should give nothing less than 100 per cent every week.
"We just have to go and win games. That is on us. That hurts a lot today."
If Dundee players and fans are looking for comfort, they won't find it in a pre-split fixture list that reads Aberdeen away, Hearts home, Rangers away and Celtic away.
"We've got a tough run at the moment," said Parish. "But it doesn't matter who we're playing against, we've got to dust ourselves down after that. We've got to get that out our head as quickly as possible and get a result next week.
"We've never been far enough away to say that we were never in a fight. We all understand where we are. We're just a couple of wins away from being right out of it. We've just got to do that in the next few games."