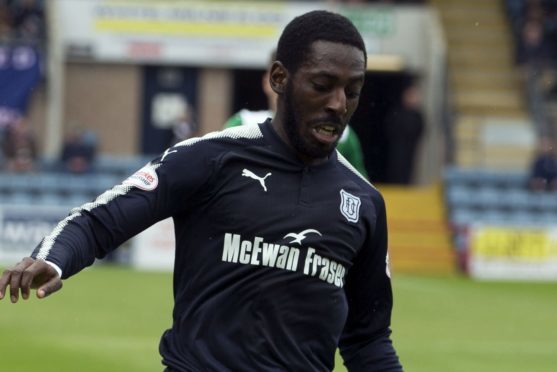 Roarie Deacon is happy with his first season in Scottish football.
But the Dundee winger believes there is better still to come.
The 26-year-old has made 35 appearances since arriving in the summer, and has been the Dark Blues' main creative force in many of those games.
Today's clash with relegation-threatened Partick Thistle brings the curtain down on the 2017/18 campaign and according to Deacon there is plenty of room for improvement.
"I think I've come on from last season," said the Londoner.
"Overall, I feel I've done well.
"Having played a lot of games, I have contributed to the team.
"There's most definitely a lot more to come from me.
"I can say that to the fans. That's my message.
"Hopefully, I get no more injuries like the thigh problem I had which kept me out on a couple of occasions this season.
"As an attacking player, the key is to get a run of games under your belt where you can show what you're all about.
"I'm no different in that respect.
"I want to bring more assists and more goals.
"I need consistency and want to kick on again next season both personally and from the point of view of helping the team."
He added: "It has felt like a long season, given it started back in the middle of July.
"We had the winter break which allows you to recharge the batteries but it has still been hectic.
"Personally, I picked up a few injuries which I managed to get over and then got back in the team.
"I just can't wait to go again next season."
Dundee know they will finish ninth in the Premiership whatever today's results turns out to be.
They targeted higher but winning four out of five post-split fixtures will ensure upward momentum is taken into the summer and pre-season.
"We've done very well since the split," said Deacon.
"We knew within the dressing room that we had let ourselves down during the season finishing in the position which we did.
"But we don't deserve to be where we are as we've got some excellent players in our squad.
"It was consistency which we lacked and it did hinder us.
"If we beat Thistle that will be four wins out of five from the split.
"We want to make it three wins in a row and the gaffer has spoken to us about going into the summer on a positive note."
Transfer ins and outs aren't Deacon's business but he hopes that the core of the team is intact when the players come back at the end of June.
"We want to keep the squad together obviously," he said.
"It's for the likes of Glen Kamara who is attracting some interest.
"He's been great since day one for us.
"But hopefully we will be talking about us being in the top six next season, not down near the bottom."
Meanwhile, manager Neil McCann is asking for one more big performance from his team.
They will certainly know they have been in a contest given Thistle's predicament.
"We've had back to back wins and two clean sheets as well," he said.
"Tomorrow should be a great day for the fans. We're in a comfortable position in terms of the Premiership next year but I want to win the game.
"We'll be really professional.
"I said I wanted five out of five. That's obviously not possible. But I want four out of five now. That's what we're after.
"I can see the impact that wins have on this team. I drove that message home before the Ross County game. It was important that we made it safe off our own back.
"Ross County threw everything at us and Partick Thistle will do the same – they'll leave everything out there. They need to win.
"We have to be guarded but try and capitalise when we can."
On the injury front, McCann reported: "We've got a couple of boys struggling with knocks. I'm talking about guys like Steven Caulker and Josh Meekings.
"Moussa did some work with us today which is great news."
Darren O'Dea is suspended.