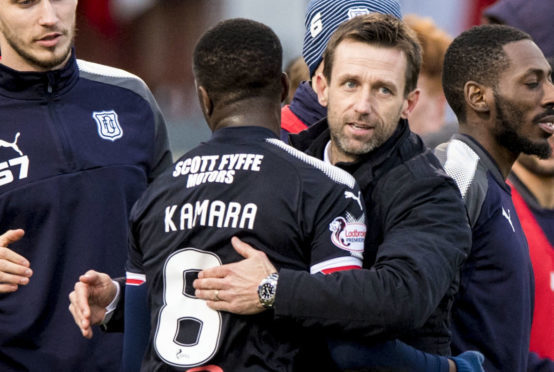 Dundee boss Neil McCann has revealed that star midfielder Glen Kamara will miss tomorrow's Betfred Cup tie against Dunfermline at Dens.
The 22-year-old injured his ankle in training earlier this week and was immediately given a protective boot to wear.
However, the manager insists it was purely a precautionary move with McCann unwilling to take any risks with players at this early stage of the season.
He said: "Glen has a wee bit of a problem from the other day in training.
"He just tried to block a pass and went over his ankle.
"We put him in a moon boot but it was absolutely precautionary.
"He might be struggling for the weekend but like Steven (Caulker) last week, we will never take a risk on players at this stage of the season because it is way too early.
"The good thing about midfield is that we have a lot of competition in that area.
"So we won't take any risks whatsoever."
There was better news on two other key players who are inching their way back to full fitness.
McCann added: "Darren O'Dea is back training with us.
"He has had a wee bit of a problem with his adductor. Darren hasn't played at all this year which is not good for the player or for our preparations but he is back today.
"Roarie Deacon is also making brilliant progress. It was a little ligament in the front of his ankle that needed a wee bit of work on.
"It is never easy taking a decision to have surgery but we felt it was the best course of action.
"It worked really well when we did it with Lewis Spence when he had a similar injury and he has come back so strong.
"Roarie will step up and hopefully join us in the near future.
"I don't want to put too many targets on him but he is pushing himself.
"I think when he came into us last year, his condition was down but he worked so hard.
"I think he lost seven to eight kilos, believe it or not.
"He really slimmed down and got into great condition but he picked up wee knocks because he is explosive.
"I still think he is ahead of where he was last season so that should help him join us sooner."
The Dark Blues opened their Betfred campaign last week with a convincing 4-0 victory over League 2 outfit Stirling Albion.
McCann is now anticipating a stiffer test from Allan Johnston's Championship side Dunfermline and he is looking for his players to respond to the challenge.
McCann added: "I'm expecting a tough game against Dunfermline.
"They played really well in patches the other night (3-0 win against Peterhead) and they have some dangerous players we have to be careful of.
"Allan has done a good job there. He has lost a few players but he has recruited well.
"I think they will be strong in that division and without being disrespectful to Stirling, they will be a step up.
"We had a good performance against Stirling Albion. I was really pleased with it but we are looking to improve again."
Earlier this month, McCann allowed Faissal El Bakhtaoui to go out on a season-long loan to former club Dunfermline.
The striker cannot feature against his parent club tomorrow but the manager revealed his reasons for allowing a player he admires a lot to leave Dens.
McCann said: "He was frustrated that he didn't play as much as he would have liked last season.
"I love the kid as a person and he gives everything in training.
"But I couldn't promise him he would be first choice and he wanted to go and be that.
"He wanted to go back to somewhere he was really successful.
"I really do hope he is a massive success there because I have an affection for the club for giving me a start in coaching and I have a huge admiration for the boy as well."
Earlier this week, Dark Blues midfielder Paul McGowan was sentenced at Dundee Sheriff Court after previously being convicted of spitting on a doorman at a local nightclub.
McCann added: "We don't condone anything he has done. We have made that quite clear as a club but we will support him.
"He has been a huge player for me and I am delighted he is back in.
"He will do his punishment and we will look to have him involved for the weekend."