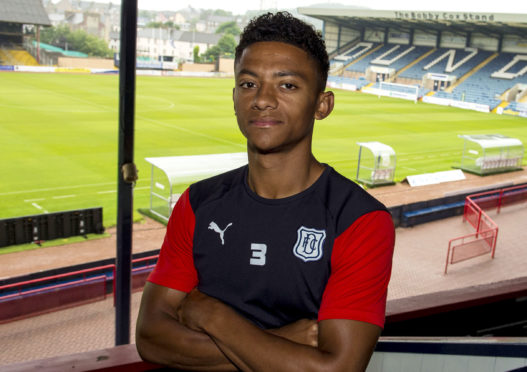 Dundee's Nathan Ralph made his "home debut" earlier this week taking part in a fun game organised by club sponsor McEwan Fraser Legal involving his team-mates and 100 kids.
Now though, he cannot wait to experience match-day at Dens for real tomorrow against Dunfermline in the Betfred Cup.
The 25-year-old left-back, who joined Dundee from English side Woking at the end of May, made his competitive debut for the Dark Blues in the same competition last week as they cruised to a 4-0 win over Stirling Albion.
However, Ralph admitted he has been warned the Pars will provide a stiffer test in a cup that manager Neil McCann is determined to do well in.
The player said: "It was great to start with a win and, as a defender, a clean sheet in my first competitive game last week.
"We were a bit sloppy in patches in the first half but overall, I thought we did well as a team.
"The second half we came into our own.
"It is a cup competition so we have a massive opportunity to go as far as we can and even win the trophy.
"So we need to take these games just as seriously as matches that come later on – the manager made that very clear from the start.
"Hopefully I can win the nod again on Sunday and make my home debut.
"We were out on the pitch the other day with the kids and I was just standing having a look and picturing myself out there in a game.
"So I can't wait for Sunday.
"I have been told that Dunfermline are quite a big club and it will be a tough game so we have gone through the tactics in training this week and I am really looking forward to it.
"Another win would put us into a great position so that is obviously what we will look to do, especially as we are at home.
"We will definitely be going all out for the win."
Ralph admitted he is now fully settled in at the club and is relishing the fact that he no longer faces a long journey to training every day as he did when he was at Woking.
Ralph added: "I have an apartment and I finally managed to unpack all my stuff. I had just moved in and then we went straight to Portugal.
"I am staying in Dundee with Lewis Spence just five minutes from the ground so it is ideal.
"Last season, I was travelling for more than an hour to get into training so it is handy being so close now.
"I get on really well with Lewis and it works well.
"We are taking turns with the cooking. He did a little stir-fry the other day that was good so I'll give him credit where credit is due.
"I'm more a chicken and rice kind of guy, keeping it simple but I quite enjoy cooking.
"So I am fully settled in now. I am enjoying training and the competitive games have started. I am just looking forward to the next one."