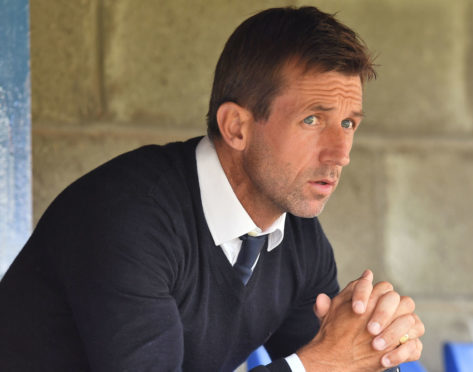 Another week, another defeat for Dundee. Courier sports writers Ian Roache and Eric Nicolson discuss whether the end of a dismal run of results for the Dark Blues is likely to be reached this weekend
It seems to be the same old story for Dundee every week in the Premiership. How do they change it?
IR: It is all in the hands – or feet – of the players now. I know it's not rocket science but they simply must start scoring or the pressure on manager Neil McCann will just continue to grow.
EN: At least McCann won't be fazed by the situation. It's the exact same as last season when Dundee opened up with three defeats. They got a draw in their fourth game before an international break and that would do on Saturday too. It isn't 'must-win' but a dull 0-0 would stop the bleeding.
Having Paul McGowan and Glen Kamara back in the starting line-up has to be good news, though, doesn't it?
IR: A definite 'yes' from me. The pair of them are too valuable to be out of the team, especially with the Dark Blues struggling so badly.
EN: Dundee have issues at full-back, centre-back and up front but midfield is the only real area where you'd say they've got a bit of strength in depth. Kamara is their best player, bar none, but I actually believe McGowan is missed more when he's not in the side.
We asked last week were St Johnstone the right team for Dundee to face given their need for a win. It appeared not. How about Motherwell?
IR: I watched the Well v Rangers game on TV and, probably like Neil McCann from his seat in the stand, was mightily impressed by them. The question I was asking myself watching their pace, strength and finishing was: why are they not higher up the table? Of course, that is not good news for the Dens men.
EN: Motherwell had the measure of Dundee last season and they haven't changed their tactics over the summer break. That's why I return to my earlier point that a draw would be acceptable.
For St Johnstone, will it now be onwards and upwards?
IR: It has been a mixed start to the season for Saints but they will take a lot of heart from the Dundee victory. Looking at their next few fixtures, they must get three points down at Hamilton before they hit a demanding set of matches against Aberdeen, Rangers, Celtic in the Betfred Cup, Hearts and the Hoops again in the league by early October.
EN: Saints will be well aware of their daunting September and I'll be intrigued to see how their new-look formation matches up to the bigger boys but that's for a Talking Football further down the line. In the here and now, I fancy them to win at Hamilton. Confidence is up, Tony Watt is the league's in-form striker and Saints have already played on four artficial pitches this season so won't find it hard adjusting to Hamilton's one.
If Murray Davidson is out for a while, that would be a big set-back surely?
IR: It will, indeed, be a blow as he would have been an ideal player to have in the middle of the park for all those tricky-looking tests to come.
EN: He is a key man, clearly, but Blair Alston did very well in his absence on Saturday. If Alston is going to establish himself as a first team regular, now is the time. Also, Tommy Wright has now signed Tristan Nydam, who plays in the centre of midfield.
Are we starting to get cautiously optimistic about Dundee United's upward form curve?
IR: A fellow journalist was having a laugh at my expense after the match at Tannadice on Saturday when I excitedly declared the performance to be "actually OK." I am not known as one to get carried away, you see. I would have marked United's display as a seven out of 10, with a point taken off for the ridiculous concession of the late goal.
EN: United fans will still be wary and understandably so. But you have to give credit where it is due – that was an excellent result. The Tangerines are basically a new team. They're within touching distance of the top and if that remains the case when winter arrives, they'll have a great chance. I'm not expecting any side to open up a gap. Mike Martin has done a lot right since he took over from Stephen Thompson but talking about the "Dundee United way" was ill-advised. Style of football is well down the tick-list this season. Winning is all that matters and everybody with United at heart needs to remember that.
Pavol Safranko was name-checked last week as a player with promise. Are there other key men emerging in Csaba Laszlo's new-look side?
IR: Defender Paul Watson deserves a mention and Fraser Aird had a fine game too. I would probably pick out Yannick Loemba as the one to watch, though. He carries the ball well and his delivery from the corner for Watson's second was terrific. Let's be kind and not mention the "shot" he sent flying over the top of the Eddie Thompson Stand…
EN: Winning (and scoring three) without Nicky Clark is a good sign. He remains United's chief reason to be hopeful of winning the title but it's reassuring to see goals coming from elsewhere.
Paul Hartley hasn't lasted long. What next for him and them?
IR: One of football's oddities is that boards are responsible for picking the manager and bask in reflected glory when it goes right but when the boss gets sacked – or "leaves by mutual consent" if you prefer – the directors carry on regardless without having to answer for their original decision. Hartley isn't the only one to blame for the Bairns' woes but perhaps, with hindsight, they should have kept faith with Peter Houston.
EN: It's a mess, alright. I thought the decision to axe their renowned youth academy was a bad one and haven't changed my mind. Others are better placed to say whether Hartley had a persuasive voice on that matter but it heaped pressure on the first team and his signings do appear to have been a bit scattergun. I certainly don't see them going up, whoever takes over. For Hartley, he may be looking at League One or Two to get back in.
It's Celtic v Rangers at the weekend. How do you see that one going?
IR: I think most non-Celtic fans would like to see the Light Blues have a bit of a go and a draw would be an excellent result for new boss Steven Gerrard. I still feel the Hoops will be just too strong for Rangers, who are a work in progress as was evident against Motherwell. If pushed I would predict a single-goal win for the Parkhead side.
EN: I agree. Rangers' trip to Russia through the week could be the decisive factor. I think it will be a close title race, though.
Alex McLeish's latest Scotland squad……thoughts?
IR: My first thought when I looked at the list was that the squad is really inexperienced. For example, of the outfield players only Charlie Mulgrew (36) has more caps than Andy Robertson's 22. Also, goals are few and far between with only 10 scattered around the whole group. I can't have it both ways, though, so as someone who is always keen to see young players given the chance I'm pleased that he picked former United defender John Souttar.
EN: Bar one or two (Jack Hendry will come again but he shouldn't have been near this particular squad) McLeish isn't far away from the squad I'd have chosen.
It's decision time on Hampden or Murrayfield as Scottish football's national stadium. What's your choice?
IR: Can I vote for neither of the above? I think Scotland should grasp the nettle – or thistle – and move the matches around the country. I have heard arguments against this but if enough thought is put into which match goes where then it can work. It happens in big nations like Germany, Spain and Italy but it is also worth noting that the next two away matches for the Scots against Israel (Haifa) and Albania (Shkoder) are at venues situated away from their capital or largest city. Is anyone seriously suggesting that Easter Road, for example, couldn't have hosted the upcoming home match against the Albanians? For a more attractive fixture against, say, England or France then it can be Celtic Park or Ibrox.
EN: Ian's spot on but "neither" isn't on the table unfortunately. In a straight fight between Hampden and Murrayfield it has to be Hampden. If the SFA buy the ground, at least there is a prospect of the two ends being redeveloped at some point. The fans would be even further from the pitch at Murrayfield and basing football at the home of rugby, which is just as hard to get to and park near to as Hampden, just doesn't feel right.