Dundee should take no comfort whatsoever from being only a point behind at the foot of the Premiership table.
That is the view of central defender Darren O'Dea, who was part of the side that was thumped 3-0 by Hearts at Dens Park on Tuesday night.
That defeat – their ninth in 10 league matches – left Jim McIntyre's men with a mere three points to their name.
However, they have company thanks to St Mirren sitting on just four points, Motherwell on five and Hamilton Accies on six.
That Dundee have not yet been cut adrift despite their disastrous start to the season could be construed as a positive for the Dark Blues.
However, O'Dea believes it would be criminally complacent for his relegation-threatened teammates to seek any solace in that.
The 31-year-old Irishman said: "I am not interested in looking at the league and thinking we're OK.
"We can't look at the table and take consolation from the fact we are not detached.
"We are miles away from the amount of points we wanted at this stage, 10 games in.
"If you keep looking at the table, losing games but thinking you are OK it only takes a week or two and then you're not OK any more.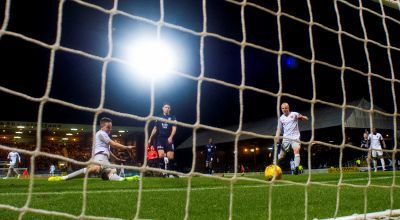 "You can be detached very quickly in this league so nobody here is looking at the table thinking we are all right.
"You can't be sitting here thinking that we will click one day and suddenly blow a team away.
"That's not going to happen. We are going to have to scrap and fight for every single point we can get our hands on.
"Once we do that then slowly and surely we can start looking at playing our way out."
O'Dea is, of course, right to be concerned about the paltry points total.
Indeed, Dundee's start to this season has been worse than the one made by city rivals Dundee United in their relegation campaign of 2015-16 and that of Ross County under McIntyre the previous year.
The Tangerines had five points after 10 league fixtures (their goal difference was minus 11, while Dundee's is currently minus 18), while the Staggies sat on four.
They face the ominous challenge of a Dens clash with Celtic next but, despite that, O'Dea believes the players still have some fire in their bellies.
There hasn't been too much sign of that.
Nevertheless, O'Dea added: "We are in a tight spot but, looking around the dressing-room, I think we have the character in there to fight our way out.
"It needs everyone to stand up and be counted.
"It won't be handed to us so we have to stick together and fight our way out of it.
"It's a battle, that's what it is.
"The new gaffer hasn't had much time to work with us because of the games coming quickly.
"We have the gist of what he wants and over time we will get more of a chance to implement what he's looking for.
"I'm sure fighting will be top of that list.
"It's a cliche but when you are down there where we are, it's the only way out of it.
"When things are not going your way you have to stick together and we will do that.
"The one positive from the Hearts game is you look around to see who is going to pack it in and nobody did.
"So if that's a positive, I suppose, then we have to take it."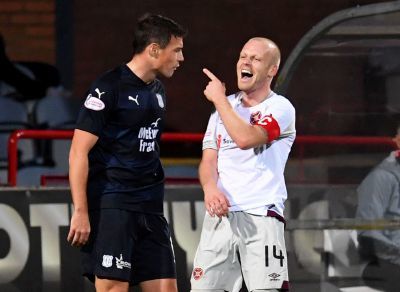 O'Dea admitted that everyone at the club is feeling the pressure of being at the foot of the table.
He said: "This isn't nice because there is pressure in everything now.
"It won't get easier straight away and you would be lying if you said you don't feel the pressure or the apprehension.
"It's about who can handle it and who can come through it."
The change of manager has at least been a personal plus for O'Dea, who was left out in the cold by previous boss Neil McCann.
Indeed, Tuesday's appearance against the Jam Tarts was only his second of the season, the other being the 4-0 beating off Rangers at Ibrox on September 15.
He said: "Of course it has been frustrating (for me) this season because I'm a footballer and I want to play football.
"Since I came to the club I had played almost every game and I considered myself to be an example to others.
"I have been very hard on players who haven't been playing in the past, telling them they have to be pushing the people in the team.
"You can't just train, you have to do a bit extra.
"You can't be saying that you need five games to get fit because your chance might come for 30 minutes and you need to show what you can do.
"I have been in the gym non-stop and doing extra work waiting for my chance to come again.
"It's hard when you are not in the side but with the amount of moaning and pushing I have done in the past I had to heed my own words."