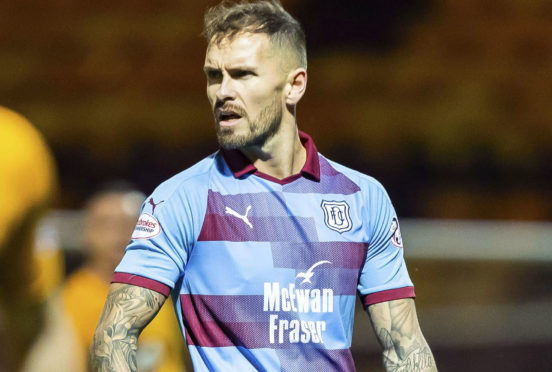 Dundee boss Jim McIntyre has urged his players to speak up for themselves on the pitch and insists he would rather hear them arguing than be confronted with the sound of silence.
The Dens manager believes communication is vital during games but all too often, young players in particular these days are quiet.
That's in contrast to the likes of experienced midfielders Paul McGowan and new signing Martin Woods who both came off the bench in the 73rd minute of the defeat at Motherwell on Saturday.
However, the manager is hoping others in the team can find their voice – starting on Saturday in the crunch clash with fellow strugglers St Mirren.
McIntyre said: "It's very important to get Paul McGowan and Martin Woods on the pitch. They are two experienced players who demand from others.
"We have other good players as well as them and everybody has to understand what their role is.
"I think in the modern game, if you speak to any manager they'll moan about the lack of talkers especially with the younger ones coming through with iPads and earphones and the rest.
"Talking is something that's so important – we are too quiet and need to get louder, no doubt about it.
"It's the easiest thing to talk to each other and pass information – turn, man on, whatever – and we can really help ourselves out in that way. McGowan and Woods will definitely help that.
"I don't mind arguments on the pitch. Players need to let their team-mates know that something isn't good enough – but say it once and then encourage.
"Make the point and get on with it, encourage your team-mate, that's a big thing. If someone hasn't done their job then we can't let people away with that because we have one common goal, to get the three points.
"If we can get as many doing that as possible then it certainly takes you forward.
"Some of our young players could be louder, no doubt about it. Sometimes you get that with a mix of nationalities as well."
McIntyre is sweating over the fitness of centre-half Andy Boyle for the game against the Buddies.
The centre-half had to be stretchered off late on at Fir Park after suffering a gash in his leg with his fellow defender Darren O'Dea being withdrawn earlier because of blurred vision.
However, two other injured players, Benjamin Kallman (concussion) and Nathan Ralph (hamstring), both trained yesterday.
McIntyre added: "Boyley has had a few stitches in quite a deep gash so he will be touch and go for the game.
"Darren didn't train today but he should be OK.
"I thought they did well together and stood up to the physical challenge that Motherwell possess.
"That was pleasing to see but it is not often you lose both your centre-backs, albeit one in the last minute.
"Benjamin has had a wee concussion but hopefully he will be OK for the weekend.
"He did a bit of light training today but we will have to manage that and stick to the protocol.
"Nathan also trained this morning and did very well. He got a really good full session in."