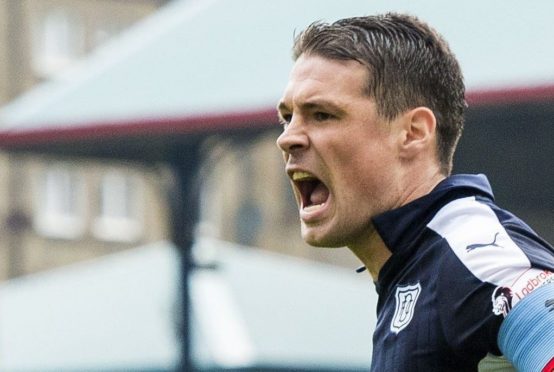 Dundee central defender Darren O'Dea feels there is more pressure on the Dark Blues today than opponents St Mirren.
The Irishman, though, insists the Dark Blues are capable of dealing with it as they prepare for their biggest match of the Premiership season thus far.
This game is the mother of all basement battles, with Dundee sitting bottom on just three points having only one league game out of 12.
The Buddies aren't much better placed, just a point and one spot above them, having record a solitary victory and a draw.
There is obviously a huge amount at stake for both clubs but O'Dea claims the greater burden will be carried on the shoulders of him and his teammates.
The 31-year-old former Celtic stopper said: "I don't think the level of pressure will be the same for both sides.
"We are at home and I think there is a responsibility on us because of that.
"There is greater pressure and expectation on us but we will take that and deal with that.
"I would hope to be feeling a little bit of pressure ahead of a game like this.
"I think that's a good thing.
"It is how you handle these situations that counts.
"We are in a position now that we are facing a big game so there is pressure.
"I don't shy away from that.
"Our home record isn't good enough and at times it might be edgy out there.
"It's natural to feel nerves but it's how you deal with it that matters.
"If we stick together as a team and work to our full capacity, which I think we will do, then we will be confident we can get the right result.
"One result will change the feeling in the dressing room very quickly.
"It won't mean the work is done but it will give us a bit more confidence in ourselves."
O'Dea also called on his colleagues to stand up and be counted this afternoon.
"We need accountability because there is no point hiding," he said.
"We must have people pulling each other up for things.
"There must be an environment created where we are pushing each other all the time.
"We can't be nicey-nicey always.
"I think there can be a little bit of apprehension when you are in this position.
"It is about taking chances and by that I mean making a forward run or playing a riskier pass.
"You need to commit to things rather than hoping someone else will do it."
While O'Dea appreciates the importance of today's fixture, he isn't willing to concede that it will be game over for whoever loses.
He added: "I can't say it's definitely a must-win when it is so early in the season but, I suppose, our mentality will be that it is.
"It is an important game, that's for sure.
"If we win then we will obviously be three points better off and it will lift the place but there will still be a lot of work to be done even if that happens.
"As far as survival in this league goes, the statistics tell you that you need to be around a certain total of points.
"It is 36 that I have in my head and we are obviously nowhere near being on track for that.
"Now I would like to think that we will have a change of fortune and pick up results but it will be hard work.
"The top teams in the league are improving and you have seen Livingston come in. They are flying instead of maybe struggling like some predicted they would.
"So the league is strong.
"The reason we are in our position, though, isn't because we have been taken aback by that – we knew that would be the case.
"There are a number of reasons why we are where we are so it's imperative that we start picking up results."
O'Dea was sidelined under the previous manager Neil McCann and declined to comment on what had gone before.
You do detect, though, that he feels McIntyre is making a difference.
He said: "I have seen some signs of improvement, albeit we have been losing games.
"There has been a little bit of a change so hopefully against St Mirren we can see signs of that.
"I don't want to talk about the previous reign.
"It's gone. It is what it is.
"It's for another day, maybe.
"Right now, the team is working extremely hard.
"I feel that the tempo in training is higher and I am sleeping a lot better at night.
"I would like to think results will come as a reward for that hard work."