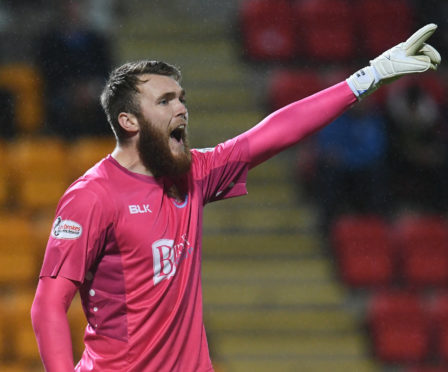 Tommy Wright is "devastated" for goalkeeper Zander Clark after the latest Scotland snub for a St Johnstone player.
Kilmarnock's Jamie MacDonald has been called up by Alex McLeish for the Nations League double header against Albania and Israel following the withdrawal of Sunderland's Jon McLaughlin.
And the decision reinforces Wright's belief that his players "aren't even on the radar" as far as Scotland selection is concerned.
"First of all I'm devastated for Zander," said the Perth boss. "It's a decision which beggars belief really.
"When we saw he'd been overlooked everyone was gobsmacked.
"That's taking nothing away from Jamie MacDonald, who is a very good keeper and someone I tried to sign in the past.
"But on form, Zander has been outstanding. He's had four clean sheets in a row and even though we got beat from Celtic in those games, he was excellent.
"I know people will be thinking it's the big daft Northern Irishman coming out and sticking up for his player again, but I just can't believe it.
"I am probably doing Zander harm by speaking out but it really beggars belief that they see a 32-year-old goalkeeper as the future, when the other two are in their mid-30s.
"St Johnstone fans have said to me many times that player don't get capped at this club and they seem to be right.
"We are not a fashionable club, that's pretty clear."
Wright, who has previously questioned Jason Kerr's absence from Scotland under-21 squads, added: "Zander has been overlooked previously for people who aren't nearly as good as him.
"On current form, I can't see another keeper playing as well as Zander in this league.
"Jason's situation was the same, never mentioned.
"I haven't had a phone call about them so they can't even be on the radar.
"When Gordon Strachan was the manager and Stevie May was breaking through here, he was straight on the phone asking me about him.
"And he would come to a lot of our games to see for himself.
"But there has been nothing recently.
"I don't know whether it has because I've come out and said my bit, maybe they don't like that.
"I just feel sorry for the lads, they get overlooked and I think it's unfair.
"But good luck to them, I just hope my players keep playing the way they have been and we can get a result against Hamilton."
Wright revealed that Danny Swanson is an injury doubt for this afternoon's Accies game and possibly beyond.
"Danny has picked up a knee injury so will miss out this weekend and will have to be assessed," he said.
"Hopefully he won't be out for long because I thought he came on against Hibs last weekend and did really well.
"Murray Davidson is back again but Steven Anderson and Brian Easton are still out.
"Easty is progressing well, he's coming along nicely and the plan is to increase his work-rate next week."
Full-back Richard Foster was equally mystified that Clark has been overlooked again.
"It's a strange one, that's for sure," said the former Rangers and Aberdeen man.
"Zander has had a very good season and in the last four games, I don't think there has been anyone in better form.
"There have been times in the past we thought he would get called up but it never happened, so this is just another one to add to the list.
"What is the view here about players getting recognition? It's that we don't, it's as simple as that.
"Look at the one with Jason Kerr recently, he didn't get called up for the under-21s because they wanted to go younger – and then they picked someone older than him.
"It's mind boggling.
"Jason is playing every week for us and playing well, so it appears you don't get the recognition playing for St Johnstone.
"Aberdeen felt the same until recently, they were second in the league and could barely get anyone in the squad.
"Scotland managers tend to look down south and if they are looking in Scotland, it's pretty clear they don't look here!"
Saints have won four games on the bounce but Accies will not be taken lightly, Foster insisted.
"This is a more dangerous game for us because of the four clean sheets and the four wins," he said.
"We can't be complacent because Hamilton are a good side who have had some great results lately.
"They will be better than when we played them earlier in the season, I think they have improved.
"We are not thinking about the five in a row. We take every game as an individual and have to show the same attitude we have lately."