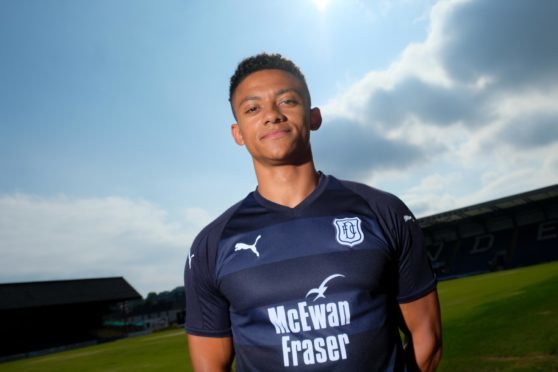 Nathan Ralph would love to shock Hibs as he waves goodbye to his injury woes.
The Dundee left-back was finally back in action for the Dark Blues in the 1-1 home draw with St Mirren, having not played since the end of August.
Ralph (25) has been fighting against a hamstring injury but he revealed that a course of shockwave therapy, with sound pulses used to repair damaged tissue, has helped speed up his recovery.
With a full match against the Buddies behind him, he can't wait for the trip to Easter Road this afternoon.
"I had shockwave therapy for my hamstring and I feel that has helped a lot," he said.
"It was like a gun thing that they point against the affected area.
"It is usually used for tendons but it helps speed up your recovery.
"It is shocks but it isn't sore – not too bad at all.
"I am still getting them and have another session next week.
"It was a frustrating time being out and it wasn't helped by the results going the way they did.
"You want to help the lads if you can.
"I have felt good recently, though and I'm back fit."
Indeed, Ralph has been left frustrated by the international break as he would have preferred to go again quickly after earning that point against the Buddies.
The Englishman added: "I suppose it has given me more time but I felt we had a decent performance last time out so I would have liked to have had another game as soon as possible.
"That wasn't the case but we have had a good couple of weeks of training and are ready for this game."
Even a fortnight on, it is hard to decide it was a good point or missed opportunity for the Dark Blues in that clash with their fellow relegation battlers.
Ralph has made his mind up, however, saying: "The way the game went it was probably two points dropped more than one gained.
"We know we need to get wins and work our way up the table.
"We have a big month ahead with a lot of tough games but we are looking forward to the challenge.
"We are still not even halfway through the season so I feel our position can change massively.
"That's what we have to look to achieve.
"I feel like I had a slow start myself and took time to adapt.
"We have good players here so I feel like it just a matter of time before we start getting better results.
"The St Mirren match showed that when we are on our game we are a threat.
"There is nothing that we are scared of but this trip to Hibs will be a big test.
"We won't be looking at their form too much and we know it's going to be a difficult challenge against a good team.
"We just have to make sure we are on top of our game first and foremost."