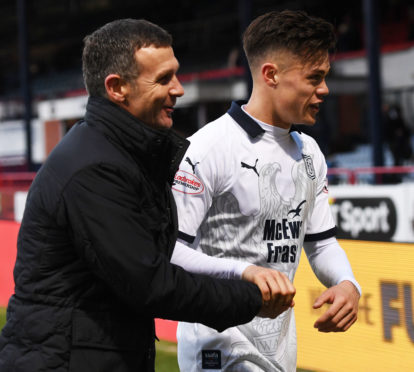 Christmas has come early for Dundee fans, with their team moving off the bottom of the Premiership table. Courier sports writers Ian Roache, Neil Robertson and Eric Nicolson assess whether it is now up, up and away for the Dark Blues, how high St Johnstone should be aiming and why Robbie Neilson was so unhappy with Dundee United's weekend draw.
I know they put four past Hamilton but was Sunday's match the most significant of the season so far for Dundee?
IR: The look on manager Jim McIntyre's face at full-time told you that he maybe thought so. It did earn the Dark Blues a key point that took them off the bottom at long last and it could be seen as a bonus. I would still have the Accies win ahead of that one though.
NR: When Nathan Ralph was red carded and Andy Halliday scored from the resultant free-kick, I understandably feared the worst for Dundee. The odds were really stacked against them being down to 10 men for 70 minutes. However, they simply refused to buckle and while the Accies result was extremely important, the draw against Rangers and the manner in which it was achieved may yet prove to be a pivotal moment in the Dark Blues' season.
EN: The Hibs comeback deserves a mention as well but I would pick the Rangers draw. For McIntyre to see his defensive and midfield structure tested against a Gers side with an extra man, and come through it, will make him believe his work on the training ground is paying off. A couple of months ago St Mirren were celebrating a home draw against an off-form Celtic when they had an 11 v 10.
They are off the bottom the league. Are you surprised it has happened before Jim McIntyre has done some wheeling and dealing?
IR: This performance did not come out of the blue. They have been decent for a few weeks now and McIntyre deserves most of the credit for that. Suddenly, they are four unbeaten and that is an excellent run. They are about to hit a horrendous set of away games but they will go into those with confidence. No game will be written off and that's important.
NR: Yes and no. I thought the Dundee fans would have to wait until the window for reinforcements to turn things around but the manager has done it with what he has at his disposal already. That's due to a whole host of factors but crucially the players now know exactly what is expected of them with clear and concise instructions and everyone is playing where they are supposed to.
EN: I didn't expect positive results against Hibs and Rangers so, yes, this probably has happened a bit earlier than expected. Kenny Miller becoming a different player under McIntyre than he was under Neil McCann, and Darren O'Dea coming in from the cold, have almost been the equivalent of new signings. And Martin Woods has made a big impact too.
Are you now starting to reassess how high Dundee can set their sights?
IR: No, I think it's way too early for that kind of talk. Keep the focus on staying off the foot of the table while striving to edge up to 10th spot. That will be the way McIntyre will be looking at it, especially with trips to Kilmarnock, Aberdeen and Celtic Park to come.
NR: Whoa! The manager himself has said that the recent run is only a start and Dundee still have lots of work to do before they have fully extricated themselves from the mire. I for one hope never to hear the phrase "we are a top six team" from any Dundee player again in this season of strife.
EN: It will take a while for Dundee to move past Hamilton but that has to be a realistic goal. The two-way battle at the bottom is definitely three now.
What are the potential obstacles for a continued revival?
IR: The next few games.
NR: Injuries and suspensions. With Josh Meekings missing the rest of the season through injury and the likes of Elton Ngwatala, Kharl Madianga and Jean Mendy frozen out, Dundee look light on numbers. So reinforcements are needed in January.
EN: Keeping Kenny Miller fit and healthy is everything. He has overtaken Glen Kamara as the main man at Dens.
It sometimes feels as if we take St Johnstone for granted here at Talking Football. Assess their win at Aberdeen and the eight-game unbeaten run?
IR: I covered this match and have to say that it was a treat. As I said in my match report, Tommy Wright got his tactics absolutely spot-on and his players were good enough to carry out the game plan. They have a manager who knows what he is doing and a team willing and able to do what he tells them.
NR: The win was a valuable three points but the run really is remarkable. It all began with a 1-0 win at Motherwell and I certainly would not bet against it continuing with another victory over the Steelmen at McDiarmid on Saturday.
EN: It's the best run of league form since Tommy Wright took over, according to the man himself. Given the success Saints have had in recent seasons, that is all the context you need.
What position in the league should they be targeting?
IR: It will be a huge success for Saints if they can finish in the top six but on the form they produced up the road they have a realistic chance of finishing above Hearts, Hibs and the Dons.
NR: Considering this was supposed to be a season of transition for Saints, a top six finish would be a huge achievement.
EN: I suspect Aberdeen will spend in January and end up above Saints. And we can take it for granted that Celtic and Rangers will as well. But it is an even fight between Saints, Hearts, Hibs and Kilmarnock after that, so fourth isn't beyond their reach.
Don't tell the cup-winning team of 2014, but could Tommy Wright be building his best ever side?
IR: Again, that's a wee bit premature. Let's just enjoy this team without comparing them to the history makers.
NR: Eric has already been slapped down on Twitter by a certain Dave Mackay for suggesting something similar! It is still far too early to mention this current side in the same breath as the 2014 heroes but there are certainly promising signs.
EN: Don't worry, I reassured Dave that he would still be captain in the Tommy Wright era XI! I think you'll find that I said this team "has the makings" of matching the cup winners, which I'm sticking to. This is Wright's strongest ever squad but, of course, all comparisons need to be put on hold until the end of the season. What I would say is, I don't think the 2014 team would have won six games out of eight and drawn the other two without Stevie May scoring a single goal, which the current team has done without Tony Watt finding the net.
Robbie Neilson appeared as unhappy at the 1-1 draw with Morton as he was with the 5-0 defeat to Ayr United. Why do you think that was?
IR: He would have wanted a better response from his players after what was an appalling performance against Ayr. It should have been a win on Saturday.
NR: The squad were certainly due their manager a performance and result after the Ayr debacle but they came up short once more. It probably confirmed for Neilson that there is still a lot of hard work to be done to turn this team into consistent title challengers.
EN: He knew Ross County had dropped points so, with Ayr not playing at the weekend, that added to the sense of an opportunity being missed. Neilson didn't leave any room for doubt – he was rightly unhappy that his team lost control of the game. The lack of composure on a couple of late counter-attacks was disappointing too. All in all, a definite case of two points dropped rather than one gained.
If he is allowed to make three signings in January, which positions would you strengthen?
IR: Goalkeeper, central defender and out wide.
NR: I would try to bring in a goalie, right-back and a physical, no-nonsense midfielder.
EN: A keeper, a right-back and another passer in midfield to share the creative workload with Fraser Fyvie.
What do you make of the debate about the standard of Scottish refereeing. Are the officials as bad as some make out and is Tommy Wright correct to say that referee bashing from managers should stop?
IR: I enjoy controversy and, as a newspaper man, want as much as possible. Some of the refereeing is dreadful, though. I don't like criticism if it gets personal – as it does with Bobby Madden and Willie Collum at times – but I think we are entitled to expect improvement across the board.
NR: I think it should. Until we have a VAR equivalent in this country we will continue to rely on the judgement of the man in the middle and his assistants. They are only human and do make mistakes but they also deserve respect.
EN: I can understand managers' frustrations but surely the experienced ones like Craig Levein must know that referee bashing does their team no good, other than deflect the attention away from poor results. I'm not convinced that refereeing is getting worse but it's certainly not getting any better. Full-time officials for the top flight is more important than VAR for me.