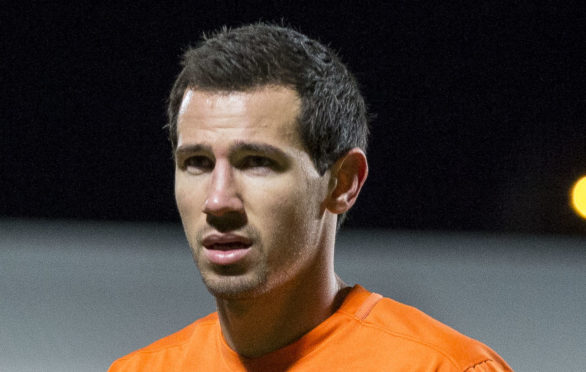 Ryan McGowan has faced the mighty Hulk and now hopes to be an Iron Man in defence for Dundee.
McGowan, one of the long list of new signings to arrive at Dens during the January transfer window, marvelled at the quality of opposition he faced on his travels.
As well as Brazilian striker Hulk, he played against former English Premier League stars such as Oscar and Carlos Tevez in China.
Now back in Scottish football, where the ex-Dundee United man feels most at home, McGowan wants to become a Dark Blue hero by helping save his new club from relegation.
That task, for him, will start today at Hamilton, where Jim McIntyre's revamped team will face fellow strugglers Accies in a massive match.
McGowan, whose last club was Bradford City in League One down south, said: "I heard about the move maybe two weeks ago and, after a few circumstances changed down at Bradford, Dundee were still interested and keen on me.
"I'm just happy to be here.
"I'm based up in Edinburgh and I was in and out of the Bradford team.
"I played a lot of games but I wanted to get back up here because I missed Scottish football.
"I have been a little bit everywhere throughout my whole career so it is good to just settle back down and concentrate on football.
"I had been in China previously and they have a lot of high-quality players. That's good as a defender because every week you're coming up against top players.
"Hulk, Oscar and Carlos Tevez were just some of them.
"Every team has a couple world-class players and they are pumping a lot of money into it through grassroots.
"I was also in the UAE but Scotland is where I've spent most of my career and most of my adult life so I will probably settle down here when I'm old and retired – that's where I feel comfortable."
Of course, McGowan was formerly over the road at Tannadice and is delighted to have now done the Dundee "double."
The Australian international said: "I fairly enjoyed my time at United.
"It probably didn't work out as well as I thought it would when I signed but at that point in my career I thought that it was a good move and it was a good opportunity for me.
"I'm not sure how many players have played for both teams but my main focus now is doing well here and getting us out of the position that we're in.
"I wouldn't have joined if I didn't think that we were going to do well and be successful.
"It's not a great position we're in at the moment and I'm under no illusions as to how tough it's going to be.
"However, even just in the last two days of training I've seen enough quality, know-how and experience in the camp that I feel we should be OK.
"I'm only just in the door but it doesn't feel downbeat and training has been good.
"We didn't get the best result in midweek (that 3-0 defeat away to Queen of the South in the cup) but I think everyone understands the importance of this game so it's important that we start picking up results."
While there have been wholesale changes at Dundee, Accies have found themselves a new boss as well as fresh faces in the squad.
It will be head coach Brian Rice's first match since taking over from Martin Canning and McGowan is expecting a tough challenge.
He added: "It is a huge game.
"They have obviously sacked their manager or he's left so they will be looking to hopefully get a result and we're the exact same.
"We've got a lot of fresh faces who will be wanting to make a positive impact so it should be a good game."