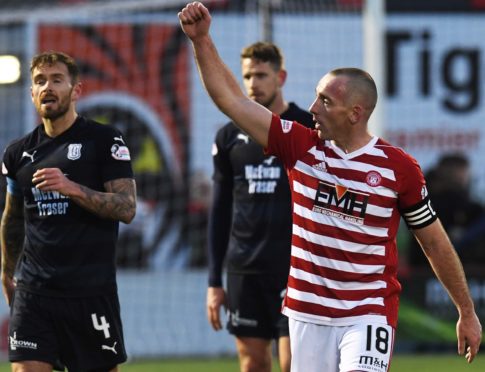 Hamilton's Darian Mackinnon opened up on the grudge he holds against Dundee fans – and why it made his late equaliser on Saturday even sweeter.
The midfielder revealed that taunts he claims were made by Dark Blues' supporters a year ago have fired him up for encounters with the Dens Park side.
"I don't score many," he said of his stoppage time leveller in the weekend 1-1 draw. "I'm just delighted, especially against them.
"When I was lying on the ground with a serious knee injury there were about 50 Dundee fans trying to get at me, saying: 'I hope your career is over'. I didn't know if my career was over.
"That one's for every one of them that did that. I never forgot it and I will never forget it. I don't mind the banter but wishing someone's career is over, when I've got kids and things like that to look after, isn't acceptable."
As Dundee fans will remember, though, it was Mackinnon's high tackle that caused the injury, and ended the young striker's season.
The "bit of needle" between the two clubs goes back to the season the sides were Championship rivals and even though the squads have changed since then, the "derby" rivalry remains.
Mackinnon recalled: "They went to Spain or somewhere and Ryan Conroy was saying 'enjoy the play-offs, we're having a beer', which was a bit of banter.
"It's always good games against them. It's like a derby. It's never a nothing game – that's what football is all about."