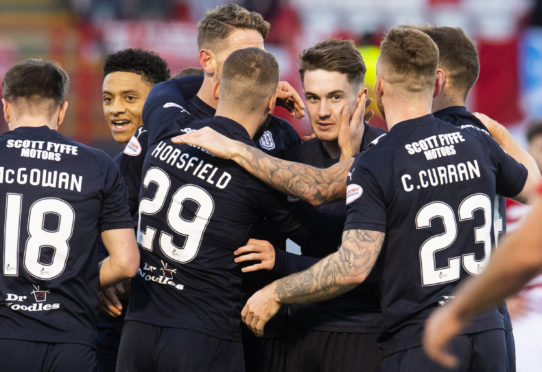 Dundee's loan players have got the drive to enhance their own reputations at Dens Park and, most importantly, keep the Dark Blues in the Premiership, according to Scott Wright.
Many of Jim McIntyre's 11 January recruits have arrived on temporary deals, but that won't diminish their motivation – as goalscorer Wright showed at the weekend.
The dressing room bonding process has begun and the Aberdeen forward believes it will culminate in a happy ending for Dundee in a few months.
"Friday was my first day and I think it was the same for a few others," he said.
"It takes time to work out everybody's personalities and how they play on the pitch. You could probably see that in the first 20 minutes or so.
"We can work on that as a unit. We've got plenty of time to gel.
"The good thing is that all the new players don't have any baggage from the first half of the season.
"The manager wants us to prove a point and make a name for ourselves at Dundee. We've all got the same objective – keep Dundee in the league.
"Coming into the changing room after the game it did feel like a defeat. But we can't be too down about it because we've got another game on Wednesday. They're coming thick and fast.
"There is already talk about what we did that was good in the game, as well as where we went wrong.
"There is definitely something to build on."
It was an encouraging sign that when a confrontation erupted in one of the penalty boxes, all the Dundee players got involved.
"I was trying to break it up," joked Wright. "What am I going to do!
"There was team unity there, and that is only going to get stronger."
There are plenty of examples for Wright to follow if he wants to ensure that this loan deal enhances his career, Ryan Christie being a recent and obvious one.
"I'm good friends with Ryan," said Wright.
"You can see that, selfishly for him, he got everything he needed from his loan at Aberdeen. That was obviously game-time.
"His career has now rocketed. He has grabbed his chance at Celtic and that has come through hard work.
"I'm really disappointed how the result panned out for us but personally I was delighted to start and score. I came here for game-time.
"There were a few goals for Aberdeen last season and that's something I've been trying to add to my game.
"As a player, you can always improve, especially as a final-third player. Whether it's making that decisive pass for an assist or whether it's scoring goals.
"When I spoke to the manager here I liked everything he said. He wants to set up teams to attack the opposition.
"I thought I was probably going to be staying at Aberdeen because the deal only went through late on deadline day.
"The gaffer at Aberdeen thinks it will be good for me and I totally agree."
Wright's 66th minute goal was a moment of real quality. The delay before he shot fooled his marker beautifully and there was a composed finish to match.
Seny Dieng pulled off a magnificent reflex save from a deflected shot to protect the one-goal lead but a needless rush out of the box from the keeper, and a poor subsequent clearance, set in motion the Darian Mackinnon stoppage time equaliser.
McIntyre said: "Anytime you concede that late it's a real sickener but we got too deep in that last 15 to 20 minutes and we didn't keep the ball well enough to get us up the park.
"There were real opportunities to hit them on the counter.
"These head to heads are so important, so we're disappointed, but I was really pleased with a lot of our new players. We've picked up a point and we've not lost any ground on Hamilton.
"We grew into the game and got better. Having only had 24 hours to work with the players, that will keep improving."
On the equaliser, and Dieng's part in it, McIntyre observed: "The big thing for me is that you have to make sure that if you come out of the box you deal with it, and he didn't. He's been excellent and made good stops today but for me the defender was in a good position to deal with it."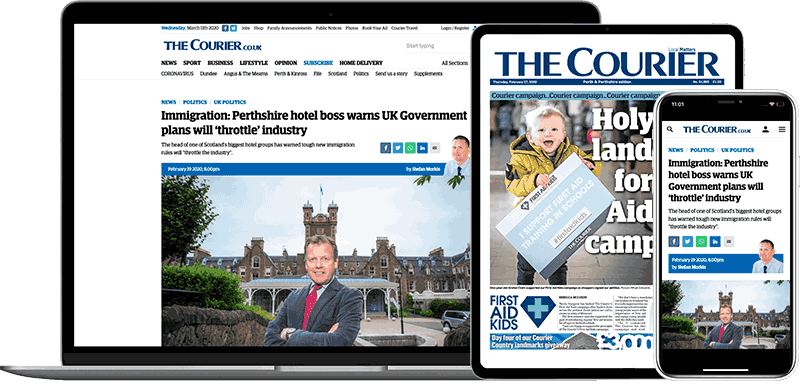 Help support quality local journalism … become a digital subscriber to The Courier
For as little as £5.99 a month you can access all of our content, including Premium articles.
Subscribe