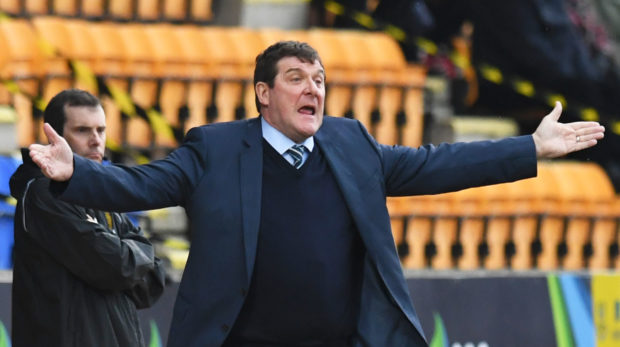 Keep the faith is Tommy Wright's message to the St Johnstone fans in the wake of Hibs opening up a three-point gap to the top six.
The Perth boss still believes his team have a great chance of finishing on the high side of the split line, despite Wednesday night's unlucky defeat to the Edinburgh club.
"It was a disappointing result but we are still well placed for a push over the next five games before the split," said Wright.
"We know we aren't on a great run but our performances against Aberdeen and Hibs mean I am confident we will soon pick up.
"I can feel a wee bit of despondency creeping in from our supporters because of the way the season has panned out so far.
"But we are still very much in the mix for a top six finish.
"So they have to be strong and stay with us.
"Recently the results have not been good with six defeats in the league.
"We all know that and I have to take responsibility.
"But once again we are not going to be involved in a relegation battle.
"A few clubs would envy that. And I always say judge a team at the end of the season.
"We want to try and improve on last year and we are only 10 points off our total for last season when we finished eighth.
"We are closer to making the top six in what is arguably a stronger league.
"As a manager and players we have to look at the bigger picture and try to push on now."
Wright added: "I have always said stats don't win you games, goals do that. So in that regard we failed against Hibs.
"But we totally dominated the game, except for a 15-minute spell after they got a decision based on their player going to ground very easily to buy a penalty kick.
"I'm not deflecting from the result. It shouldn't have been a penalty.
"But we found a way to lose a game we shouldn't have lost.
"We have made mistakes that have been costly in the last two games, and we haven't been clinical enough in the last third."
Meanwhile, Wright believes Livingston defender Declan Gallagher will move to Motherwell in the summer, not Perth.
He said: "We have targets in mind for next season.
"We did speak to Declan Gallagher and had a good meeting with him. But his agent has informed us the player is going to sign for Motherwell at the end of the season.
"We are still very much in the race for Joe but at the same time we have to cover all bases with an eye on next season."