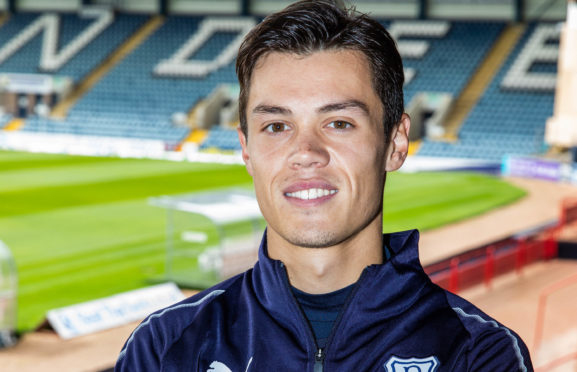 A possible new contract with Dundee and a possible international career with the Philippines have both been put on the back-burner by Jesse Curran.
For the Dark Blues midfielder, the Dens Park side's relegation battle is commanding his full attention.
Curran is one of the few players getting a regular game who weren't signed by current boss Jim McIntyre.
He has clearly made a good impression with his club manager – hopefully enough to be offered a fresh deal at the end of the campaign.
And Sven Goran Eriksson hasn't given up hope of persuading him to commit to the Philippines.
Curran, though, won't let himself be distracted from the short-term task of keeping Dundee in the Premiership – starting with today's clash with Hearts.
"This is the last year of my contract but I am not thinking about that," he said.
"We need to make sure we're safe first. It's about the team and keeping the club up.
"We haven't had talks yet. It's too important and nothing will happen until the end of the season.
"I have been in this situation before. It was the same last year and I handled it well.
"I'm not one to stress out about things. I will just keep focused on the football and see what happens.
"I signed four years ago and it has flown by."
On the prospect of playing for the country of his mother's birth, Curran added: "I have heard from Sven Goran Eriksson again. They have a camp in a few weeks in Bangkok but I can't make it.
"We have too many important games here so I want to stay here and focus on Dundee.
"There is another one in June, so I think I will go to that to meet him, the coaching staff and the players.
"I will see what they're saying about it. They have been very good and know how important it is for me to focus on Dundee right now."
It has taken a while but Curran has finally made the Dundee "breakthrough".
"I was out on loan to start with and under McCann last season I was in and out of the team, just getting a feel for it," he said.
"So I'm glad this season I have been able to make the breakthrough.
"Since the new manager has come in I think I have come on a fair bit as well.
"We have a good bunch of boys here. There are no cliques and it's an enjoyable place to be.
"There have been big changes and I am one of the ones who have stayed.
"All I can do is work hard and concentrate on playing games when I'm involved."
Curran believes Hearts are a team Dundee match-up well against.
"We did really well to win down at Tynecastle the last time we played Hearts and I felt we played a decent game against them at home too," he explained.
"That win was the spark for a little run we went on so hopefully we can do the same again this time.
"If you want to beat Hearts you have to work hard, the same as every game.
"You have to be strong as a group, everyone doing their jobs properly and put the graft you need to put in.
"We have changed a lot in the last few months, the players who have come in have settled well."
Both teams are set to be without key men today.
Curran said: "Naismith is a big player for Hearts. He has a lot of experience and is a big influence on them.
"He knows how to manage games and is very streetwise, so he's a bit of a talisman for them.
"So they will miss him, but they have a big squad and a lot of quality players.
"We have been missing strikers too. Andrew Nelson and Craig Curran have been very good since they joined us, so we're hoping to get them back soon."
Curran injured his hamstring at the end of January and he is a relieved man that it didn't prove to be too serious.
"I was lucky because it was just a grade one and could have been a whole lot worse," he said.
"I was having all sorts of thoughts when I went off because hamstring injuries can end up quite serious.
"With the position I'm in and the way I play, my hamstrings are pretty important!
"So it was a relief to be told I would only be out for a month and thankfully I was able to get back after just three weeks."