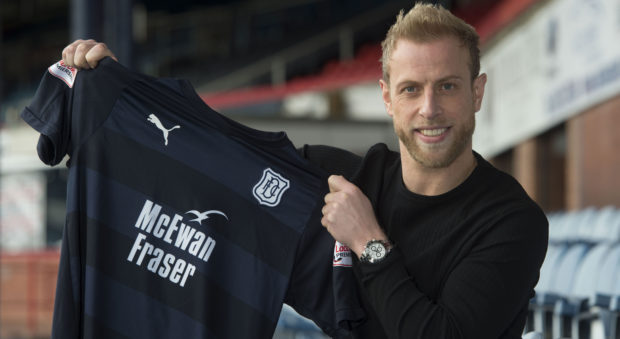 Andrew Davies is back in full training for Dundee, Courier Sport can reveal.
The former Ross County man hasn't played a competitive match for the Dark Blues as a result of breaking a bone in his foot in a closed-doors game during the January break.
But manager Jim McIntyre has confirmed that he is now back on the training field and may even be able to target a reserve fixture next week.
"His first full session was this morning," reported the Dundee manager.
"We're delighted to have him back with us. It's now a matter of getting his general fitness back up.
"He's been working so hard in the gym but football movements are different when you're back on a big pitch.
"Hopefully we can get a good training week into him and take it from there.
"Potentially we could look at playing him for the reserves next week. We'll see."
Meanwhile, Andrew Nelson's recovery from a heel injury continues to be "slow progress".
The former Sunderland striker hasn't kicked a ball since he helped Dundee to a win at Livingston and the injection to his heel hasn't quickened the comeback process.
"Neller is the same," said McIntyre. "He's not any better yet. It's the status quo with him.
"Sometimes injections work, sometimes they don't.
"It's slow progress. He's still feeling pain, especially when he puts his foot into his boot. It squeezes the heel.
"We'll not be risking anybody. The bottom line is that if he's not right, he's not right.
"We wouldn't play anybody who is 50% fit or even 75% fit. There's no point in doing that.
"When he's ready, he's ready and we've got other good players who can play there."
Craig Curran returned against Hearts and will feel the benefit against Celtic of getting several training sessions completed, according to McIntyre.
"Craig came through the game well," he said. "He was just knackered, which was to be expected because he hadn't done any training whatsoever.
"I was pleased with what he gave us in the first half.
"He has an inner belief and determination to get himself through but he knows himself that he would have much rather had a training week under his belt.
"He trained today and trained very well."
Andrew Dales and Scott Wright picked up knocks against Hearts but "nothing major", McIntyre pointed out.
"Everybody will be fine for the weekend," he added.