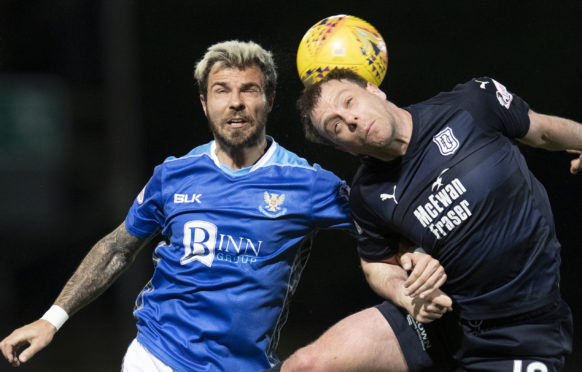 Getting a calculator out would only serve to torture himself. Paul McGowan doesn't need to know the exact facts and figures. He is well aware that the Dundee v Aberdeen fixture hasn't been kind to him or his team.
Apart from Celtic, the Dons are the last side Dundee would choose to be facing when they are bottom of the league and running out of matches to preserve their Premiership status.
But the flip-side of that is there would be no better side to beat if the Dark Blues want to arrest a form-slide that is dragging them down and raise confidence ahead of the crucial post-split phase of the campaign.
"I was telling one of the boys that my aggregate score against Aberdeen is a bit high," McGowan said. "I wouldn't want to count it up!
"They're a top side and have been for a long time. It's always a hard game against them.
"I'm still confident we can get a result. We need to be at our best but Aberdeen can be beaten.
"It's going to take bravery. We can't be afraid to try things and make a mistake. You have to take risks to win games, which is what we need. We can't be playing for a draw.
"I never envisaged us being in this situation. There are a lot of factors which we could talk about all day that have got us here, but we need to be positive and try to play like we did on Wednesday night as well as making sure we get it right at both ends."
The midweek result at McDiarmid Park was a sixth defeat in a row but McGowan does believe the loss represented some sort of progress.
"I felt we were a lot better against St Johnstone and a lot more dangerous but we can't keep conceding the type of goals that we are," he said. "And we're not taking our chances either.
"That's giving us a mountain to climb and it's been the story of our season. The table doesn't lie.
"Every game is crucial. I don't want to say all the cliché rubbish but it is about time that we stood up to be counted.
"We owe it to ourselves, the fans and the club to start producing now. There can be no more excuses. No more 'there is another game to turn it round'.
"Before we know it, we could be adrift and we can't allow that to happen.
"The fans are angry and rightly so. They're going to be on the players and we have to take that – give them a performance and get them on our side. Hopefully that will happen tomorrow.
"I'm sick of coming in after a game and hearing about how the other two (Hamilton and St Mirren) have got on. It's about us. And it's about keeping clean-sheets and grinding games out."
It will be a late team selection for manager Jim McIntyre.
"We've got a couple of knocks," he reported.
"Martin Woods is still struggling so he's probably the one who's a major doubt.
"Martin has been captain of the side recently and it says a lot about him that he played through the pain barrier on Wednesday night against St Johnstone. He's an important player.
"Andrew Nelson is fine. He was feeling a little bit fatigued the other night but is OK. Scott Wright is ineligible which we knew would be the case anyway."
With St Mirren playing Hamilton Accies today, the bottom three picture will change in one way or another.
"We're just looking to try and win the game," said McIntyre. "Simple as that.
"At this stage, we can only look at ourselves.
"There's no getting away from the fact we've not picked up enough points. But I have to look at the performances and chances we're creating, and we've got to do better at key moments in games.
"I must sound like a bit of a broken-down record at times. But the facts are the facts. It's not as though we're going away to teams and not creating chances, or not being in contention during games.
"So we've just got to keep encouraging the players to do the right things.
"Hopefully when we get into those key areas, we show that wee bit of ruthlessness that's required."
McIntyre added: "We've got our work cut out but we're at home so it's up to us to give it our best shot. We're all just desperate to get that next result.
"The support have been really good. Obviously, they were really disappointed when the second goal from St Johnstone goes in the other night.
"They showed a bit of frustration but that's only natural. I was as frustrated as they were. The players were gutted in the dressing-room afterwards.
"It can easily flip with one win, and then the punters can get right behind you."