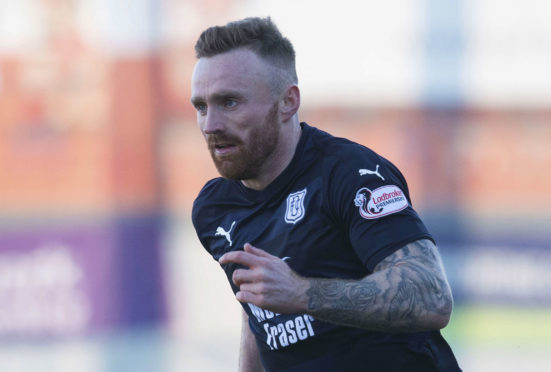 Dundee's perilous predicament needs no explaining to the players.
Seven points of a gap to Hamilton Accies and three to St Mirren makes the Premiership's bottom side favourites to be relegated by the time the next five games are played.
Striker Craig Curran remains confident that the Dark Blues can find form when they need it most, however. And he hasn't yet ruled out catching both of their basement rivals and reaching the safety of 10th place.
Asked if he would now accept 11th and a play-off, the former Ross County and Dundee United forward said: "We're not even thinking about what we would take or what we wouldn't.
"We can't start putting restrictions on where we can finish.
"Once we do that, mentally we're done.
"We're just talking about winning games. The first one is St Johnstone away – win it and then carry on.
"We've got head-to-heads against Hamilton and St Mirren and we need to win them.
"We know we'll need three or four wins to get off the bottom and we're capable of doing it."
After going down with County last season, Curran should know the tell-tale signs of a team starting to bend to its fate. That isn't Dundee, he insisted.
"It's been a pressurised situation since I've come here," said the January recruit.
"This isn't where we expect to be. We're used to it now though, and we won't be fazed by it after the split.
"You can see in the lads' faces that they're still up for the fight.
"There's a lot of talent in this squad.
"It's not as if you look around the dressing room and think 'we're a little bit short here'. It's the total opposite.
"But regardless of who is selected we have to be mentally focused at the start of games and stay mentally focused."
For over an hour on Saturday, Dundee were focused, alright. They matched Aberdeen, perhaps even out-performed them and had hit the woodwork through Ethan Robson. But the loss of a penalty opener and a swift second – both goals scored by Sam Cosgrove – made defeat an inevitability.
Curran reflected: "We'd settled into the game well and it's times like that when you need to take advantage and get a goal.
"We got so much right up until the penalty and the goal has changed the game. That's football.
"Anybody watching us can see that we're far from dead in the water.
"It's going to be tough, of course but I still think we've got enough to do it.
"We'll rest up next week and be ready mentally to go again the week after."
He added: "It's human nature that confidence is low in the position we're in.
"We've put so much into games and in a fair few we've been the better team.
"There's no point looking back and talking about it. We have to put it right.
"The lads are obviously down but we know what we need to do."
Young midfielder Callum Moore committed the foul that resulted in the Dons' penalty but Curran stressed that he had every right to walk tall after his weekend display.
He said: "I thought he was brilliant. It was his first start and these things happen. Nobody is blaming him.
"We could have done better before it even got to that stage.
"And we had enough opportunities to be ahead before then."
Manager Jim McIntyre said: "He was great. I'm pleased with him. He signed a two-year contract last week and we were delighted with that. We feel he has a real future.
"He works his socks off every day, he's got a lovely left foot and he's got a goal in him as well."
Darren O'Dea was substituted with a "bad dead leg", the type of injury that should heal before Dundee's next match.
McIntyre added: "It's another sore one to take. We put so much into the game. The boys showed a lot of endeavour and spirit for a long, long time.
"The penalty is the defining moment. After that we had to change system and chase it and when you do that against a team like Aberdeen you leave yourself a wee bit open.
"I've said it on numerous occasions but we need to be more ruthless in front of goal."
Aberdeen don't have as long to wait until they play again. They've got a Scottish Cup semi-final against Celtic to prepare for.
Dons boss Derek McInnes said: "The supporters stuck with us and we got our just rewards. Once we got the second goal you could see the impact it had on Dundee. But we would have taken 2-0 before the game."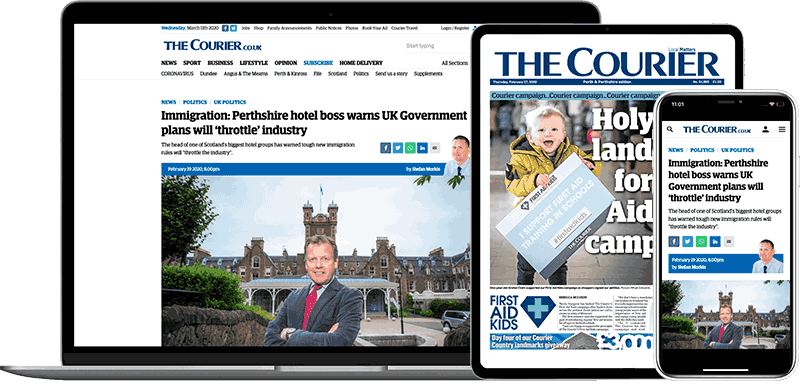 Help support quality local journalism … become a digital subscriber to The Courier
For as little as £5.99 a month you can access all of our content, including Premium articles.
Subscribe