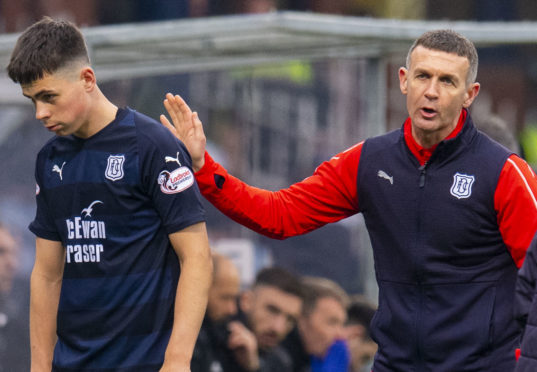 In this week's Talking Football, Courier sports writers Eric Nicolson and Neil Robertson assess the scale of the task facing Dundee in the post-split fixtures and discuss whether Dundee United boss Robbie Neilson should think about resting players and the possibility of St Johnstone's season fading out.
Jim McIntyre has spoken about needing four wins to stay in the Premiership. Two questions…..do they need that many? And is it realistic?
EN: I think he said that in an interview with the BBC. When he spoke to the written press the phrase he used was "win the majority" and that was probably a more accurate reflection of what will be required. Three wins (particularly if one of them is against St Mirren) will give Dundee a decent chance of getting off the bottom. For me, that's still a realistic goal. Forget about catching Hamilton, though. Dundee would probably have to win the lot to do that, and that's not happening.
NR: Whether they need that many is open to debate as it all depends on what St Mirren do. I believe Dundee cannot catch Hamilton so they have to target the Buddies who are currently three points ahead of McIntyre's men. As for winning four . . . Dundee only have that number of victories to their name after 33 games and on current form, it is highly unlikely they will double that tally between now and the end of the season.
Is this break the best thing that could have happened for Dundee?
EN: Absolutely. The Dundee players need to clear their heads. They look like a team that has totally lost direction. If the St Johnstone game was being played this midweek or this weekend, they would lose it. Time to refresh and refocus gives them a better shot at turning this situation around.
NR: A run of seven successive defeats would ground down even the bubbliest of optimists and there certainly aren't many of them at Dens just now. So yes, the break has come at the right time.
McIntyre is mixing up his team selections just now. That must be a concern, surely?
EN: A few of his signings who got off to a good start have had major form dips – the likes of Scott Wright, James Horsfield and Martin Woods spring to mind. That was the last thing McIntyre needed. Take the defence – the only player he can truly rely on at the moment is Ryan McGowan. Any team selection now comes with a huge element of risk and hope for the best.
NR: It is. The last thing Dundee need at the moment is constant chopping and changing. If everyone is fit after the break, I would be tempted to go with what I considered the best starting XI and try to stick with it in the remaining matches.
Have the post-split fixtures come out nicely for Dundee?
EN: My initial thoughts were it would have been good to get St Mirren first but I've changed my mind. I now quite like the batting order for Dundee. With the doubts over Joe Shaughnessy's future, and Jason Kerr's red card in the previous game, this could be a good time to play Saints. Dundee only need to make up one point on St Mirren in their next four matches to set up a do-or-die last game head-to-head against St Mirren.
NR: Dundee have lost all three games so far this season against St Johnstone and have failed to score in any of them so even allowing for the problems Eric has highlighted, Saints will start as favourites. However, if the Dark Blues are to save themselves this season, this has to be one of the games they simply have to win.
Dundee have St Johnstone first up. Do you fear Saints season will peter out?
EN: Finishing best of the rest and improving on last season's eighth is motivation for Saints but there is far less on the line for them than the likes of Dundee, that's for sure. Perth supporters will be happy to see a couple of youngsters get game-time.
NR: I cannot see Tommy Wright accepting anyone at McDiarmid putting the flip-flops on and looking out the beach towels just yet. Instead, the manager will be demanding that the season finishes with a flourish especially with three out of the remaining five games being at home.
What do you make of the news that Saints have backed away from contract negotiations with Joe Shaughnessy and Tony Watt?
EN: I'm sure if Shaughnessy indicates that he would like to stay, Saints won't be hard to deal with but he is within his rights to take his time and Saints are quite right to see who else is out there. It's a shame because I think Shaughnessy has found the right club for him and will regret leaving, if that's what happens. As for Watt, after a very impressive start at McDiarmid Park he hasn't had the impact that would justify another contract at the top end of the Saints pay scale.
NR: I'm not sure many Saints fans will lose sleep over the departure of Watt but it is always disappointing to lose someone as reliable and consistent as skipper Shaughnessy. The big Irishman has always impressed me both on and off the park with the way he conducts himself. However, the simple fact is that money talks and no-one can blame the centre-half for wanting to maximise his earnings.
Dundee United looked so good for most of their game against Ross County. What cost them in the end?
EN: A combination of getting into a defensive mind-set, weak tackling on the edge of the box and unconvincing goalkeeping.
NR: There were opportunities to clear the danger at the last-gasp equaliser that were not taken and that combined with an earlier failure to take chances at the other end cost United dear.
When you look at the two teams, the fact that United have outplayed County once and beaten them another two times must just add to the frustration that they're almost certainly going to finish behind them?
EN: Indeed it will. On their day, United are a better team than County. That Dingwall side will need gutted to be competitive in the top flight. They probably have a stronger mentality than United, though. That's what will win them the league.
NR: It will but from a United perspective, it is results such as the defeat at Alloa at the end of December when they threw away a 1-0 lead that will ultimately come back to haunt them this season.
If you're Robbie Neilson, do you start to give players a bit of rest here and there ahead of the play-offs?
EN: Yes. That's the one big advantage of County clinching the title early and United being safe in second. I'm not suggesting fielding a B team for the next few weeks but mixing and matching to give key players some rest is a no-brainer. Hopefully Neilson will be able to get Osman Sow on the pitch too.
NR: United certainly have a big enough squad to do so but momentum is key at this stage of the season and Neilson will have to perform a fine balancing act between resting players and making sure they hit the play-offs in top form.
Paul McMullan and Mark Reynolds have signed new deals. Good business?
EN: I didn't see McMullan's improvement coming. He's been a big player for United recently so yes, that's a good deal. Three years for Reynolds was a slight surprise but I would definitely have kept him. He's United's best centre-back.
NR: Neilson has lavished praise on McMullan but I would still want a lot more consistency from the player. Reynolds has been a good addition but like Eric, the length of deal surprised me for someone who turns 32 next month.
Arbroath are on the verge of being crowned League One champions. Dick Campbell feels they haven't been given the credit they deserve. Does he have a point?
EN: Dick does have a point. The only downside of building such a huge lead is that everybody takes your success for granted. Fear not though, my colleague will be at Glebe Park on Saturday and whenever the league is clinched you can be sure we'll give it the treatment it deserves!
NR: When you consider that Arbroath have had to negotiate a season of hard-fought Angus derbies against Brechin, Montrose and Forfar as well as deal with the challenge of full-time outfit Raith Rovers, then Dick definitely does have a point. However, that will all no doubt be forgotten once the champagne is finally taken off the ice and the corks start popping.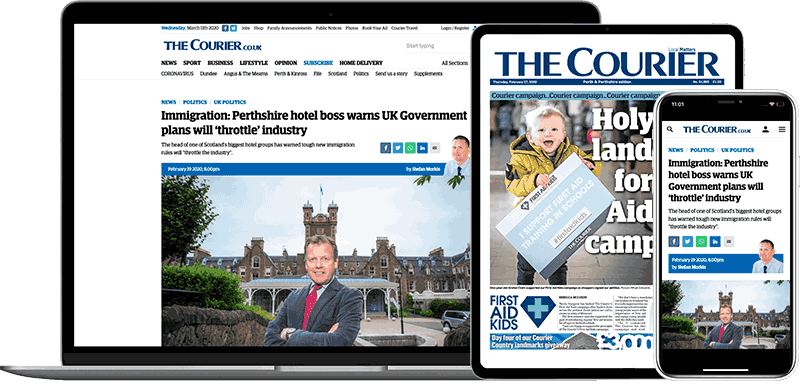 Help support quality local journalism … become a digital subscriber to The Courier
For as little as £5.99 a month you can access all of our content, including Premium articles.
Subscribe