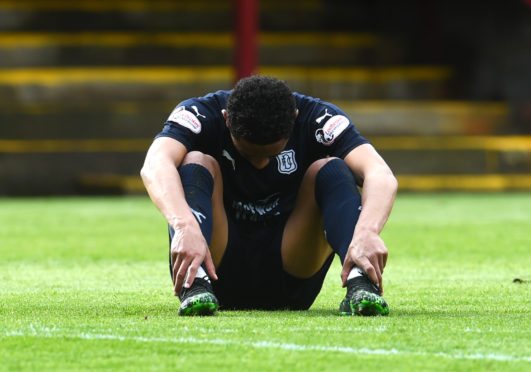 Dundee manager Jim McIntyre claimed it was a load of rubbish – or words to that effect – to say his players have given up.
He shot down suggestions they have already accepted their fate and denied they are strolling towards relegation without a care in the world.
Having offered such forthright and public support to a side that hasn't won a match since February 16, he could rightly have expected a reaction when they played Motherwell on Saturday.
He got one but it still wasn't enough.
The Dens men played some decent attacking football and scored three goals. It still wasn't enough.
The Dark Blues played a huge part in what was one of the most entertaining Premiership matches of the season. It still wasn't enough.
Instead, they lost this extraordinary match in extraordinary circumstances.
As the clock ticked into stoppage-time, it looked as if Dundee would be taking a point home and relegation rivals St Mirren and Hamilton would end up empty-handed from their games.
Instead, the other two clubs equalised against St Johnstone and Livingston respectively, while a despairing McIntyre watched David Turnbull score a last-gasp winner for Motherwell to secure a 4-3 victory.
A colleague sitting beside me in the media seats suggested that you couldn't make it up.
However, in this most horrendous of seasons was it not entirely predictable that the Dark Blues would somehow find a way to throw it all away?
Indeed, texts sent to me by family and friends before Turnbull's goal suggested they feared the worst.
They were all proved right and, arguably, this was an even more painful kick in the guts because the visitors had played some good stuff and scored three times in a tough away fixture.
Also, the Steelmen played with only 10 men for over half an hour after Alex Rodriguez got sent off.
A despondent McIntyre said: "We have only got ourselves to blame.
"They go down to 10 men in the last 30 minutes and we have to realise what an opportunity we've got.
"I know it's difficult against 10 men at times but we stopped doing what we were doing when they had 11 and we never moved the ball quickly enough.
"The game went a bit flat.
"We never got enough out of our full-backs because we were content to sit as a four when they had only one up front.
"And the fourth goal, that's where it comes from. We are sitting like a back four when we are attacking, the ball is cleared and we've not got our full-backs up on play – that's criminal.
"That's managing the game and we've got enough experience on the park to be able to manage the game better, and it's come back to bite us.
"We had a couple of real opportunities to kill the game off from great positions and we don't show a ruthlessness to do that.
"We have scored three goals and we've not scored for a number of weeks, and we still don't win the game.
"That's why we are where we are because we make fundamental mistakes and basic mistakes that always lead to goals.
"It's ridiculous that we should have to score four goals to get a point.
"It was a desperate situation before. It's even more desperate now. It's going to take favours."
It was Dundee who took the lead through Martin Woods' penalty after Cammy Kerr had been fouled by Gboly Ariyibi.
That advantage lasted just a minute, though, as a deflected shot from Turnbull brought the hosts level.
The visitors made it 2-1 with a classy counter from Ethan Robson but that advantage was also short-lived – two minutes to be precise – as James Scott levelled things up for the hosts.
The goals kept coming in the second half, with the home team going 3-2 up through Ariyibi before Nathan Ralph got Dundee's third.
Well then went down to 10 men when Rodriguez was sent packing but it was the hosts who finished the stronger and Turnbull was to be the hammer of the Dees with the clincher in the fifth minute of added time.
Dens striker Kenny Miller bemoaned his team's inability to hold on to a lead for more than a couple of minutes.
He said: "Scoring three goals away from home should probably be enough to get you something.
"Once they went down to 10 men we struggled to have the dominance you should have with the extra man.
"I want to say that kind of thing happens when you are down near the bottom of the league but we can be better.
"Particularly after the first goal, you should have the thought in your head that you are not wanting that to happen again.
"So we find a way of getting through the following five minutes, which may mean sitting off the game a little bit more and try to make ourselves hard to beat.
"It was a set-play as well, which is something we have to have a look at and see how it came about.
"It was a disappointing goal to lose but the lads battled back to make it 3-3 and we got a goal back through a set-play of our own and it was a great header from Nathan Ralph.
"At that point, the game was probably still too end-to-end for us.
"I think we should have tried to control it better, especially with that extra body."
Miller confirmed that the Dundee dressing room was not a happy place after the game.
Asked to describe the mood, he replied: "Low – of course it's low.
"Games are running out fast.
"So next week (Hamilton at Dens) becomes huge.
"It is a must-win and we have to find a way to win, which is something we haven't done as that's nine straight losses.
"If you put a run of results like that together then you are always going to find yourself in some kind of trouble."
At the end of a week that heralded the new James Bond film, the words of Skyfall come to mind.
"This is the end. Hold your breath and count to 10."
For Dundee's sake, let's hope Adele's song is not on the playlist on Saturday.