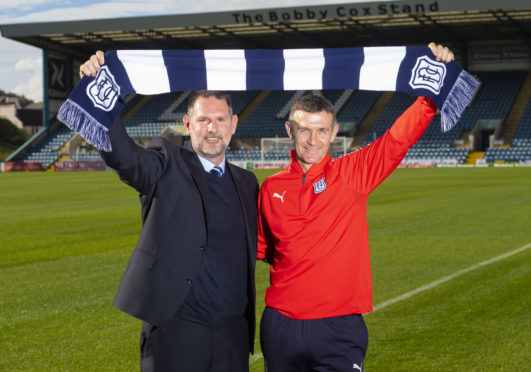 In this week's Talking Football Eric Nicolson and Neil Robertson discuss a Dundee FC statement, its implications and an elephant in the room at Dens Park.
Dundee have provided a near 1,400-word statement this week. Sum up the main points in fewer words than that, please.
NR: There had been no prior suggestion from the owners that their commitment to the club had in any way wavered but it would still have been reassuring for Dundee fans to read strong confirmation that they are staying. Without that on-going American investment, it is difficult to see exactly how Dundee would survive. The statement also stressed that the new stadium project is back on track – and pointed out that staying at Dens is not a sustainable option because of ever-increasing running costs – but there is still no firm date for spades in the ground.
TALKING FOOTBALL PODCAST: Dundee fans had the chance to run the club and they blew it
EN: Folk will have made their minds up on the stadium move one way or another and this statement alters nothing in that regard. You're either a believer or you're not. But yes, the owners reaffirming their commitment was the main line. Mind you, what else did you expect them to say? The main issues if Dundee go down are – how substantial will the cut-backs be, who will be the manager and how big will his transfer budget be?
Elephant in the room…..if you're Jim McIntyre, would you be worried or reassured that he doesn't get a mention?
NR: In-house catering, open days and beer festivals are all covered in the statement which made it all the more remarkable that there was nothing about McIntyre. The manager was adamant on Monday he would be at Dens next season but he must surely be concerned now that there was no vote of confidence, let alone the merest mention of his name.
EN: I question the timing of the statement. They should have waited until relegation was official and then they either back or sack their manager. By putting it out while there is still a slim chance of staying up, the statement is inevitably all about what's not in it rather than what is.
All the old Dundee flaws were there at Fir Park on Saturday (and a few good points) weren't they?
NR: The manager himself summed it up when he said his team shouldn't be losing when they score three goals at Fir Park. However, he also hit the nail on the head by insisting they only had themselves to blame. Defensive frailties were there for all to see once more.
EN: The flaws were summed up in one goal – the winner for Motherwell. Not closing down a crosser and then not being alive to a ball coming into the danger area have been a recurring theme.
Relegation seems to be a given after Saturday's defeat at Motherwell, if it wasn't already. Is the run of defeats about to go into double digits against Hamilton?
NR: Accies are the one team that Dundee have a decent record against this season with two wins and a draw to their name. No-one wants to be relegated on their own ground so hopefully the players can finally sample that winning feeling once more on Saturday even if all it does is delay the inevitable.
EN: I think Dundee will win. Being officially relegated in front of your own fans on the back of a 10-game losing run is the stuff of nightmares for a player.
Robbie Neilson made an interesting point this week. He thinks the advantage would be with United in the play-off final if they get there rather than the Premiership team. Do you agree with him?
NR: I am not sure about that. If as seems likely, Dundee are automatically relegated, then United will face either St Mirren or Hamilton. The Tangerines have already beaten the Buddies this season in the Scottish Cup but Oran Kearney's side have picked up since then while Accies are a tough nut to crack especially at home on their artificial surface. Of course, either Ayr or Inverness will also have to be overcome before thoughts can even start turning towards the sides in the Premiership.
EN: I don't think it will be an advantage but I do think United won't be at a disadvantage either, if that makes sense. It's an even playing field if it's the Championship team with the free week that gets through to the final. Also, Neilson's positivity has never wavered since he has come in and I like that mindset.
Are you expecting big changes to the United starting line-up for the dead rubber at Cappielow?
NR: No. Neilson has been consistent in his message that momentum is more important than either resting players or giving others game time. However, no chances will be taken with anyone carrying knocks such as Mark Connolly and Peter Pawlett who missed out against Falkirk last week.
EN: A few will be left out, I think. Paul McMullan should be among them. I'd be surprised if any United player has covered more yards than him in the last couple of months.
Who is going down into League One?
NR: You have to fear for Ray McKinnon's Falkirk. Even if they beat champions Ross County on Saturday, it may still not be enough to save them.
EN: Falkirk may yet escape. The Ross County players will still be sobering up and Alloa losing at Ayr wouldn't be the biggest shock ever.
Dunfermline should be fine but it's been a pretty limp ending to the season for the Pars, has it not?
NR: Six defeats in the last seven games is incredibly poor and everyone at East End Park should be eternally grateful for the five wins that preceded the dreadful run. It is certainly a disappointing end to a campaign that had begun so promisingly with wins over both Dundee clubs in the Betfred Cup.
EN: It feels like Dunfermline are at a crossroads and getting it right in the summer transfer window has never been more important. Doing a Falkirk or a Partick Thistle will be the fear for Pars fans already.
Back in the top flight, do you expect St Johnstone to hold off Motherwell for seventh?
NR: I can see this going right down to the wire and while on paper there looks to be little but pride to play for, the team finishing seventh receives £62,500 more in prize money than the side in eighth.
EN: It would be nice to say that they have climbed a place from last season when it's all over. Saints were just as committed as St Mirren last weekend and that bodes well. Yes, I think they'll do it.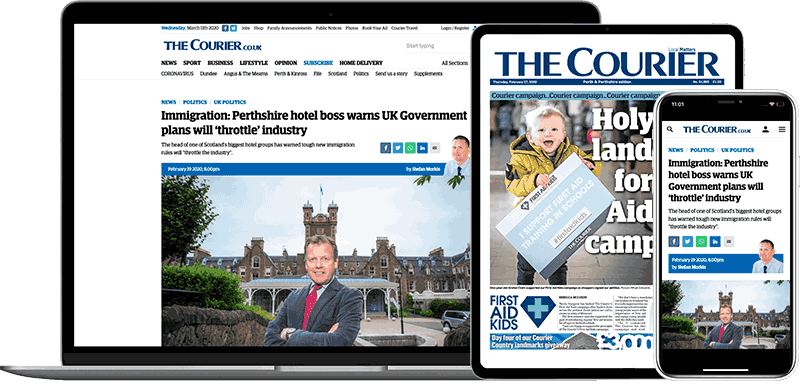 Help support quality local journalism … become a digital subscriber to The Courier
For as little as £5.99 a month you can access all of our content, including Premium articles.
Subscribe