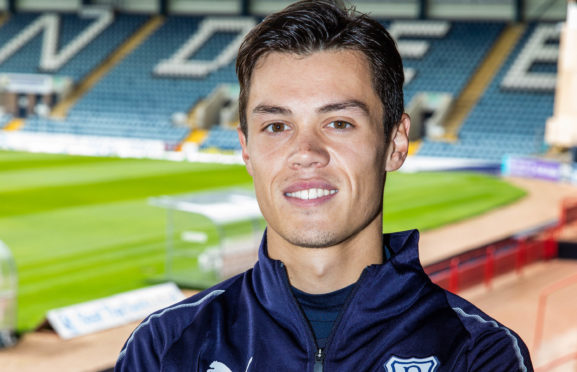 Jesse Curran has admitted he is as shocked as any supporter to see Dundee deep in the relegation mire.
It wasn't supposed to be like this for the 22-year-old Australian, who will be battling for survival along with his colleagues today.
The Dark Blues must beat Hamilton Accies at Dens and hope second-bottom St Mirren lose at Motherwell to prolong their stay in the top flight.
However, if they make it 10 league defeats in a row then it will be Championship here we come for Jim McIntyre's men regardless of how the Buddies do at Fir Park.
That all adds up to dismal situation for Curran, who was full of such hope and expectation when he arrived at the club from Down Under in the spring of 2015.
"When I first came here we were in the top six and I expected that every season," he said.
"Even at the start of this one, we were thinking about the top four but it hasn't worked out that way.
"I felt we shouldn't have been in the position we were last season and expected this one to be much better.
"So it has been a shock how it's panned out but we are where we are and we have to get on with it."
Curran knows that Dundee's only hope is that they win and St Mirren falter so he is determined to get their own job done and then keep his fingers crossed.
"The manager and the staff have told us to leave nothing out there on the park," added Curran.
"The last thing we want to do is come off having not won and find out St Mirren have slipped up.
"We have to do our bit and hope results elsewhere go our way.
"We can't let ourselves down because three points is a must.
"Every game lately has been like a cup final.
"There is a lot of pressure there and we are having to deal with that.
"It has been tough, it's hard mentally and a challenge when you are in this position.
"The more experienced players help the younger ones by talking to us and supporting us.
"The lads were down after the game but it's gone now. We have trained well this week and we're looking to the Hamilton game.
"It's easy to feel everything is against you, especially last weekend when you see Hamilton and St Mirren scoring in the last minute.
"But it's in the past now.
"We feel we can keep scoring goals and if we can stay solid then we will have a chance of winning the game."
Trying to save the club from the drop is Curran's priority but he also his future employment to consider.
He said: "I am out of contract so there is that uncertainty.
"I haven't been spoken to but the focus is on the Hamilton match.
"I am playing for a new contract but that's something we will look at when the season is finished.
"The club is more important."