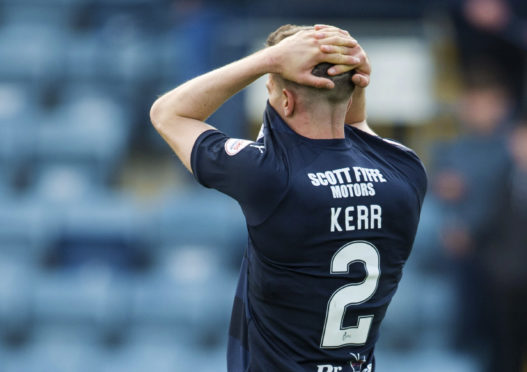 Dundee are down and Ian Roache and Eric Nicolson start the Dens Park relegation post-mortem.
Dundee certainly aren't a club new to relegation. Why does this one feel particularly grim?
IR: There are several reasons why this feels worse than before but the main one is that at no point did Dundee look likely to survive. I know the players and manager disagree but there didn't seem to me to be much fight out there on the park. It really did look like they had accepted their fate. For any team to lose 10 straight league games when they are meant to be in a relegation "battle" is truly embarrassing. They went down without laying a glove on their opponents.
EN: I wouldn't argue with anything Ian has said. You can add to it the progressive nature of Dundee's demise. It's basically been a slow-burn of misery since the 'Doon Derby'. The days of Stewart and Hemmings doing their thing at Dens seem a long, long time ago. It's a bit early to start predictions for next season but it will need to be a seriously good summer transfer window to make me think this is a club ready to make a swift return to the top flight.
Who out of the current squad would you still want to see wearing dark blue next season?
IR: Ryan McGowan and a fit Andrew Nelson. That's all folks. Others should possibly be retained on the basis that they will be good enough for the Championship but I would opt for clearing the decks.
EN: All those on loan can go (Ryan McGowan will have better offers) and the same for the players out-of-contract. That takes care of most of the squad. Jack Hamilton should be a good Championship level keeper so I would keep him. And Nelson can stay too.
It didn't take long for a bit of a blame game to start. Neil McCann certainly put up a spirited defence of his time in charge on the radio. Is he guilty of re-writing history?
IR: Yes. Being kind, I would say that McCann's recollection of his time in charge differs from my own. I thought the club was right to replace him when they did. That's not to say that I think McIntyre was correct to publicly point the finger of blame his way. Managers tend to move mountains in order to avoid criticising predecessors and he would have been wise to do so this time. Leave that to others. There are a few people to blame for the Dark Blues' demise and I would include both McCann and McIntyre, as well as dozens of under-performing players and under-fire managing director John Nelms.
EN: Dundee were a team heading for relegation with the squad Neil McCann had assembled and nobody will convince me otherwise. Apart from Glen Kamara, name a player who Jim McIntyre cut loose in January who has gone on to be a hit elsewhere at a decent level? And, for what it's worth, I don't have a problem with either of them having their say. McCann has the right to defend his reputation and McIntyre has the right to put his time in charge into context.
The word is that John Nelms wants Jim McIntyre to stay as manager. Do you think he will?
IR: Unfortunately for McIntyre, I feel that the dreadful run of defeats and the abject failure of his team will get him in the end. Even the most hard-working and intelligent managers should not survive relegation if avoiding it has been the main reason they were hired. I know what has been said and hinted at thus far but I just don't see him being there to take the team in the Championship. Let's be frank, it will be a challenge persuading fans who chanted 'Ten in a row, he's got to go' to buy season tickets while he is still there.
EN: I still think it's more likely he goes than he stays. Money talks and, as Ian put it, in this case it will be season ticket sales.
What do you make of Dundee United announcing Fraser Fyvie, Morgaro Gomis and Aidan Nesbitt have left?
IR: Perhaps the timing, ie pre play-offs, is a little surprising but it does not come as a shock to see them leave. Manager Robbie Neilson has looked elsewhere to fill his midfield and it gives those lads more time to get themselves fixed up with other clubs.
EN: If you've got three guys who aren't in your plans then there is point in keeping them any longer than you need to. Fyvie has gone from club captain, and the man Csaba Laszlo was pinning his hopes on, to dispensable within a few months. It shows the progress of the team and the extent to which serious injury has affected a very talented midfielder.
Did the defeat at Morton tell us anything going into the play-offs?
IR: I hope not! United have been talking about the importance of momentum and I suppose the result stopped that but all that really matters is that the team that kicks off the first play-off game is fit, prepared and confident.
EN: I covered the game and it was a bit of a non-event. It confirmed to me, though, that Osman Sow isn't yet the man to start up front for United in the play-offs.
Dunfermline have released 13 players. Necessary or too many?
IR: There are some weel-kent faces in that unlucky 13 but the Pars have under-performed this season so there is nothing wrong with boss Stevie Crawford opting to start over.
EN: Most are out-of-contract. Ryan Williamson was the surprise one but I gather that was because he didn't want to sign a new deal. I still think he could be a Premiership full-back one day.
As it's award season, who are your player and manager of the year for this part of the country? You can throw in a young player as well, if you want.
IR: My gaffer gong goes to Dick Campbell of Arbroath, my player pick is Bobby Linn of Arbroath and the young player is Jason Kerr of St Johnstone.
EN: It's Dick at the moment but if Jim Weir or Stewart Petrie take their team up through the play-offs that would be a comparable achievement given their starting points. Bobby Linn is a no-brainer, with John Baird second choice. Zander Clark also deserves a mention and Ian's right, Jason Kerr has been the best young player by a distance.