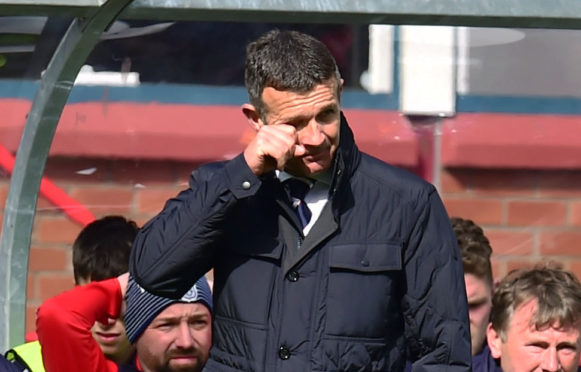 Dundee boss Jim McIntyre insists he is fully focused on preparing for today's game at Livingston and not on what might happen once managing director John Nelms returns from the States.
The Dark Blues manager saw his side relegated last week against Hamilton at Dens as they slumped to what was their 10th defeat in a row.
The home fans were not slow in voicing their fury as the team dropped out of the top flight with many now feeling McIntyre's position is untenable.
Dundee have twice issued statements in the last week reaffirming Texan owner Tim Keyes' commitment to the club but at no point was the manager or his future specifically mentioned.
Despite the uncertainty, McIntyre is trying to conduct business as usual, and is already looking towards next season, but with Nelms due back from America following his meetings with his compatriot within the next 24 hours, there should finally be some clarity by the start of next week.
When asked if he had drawn up plans to submit to the board for next season, McIntyre said: "Yes, they know exactly what I want to do.
"It's well documented that John is in America this week for his annual end-of-season chat about how things have gone.
"We will continue that when he comes back.
"It is a huge rebuilding job, with only seven or eight players under contract.
"There are going to be a lot of tough decisions to make, there's going to be a lot of change, obviously.
"But the focus right now is on the Livi game."
McIntyre admitted he had no input into the meetings Stateside but he had spoken to Nelms before he flew across the Atlantic about his plans.
He added: "John and I talk daily when he's here. He knows exactly what I want to do.
"I haven't spoken to him since he went over."
However, the manager admitted he has not specifically asked for reassurances about his position: "No. We talk about what I want to do going forward.
"That's what the chat has been – what I would like to see happen.
"I don't really want to go into too much because I've got a game to prepare for.
"I know you guys are desperate to find out what's happening. But, for me, it's about focusing on the game.
"That situation will take care of itself."
While the spotlight has mostly fallen on McIntyre, his relegated team still have two fixtures to fulfil, starting with today's at Livingston.
The manager admitted his players are still hurting after being relegated and he insists their professional pride will drive them on to try to secure a result to provide some small crumb of comfort for the club's long-suffering fans.
McIntyre said: "It's difficult. Obviously there's a lot of people who are down and gutted about the situation.
"But we're professionals and we've got to try to win a game. That's all it's about, just trying to pick ourselves back up.
"It's not easy when your fate has just been handed to you and you've been relegated.
"It's just about trying to be as positive as you can be, which is difficult at a time like this.
"We've got two games left and we want to give our punters some crumb of comfort.
"More so with a result. It would just be nice to break the run before the end of the season.
"You are playing for professional pride. We're all professional people – and we're hurting right now.
"It's been a very tough week. But, equally, we know that supporters will be there to watch us.
"And, for our own professional standards, we'll be wanting to win this game.
Dundee defender Darren O'Dea announced earlier this week that he will be hanging his boots up at the end of the season to move into coaching and McIntyre wished him every success in his new career.
He added: "I knew he had a real passion for his coaching and I respect his decision to call it a day.
"He's only 32 but he's wanting to go down a different path with his football.
"I wish him all the best. He's been nothing but good for me.
"So good luck to him."
Paul McGowan and Nathan Ralph return to the squad for today's game after recovering from injury but Andy Dales is a doubt with a hip problem while Craig Curran will miss out after picking up a dead leg in training.