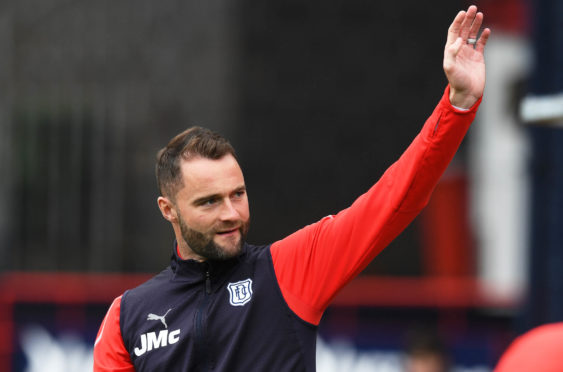 Dundee's search for a new manager is set to hot up this week with a lengthy list of more than 100 applicants being whittled down before interviews are conducted.
However, Paul McGowan insists the ideal candidate is already at the club in the shape of James McPake.
The popular "Jazza" was put in temporary charge of the first team following Jim McIntyre's sacking a week ago.
McPake was unable to secure a win against St Mirren on Saturday with Dundee reduced to 10 men following Darren O'Dea's first-half red card and then nine men after Gensy Kusunga hobbled off with all three substitutes having already been made.
Courier Talking Football is going live — and you can be there!
Despite the 3-2 defeat, McGowan is adamant managing director John Nelms should tell owner Tim Keyes that McPake is the right man to take the job on a permanent basis.
The midfielder said: "Jazza being here knows the club inside and out.
"So why not? He is not going to cost anything. Money is going to be tight now as we are going to be in the Championship.
"We will not have the money we did in the Premiership.
"So it is a no-brainer for me but I am not making that decision, John Nelms is.
"It is a big decision for John and I understand that because the last two managers, it has not really worked out.
"So it is a massive decision for John and Tim."
McGowan has been good friends with McPake since they both joined the club in 2014, sharing a car together from the west on a daily basis.
However, the midfielder insists his ringing endorsement has nothing to do with an old pals' act and instead he only wants what is best for Dundee.
McGowan said: "I have known him a long time. He came here at the same time as me and he stays five minutes away from me.
"I have become close to him. It maybe sounds like me bigging up my mate for the job but it is not that. It is just what is best for the club.
"I love the club, they have stood by me through thick and thin and I just want to see us move forward.
"Jazz is a rookie but he is so driven in everything he does. He has a great relationship with John, the players and the fans.
"You can see the players fighting tooth and nail for him against St Mirren.
"I have been struggling with injury but I wanted to play so much.
"He is a great guy but I have been impressed by him massively this week.
"People will say, 'Well, he is your mate' but it is not that – I want what is good for the club.
"I am just paid to play football but my opinion is that the club should look no further than James.
"I know we will be in the Championship but if Jazz gets the job then I am pretty confident we will be coming back up."
Meanwhile, Dundee midfielder Martin Woods has left the club.