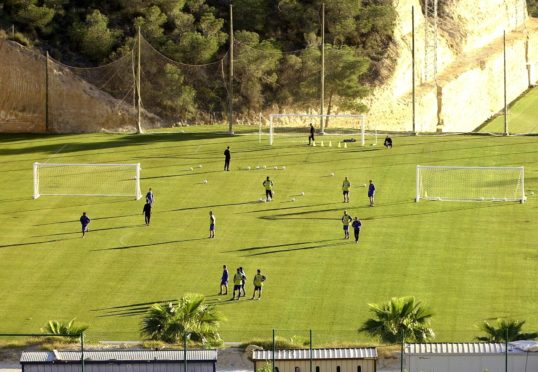 They may be working hard but Dundee's players can have no complaints about their surroundings in Spain.
The Real Club de Golf Campoamor is plush with a capital P.
The road from the front gate to the front door seemed to take an age to drive up and that is always an encouraging sign when you are heading to any hotel.
On arrival, you knew you were in the right place because of the big Dundee club badges plastered on the front doors.
The Dark Blues have had a separate complex all to themselves and I was greeted there by club officials.
That we drove down to the training pitch on the club's own allocated golf buggies told you these were pretty swanky digs. You don't get that at your budget hotels.
Isolation and privacy are desirable things when teams are dong pre-season training and the Dark Blues were able to run (and run and run) away from prying eyes.
After what looked like an exhausting workout in the blistering heat, the players cooled down in their very own swimming pool before starting all over again.
The only break, it seemed to be, was when a player or two was asked to speak to we pesky reporters.
I may be wrong but they did seem slightly keener than usual to chat!