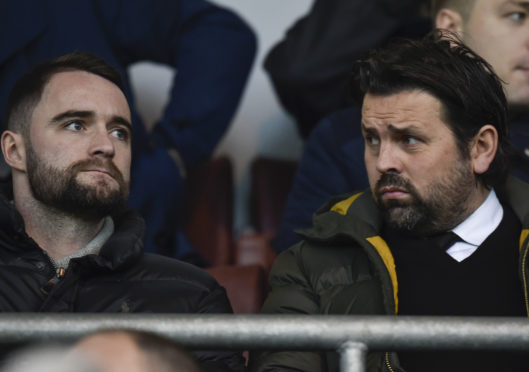 James McPake has a lot to thank Paul Hartley for.
And the Dundee manager admitted that the man who will be in the opposite dugout tomorrow night set him on the path to becoming the Dens Park boss.
"I like Paul, I really do," said McPake of the recently-appointed Cove Rangers manager. "I liked the way he worked. He was unfortunate here, I think.
"The second season we finished seventh in the league and we were probably better than what we were the season before when we finished sixth.
"He had us going well here and it was unfortunate the way it ended, but he's someone I really liked.
"I was grateful. He was the one who got me into coaching. Well, not got me in, but gave me a head start.
"If Paul hadn't done that then I wouldn't be sitting here, that's for sure.
"Knowing Paul, he wants to work and he takes on projects.
"He'll want to get them up through the leagues. That's what will motivate him. He's a hard worker and he will do well there."
Cove are a league below the Raith Rovers team that Dundee beat convincingly on Saturday in their Betfred Cup opener but that doesn't mean back-to-back wins on the road can be taken for granted.
"We've seen them a couple of times and they will be good," said McPake.
"Knowing Paul's teams, they'll be fit and they'll be in our faces. We're not going up there taking it lightly. If we do that we'll lose the game."
Only Callum Moore misses out tomorrow night with injury.
Reflecting on the Raith victory, McPake was a satisfied man. But what pleased him most?
"I would love to say attitude but I shouldn't because it should be a given," he said. "I just think our willingness to get after the ball.
To be fair to them they tried to play out which we knew they would, but I thought our energy levels and getting after the ball were really good.
"It happened a lot in the game and we highlighted it.
"Andrew Nelson, he scored two goals and everybody talked about that, but his work-rate and everything about him on the day was great.
"People will say he's had his injury problems and he has, but he's still only a young kid and he's taken everything on board. We're delighted with him."