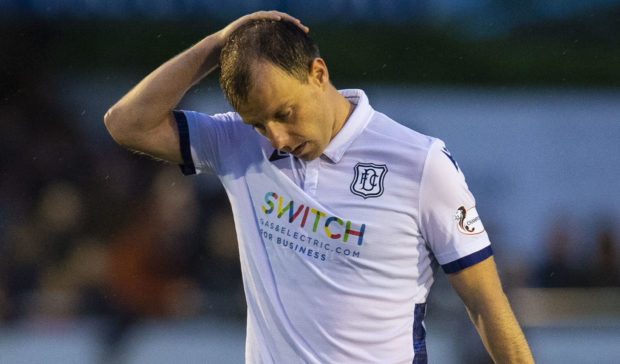 Paul McGowan believes the long-term future of Dundee is in good hands with the crop of youngsters getting first team action.
But more new signings are required if the short-term goal of an immediate bounce-back to the Premiership is to be secured.
The experienced midfielder will enjoy helping the likes of Finlay Robertson and Josh Mulligan develop into established pros at Dens Park.
But he wants to make sure they will progress their football careers in the top flight, rather than the Championship.
"The future is bright but the club needs promotion," said McGowan.
"I'm all for bringing kids through and helping them come on – the older ones will help them through it and put an arm round them now and again – but we need to get up.
"The manager has made good signings so far but we still need a couple more in to push on.
"I know the club are working hard to do that.
"It feels as if the signings already here have made an impact.
"It's crucial to keep Neller (Andrew Nelson) on the goal trail and hopefully bring another striker or two in. You have to strengthen because the league is going to be tough.
"We're one of the favourites but we're going to have to fight. Games won't be given to us."
Wednesday night at Cove gave the players a taste of what is to come in the Championship this season, according to McGowan, who scored the penalty that secured an extra bonus point.
"There will be more games like that one," he said.
"We just didn't play the way we can. We couldn't get our passing game going. Fair play to Cove, they made it difficult for us. No excuses. A draw was a fair result but it feels like a defeat.
"The manager wasn't happy and rightly so. Those weren't the standards he has set. He has high demands for us.
"We were miles off it. That hasn't been the case throughout pre-season and against Raith.
"We've got two points which is the only bonus of the night.
"We had a great result on Saturday but we've still got a lot to work on and that there wasn't good enough right through the team.
"Hopefully it was just a little blip and we can get going again.
"If our worst performances of the season are going to be 0-0 draws, we'll take that.
"Clean-sheets have been hard to come by in my time at Dundee, and at least we got one of those.
"We go again on Saturday."
Robertson was substituted 10 minutes into the second half of the 0-0 draw but manager James McPake made a point of saying that it was a tactical change to get more width into their team and that the youngster had been their most composed player on the ball.
"He's a talent," McGowan added.
"It's up to us to help him develop. He's still only 16 but you can see his maturity as a player.
"It's great for the club. Every game he's played he has impressed and he'll only get better.
"He's not the biggest but for his size, he's quite strong and he protects the ball well.
"The manager knows him really well and he'll be an asset this season and in the long term."