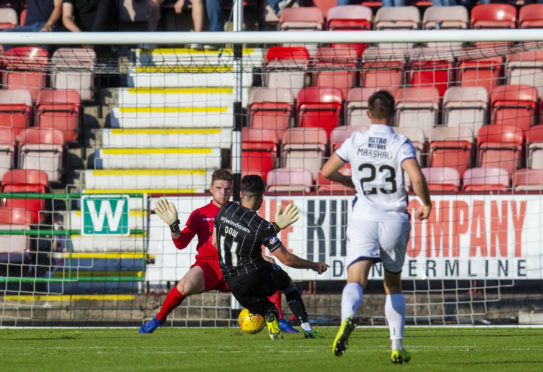 Dunfermline frontman Ryan Dow has told Dundee's fans that their taunts just spurred him on.
The former Dundee United man was booed by a fair few of the away supporters during thre 2-2 draw at East End Park on Friday night.
However, he responded by tormenting their team up the right flank, scoring the opening goal and then crossing brilliantly to teammate Kevin Nisbet for the Pars' second.
What would have been a five-star first-half performance from him had some of the shine taken off it when he was ruled to have used an arm to give the visitors a penalty, which Danny Johnson scored just before the break.
Dow still did plenty of damage to the Dark Blues and he was happy to take the stick in his stride, even when a paper cup was lobbed in his direction.
Asked about the abuse, he said: "I would rather get it than not.
"I don't know what fans think will happen when they give you abuse but probably every player will say that it makes you play better and gives you that wee bit extra satisfaction when you score.
"I enjoyed it and the abuse is never going to affect me.
"They were particularly booing me in the first half but I scored one goal and set up the second. Maybe they wouldn't have booed me if I wasn't playing well."
As for the paper missile, he added: "I saw one get launched over my head but it never hit me so that was a bit unlucky!"
Dow felt aggrieved by both the spotkick he gave away and the one that led to Dundee's equaliser after Lee Ashcroft was penalised for a challenge on Johnson.
He said: "The boys were gutted to lose two penalties that we felt were soft.
"It hit my chest and it's maybe bounced up and scuffed my arm but I would like to see it again.
"Normally if you are in the box as a forward player and something like that happens you think 'Oh no.' But I think Dundee had the ball and I was just expecting to go and press them when the referee gave it.
"I thought it was very soft considering I controlled it with my chest first.
"For the second one, I was right behind the play and the ball came back towards us and we were about to clear it.
"I don't know if it was because Dundee were shooting towards their fans and the roar but it's such a hard one to take, especially when you consider the way we dominated in the first half.
"I think it was complete domination."