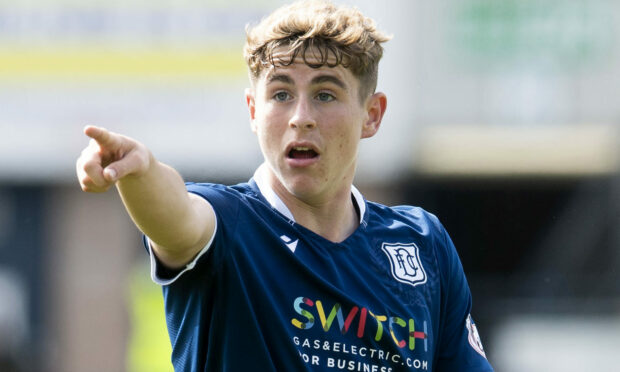 Finlay Robertson may only be 16 but Dundee boss James McPake is confident he will more than do himself justice with the Scotland Under-19s.
The midfielder has nailed down a starting spot for the Dark Blues already this season, posting impressive performances that have now earned him international recognition.
Robertson has been called up to Billy Stark's squad for two matches against Japan in Pinatar, Spain, as preparations get underway for UEFA qualifying in October.
The teenager will have another Dundee player for company on the trip, Josh McPake, who joined the Dark Blues on Monday on a loan deal from Rangers.
They will both miss Dundee's Challenge Cup tie against Elgin City on September 8 but their manager is just delighted that the duo will be involved with the national side.
McPake said: "Josh can't play in the Tunnock's Cup but they are both away that week so Fin will also miss the tie.
"Looking at the way things have been going, that would have been one of the games he would have sat out of anyway to rest him.
"But I am absolutely delighted he has been called up for the Under-19s.
"It is something (international call-up) that he deserved a couple of years ago.
"But he has shown now why he should be in international squads and I am sure he will do himself justice.
"Last season he was deemed not good enough to get into a schoolboy select team which was baffling.
"He got in eventually because of an injury.
"Lyall Cameron and Josh Mulligan both got in and Finlay got in eventually so they got capped for Scottish schoolboys which was great for our club, for them and their families.
"But now he is in the proper international set-up at Under-19s and he deserves it."
McPake has watched Robertson develop ever since he played alongside the youngster when he was just 14.
At the time, the manager was trying to make a comeback from the serious injury that ultimately ended his playing career.
However, the game against Albion Rovers at Cliftonhill was certainly not going McPake's way and he admitted Robertson and Cameron all but saved his footballing life that night.
The manager said: "Finn was 14 and I was playing in a game with him.
"I should have been sent off after about five minutes. I was last man and I had to pull the boy back.
"My mates were there because it's round about my area. I should never have come back out, I should have chucked it there and then.
"I should have just stopped. I knew then that I was never ever getting back.
"Fin and Lyall came on and we were still trying to build out from the back and I thought I'm going to get caught. I'm going to look worse than I do.
"I passed the ball in to him. He turned out the other side and I thought he's decent."
McPake added: "Paul Hartley said keep giving him it and I'm thinking he's only 14. My head was gone and I'm going the other way and saying right that's what I'll do and I'll show you.
"I'll keep giving the ball to a 14-year-old. I'm 32 trying to get back and I'm giving the ball to this wee guy. He never gave the ball away once and I got excited.
"It probably made me keep trying to get fit again because it made me go off the pitch, him and Lyall, actually liking football again.
"At half-time I think I was retiring even from coaching, never mind playing. I was going to go down another route.
"I'm maybe going over the score a wee bit with that, but that's when I first saw him and I told that story to my wife the other night and she said she could remember me telling her.
"I was that annoyed but I'd gone home and said we had a couple of young kids and they are going to be brilliant.
"I believe they are and there is more coming through.
"That's for the Academy and all the great work they do.
"Him and Lyall that night saved my football life. I've them to thank for getting the manager's job – or 45 minutes at Cliftonhill on a freezing night."