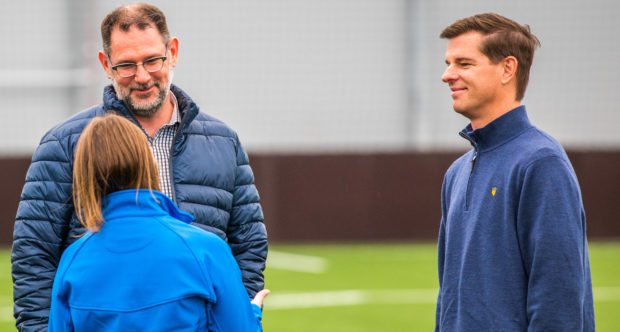 Dundee owner Tim Keyes will make a quick visit to the home of city rivals United for tonight's eagerly-awaited derby.
However, he has invited his Tannadice counterpart, fellow American Mark Ogren, to make a permanent move to the Dark Blues' proposed stadium development.
Keyes flew in to the UK this week for further financing meetings about the new ground which will be situated off the Kingsway close to Camperdown Park.
The discussions went well but he admitted that if United were willing to share the stadium, it would make the project even more attractive.
Dundee have already been rebuffed by United but Keyes did not rule out making another approach, this time to bring Ogren on board.
Keyes said: "I haven't met Mark but I spoke to him once on the phone around May or June as we are the two US owners.
"So I just called him up and said, 'If we can help you in any way just let us know', maybe with an American perspective on a Scottish team.
"I think the rivalry between the clubs will always be first and foremost rather than co-operation.
"But we had (previously) talked about inviting them into the new stadium if we get that off the ground.
"We asked if they wanted to be partners with us in that but when we first approached them, they said no as I think they wanted to focus on Tannadice and staying there."
Keyes added: "We would still be open to it if they wanted to come in with us as it makes it a more feasible project if you had two teams instead of one, 40 games instead of 20."
When asked if given the chance, he would speak to Ogren in the future about sharing a ground, Keyes replied: "Yes, sure."
After arriving in Dundee yesterday, Keyes paid a visit to the newly-built Regional Performance Centre For Sport at Caird Park along with club managing director John Nelms, technical director and former Scotland boss Gordon Strachan as well as head of academy Stephen Wright.
As of Monday, the facility will be the Dundee youth set-up's new home and the players from all age groups along with their parents were also given a tour.
And Keyes was certainly impressed with the sports complex.
He added: "It is a fantastic facility and they don't really have many things like this in the States.
"With Gordon and Stephen working here, I think we will have an academy that's second to none.
"The four of us had lunch today and for an hour, Gordon and Stephen went through all the things they want to do with the academy and how it was going to be different than other ones.
"I was really excited by the end of it and I am sure the kids will be too."
Keyes added: "When John and I took over the club six years ago, that was our original plan, to focus on the academy and build it up.
"But to be honest, we had so much success the first year winning the Championship and going up to the Premiership it changed our plans a bit.
"Then it was all about surviving in the top league with the Academy becoming secondary to the first team.
"Having brought in Gordon and Stephen now we can get back to where thought we'd be when we first bought the club.
"I think we have three 16-year-olds at the moment in the first-team squad and it is great for the younger kids to be able to point to them playing in the top team and thinking I can do that in three or four years."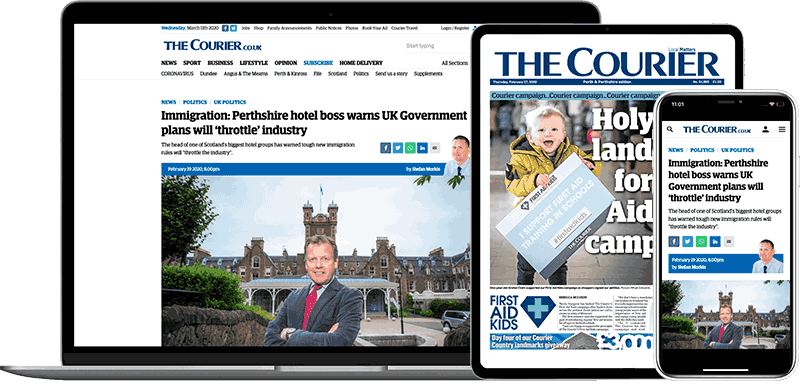 Help support quality local journalism … become a digital subscriber to The Courier
For as little as £5.99 a month you can access all of our content, including Premium articles.
Subscribe