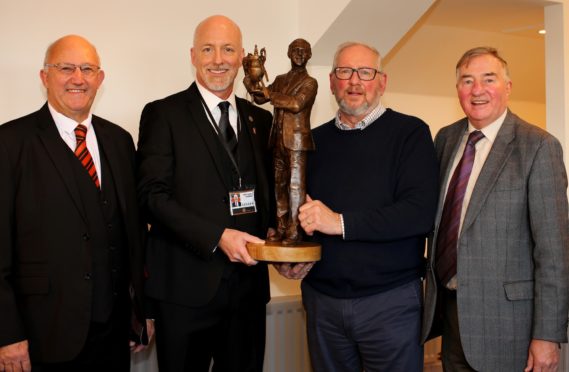 Legendary Dundee United manager Jim McLean's image will watch over Tannadice after the funding target for a statue of the great man was reached.
A commendable effort from supporters, under the administration of Dundee United Community Trust, ensured the impressive figure of £62,000 was raised to enable a statue of Mr McLean to stand guard over the stadium he graced with his coaching brilliance.
Sculptor Alan Heriott will now start the work and it is hoped the finished article will be in place at the ground by May of next year, 37 years after Mr McLean led his the club's greatest-ever team to their finest achievement – the Premier League championship.
The Jim McLean Statue Group led the way and thanks to the backing of two local contractors, Carmichael & Baxter Ltd and Norman Jamieson Ltd, the initial projected cost of £70,000 was reduced, thus making it easier to achieve the new total.
Since United's open day on September 22, the replica of the statue has been on display within Tannadice, and last month club chairman Mark Ogren met David Dorward, the chair of the Community Trust, Mr Heriott and George Haggarty (chair of the Jim McLean Statue Group) as the target neared.
The final statue, iconically showing Mr McLean celebrating with the Premier League trophy, will take pride of place outside the Eddie Thompson Stand at Tannadice and overlook the United support as they attend home matches.
Tangerines chairman Mr Ogren said: "It was a pleasure to meet Alan and George last month.
"The achievement of securing the funding for the statue highlights once again the generosity and passion of the United support, and I look forward to seeing the statue in its final location at Tannadice."
Mr Dorward added: "George Haggarty and the Statue Group have worked diligently to appoint such a respected sculptor and to agree a design with Jim's family.
"The final statue will be fitting tribute to the club's greatest manager.
"Of course, without the generosity of many United fans who have donated, we would not be able to deliver the statue."
Current United manager Robbie Neilsom, who led his team to a 3-0 home win over Queen of the South on Saturday, welcomed the announcement that the target had been reached.
He said: "It is absolutely brilliant news.
"There is togetherness at the club now and people have been driving this forward.
"It is important that we continue that – the togetherness between the fans and the club.
"It will be brilliant for Jim.
"Everyone here knows the history of the club, the great players, league title and the European nights etc.
"There are still a lot of Jim's ex-players around about the club.
"Dave Narey was at the (Saturday's) game, for example. Also, the likes of Paul Hegarty and Maurice Malpas are here regularly so it's great there is still that connection to the club."