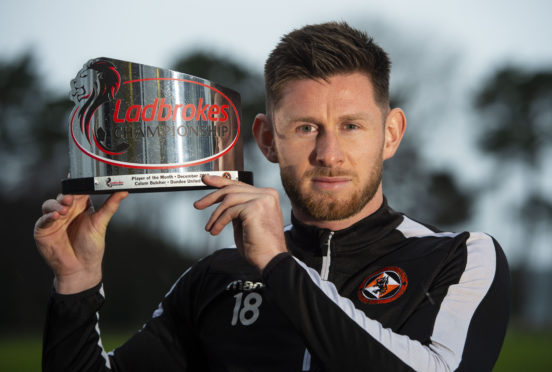 Calum Butcher believes there has been a significant silver lining to Dundee United's shootout cloud.
The Tangerines have taken this season's Championship by storm after vowing never to again experience play-off pain like they did when they lost on penalties to St Mirren in the promotion final last May.
Peter Pawlett, Pavol Safranko, Osman Sow and Callum Booth all failed to convert from the spot as United stayed down in Paisley.
It was a desperate day for everyone connected with the Tangerines but, Butcher believes, something positive has come out of it.
At the post-mortem in the dressing-room after the last spotkick had been taken, the United players vowed that things would be different next time around.
They have been true to their word so far this season, sitting with a 14-point lead at the top of the table.
With that lofty league position has come a winning habit – 16 victories from 20 matches – and should they, as expected, clinch the crown at the end of this campaign then they will be perfectly placed to flourish in the top flight.
Butcher, who was this week named Ladbrokes player of the month for December, said: "I think we are more ready now than we were.
"We are in the right position, collectively, and have that winning mentality as a club.
"Obviously, we are not up yet but we would be in a great position were we to go into a new season with a winning mentality.
"It puts you one step ahead, really.
"You see clubs who do get promoted go on runs the next season because they are used to winning games," he added.
"In the dressing room after the St Mirren game, we all said we didn't want to have that same disappointment again. It was all we spoke about after that match.
"Some of the boys were really upset and we just wanted to clear the air there and then that we weren't going to make that same mistake again.
"I think that determination has come through in our performances and results.
"There is a real drive at the club and everyone, not just the players, is pulling in a direction to get United back to the Premiership."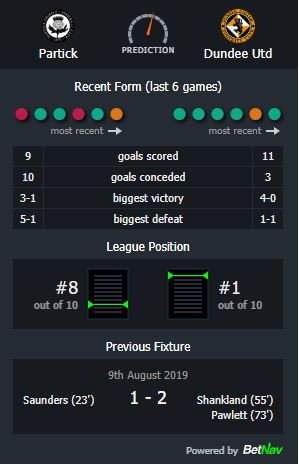 Butcher, who is in his second spell at the club, and the Tangerines appear to be made for each other.
The Englishman quickly established himself as a fans' favourite and key player.
Indeed, it has been like night and day for the player compared to his time at previous club Mansfield.
Butcher said: "I haven't really spoken about it much but I really wasn't enjoying my football before I came back here.
"It was tough for me at Mansfield and I am just really thankful to the gaffer for giving me a new start and I have taken this chance with both hands.
"Looking back at that time, I made the wrong decision at that stage in my career to go there.
"It was one of those things where I really wasn't enjoying my football anymore.
"You turn up at a club and it just doesn't feel right. That was the case for me from the first day I got there, really.
"I just couldn't settle and my football took a hit because of that.
"I am just grateful now that I've got it up and running again.
"When the opportunity arose to come back to United and I spoke to the manager it just felt right from the start.
"I can't really complain about anything and I have really enjoyed every minute of it."
Butcher is glad that Tannadice has more of a feelgood factor about it than it did during his first spell at the club.
"A lot has changed," he added.
"I think the mentality in the dressing room is the main thing because there is a real belief now.
"Maybe that wasn't always the case and the club struggled over the years.
"Now there is a real winning culture at the club and a togetherness that I don't think had been there for a while.
"You obviously look out for the results of the teams you have played for and I saw that United had gone down.
"You don't know what is going on inside the club.
"However, I definitely felt, when I came back in, that the fans were starting to come back and support us.
"There is more positivity around the club.
"Since I have returned, the way it has gone has been more positive and that's great for us players out on the pitch to know that you have the backing of everyone in the stands."