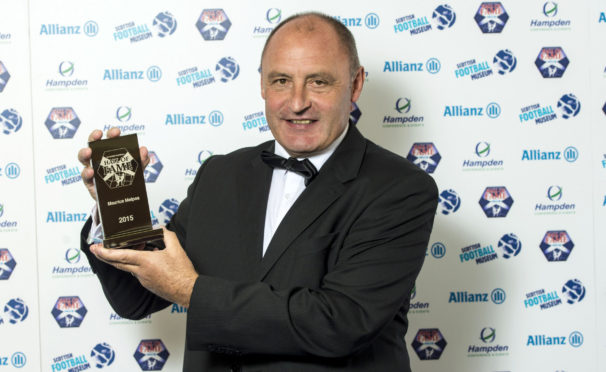 Dundee United legend Maurice Malpas has told the club's fans he feels their pain as they face the uncertainty caused by the coronavirus shutdown.
Malpas – one of the Tangerines' greatest servants as a league winner, European hero and Scottish Cup-winning captain – has expressed sympathy for the loyal supporters who have spent so much time and money to back their team only to be robbed, so far, of a promotion party.
United were 14 points clear at the top of the Championship when the big halt came, putting a likely flag day on ice – and that's the best-case scenario.
Malpas had tracked the fortunes of his old team through three unsuccessful promotion bids and was cheering them on until the lockdown came.
He feels the lack of a clear solution to the fixtures card dilemma won't be easing concerns of those who fill Tannadice's stands.
He told The Courier: "The biggest thing for me when considering United is how this is impacting on the fans.
"Players are players and most of them will get on with it as professionals.
"I think if United were to be named champions without another ball being kicked players would regret not having that winning day on the pitch but accept it.
"Supporters, who have invested so much in their team following relegation, will feel robbed of a big celebration after waiting so long to get back up.
"It is the uncertainty that is the big problem here," added the former Scotland star.
"United's supporters have travelled the length and breadth of the country in big numbers to back their team but they don't know what is going to happen.
"They have been hoping for promotion for so long and it seemed so close.
"In my opinion, you have to get the season finished somehow but how is that done?
"Some people have mentioned games going on behind closed doors and if that finished the season off then that would be fantastic under the circumstances.
"I don't see how you could just say that a season doesn't count and make it null and void. That isn't an option, for me.
"It is hard, though, to see it all being done and dusted even within a few months.
"The problem for those running the game is that they are dealing with uncertainty as well.
"The bigwigs will be led by the government but politicians, understandably, have more important things to deal with just now than football."
Paul Dixon would have no issue with Dundee United being crowned champions but his Falkirk side are refusing to give up on League One title dream